UC Riverside Establishes Graduate Research Awards
---
UC Riverside Establishes Graduate Research Awards
Five Students to be Honored at Colloquium on March 21
(March 17, 2003)
NEWS MEDIA CONTACT
Name:

Iqbal Pittalwala


Tel:

(951) 827-6050


E-mail:

iqbal@ucr.edu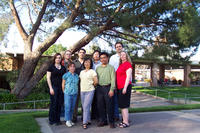 Enlarge
Recipients of this year's Graduate Research Awards and Honorable Mentions at UC Riverside. Front row, L to R: Stacy Devitto, Lauren Garner, Maria W. L. Chee, Russ Patrick P. Alcedo, and Carol N. Moe. Back row, L to R: Andrew K. Jorgenson, Amir A. Yasseri, Jing Li, and Dimitar Grantcharov. (Photo credit: Judy Chappell.)
RIVERSIDE, Calif. -- On March 21, 2003, five UC Riverside graduate students will be honored with what will become an annual tradition at UC Riverside: the Graduate Research Awards (GRAs). The Graduate Research Awards Committee, which oversees the awards, is composed of senior faculty members from all of the five disciplinary areas of research at UC Riverside. The Graduate Research Awards Program is supported by the Graduate Division, the Office of Research Affairs, the Office of Alumni and Constituent Relations, and the Graduate Student Association at UC Riverside.
The awards, which will be presented at the "Graduate Research Awards and Colloquium" at 3 p.m. in the Commons Cafeteria, reward excellence in graduate student research and other creative activities at UC Riverside. At the colloquium, each award recipient will give a ten-minute introduction to his/her research. In addition to a certificate of congratulations, each awardee will receive $1,000. Recipients of Honorable Mentions will be recognized as a group during the colloquium.
"The strength of our graduate research programs was very evident in the excellence and disciplinary diversity of the applicants," said Liam Corley, president of the Graduate Student Association. "The Awards Committee received more than 30 applications, all of very high quality. The awards and honorable mentions reflect the high levels of scholarship and creativity that exist in our graduate programs. We established the GRAs to raise awareness on campus of graduate students and their many contributions to its intellectual life. The Graduate Research Awards Program acknowledges our contributions and highlights our work within the campus community."
The recipients of this year's GRAs are:
Russ Patrick P. Alcedo
, department of dance, for work that investigates a religious and street dancing festival to understand how people -- propelled by changing times, especially the growth of tourism -- continuously reconstruct their group identity by either consciously altering or carefully safeguarding its culture's performance tradition.
Dimitar Grantcharov
, department of mathematics, for work that is an essential advancement in the structure theory of representations of Lie superalgebras.
Andrew K. Jorgenson
, department of sociology, for analysis of how material consumption in more powerful countries impacts environmental/ecological conditions in less powerful countries.
Jing Li
, department of computer science/bioinformatics, for a study of efficient algorithms for haplotype reconstruction from pedigree data, information that is important to locate genes for complex diseases. [Li also captured first place honor in the Association for Computing Machinery (ACM) Student Research Competition hosted by the ACM SIGCSE (Special Interest Group on Computer Science Education) 2003 Symposium on Feb. 19-23.]
Amir A. Yasseri
, department of chemistry, for the construction of a novel hybrid molecular-based device relying on the chemical properties of ferrocene and porphyrin containing monolayers that may provide the most tractable approach in bridging the gap between modern day semiconductor materials and novel molecular based devices.
Honorable Mentions for the awards are Maria W. L. Chee (anthropology), Stacy Devitto (psychology), Lauren Garner (botany), and Carol N. Moe (English), each of whom will receive $100.
"I commend GSA President Liam Corley for initiating this program and taking the leadership role to make this happen," said Neal Schiller, dean of the Graduate Division and one of the members of the Graduate Research Awards Committee this year. "The committee hopes that by recognizing graduate students' achievements, their work will inspire other graduate students to do their best. Research progress often occurs in spurts and there are times when investigators can become frustrated by the slowness of this process. We wish to encourage students to persevere in their efforts. The award recipients recognized this year demonstrate that hard work does pay off."
All currently enrolled graduate students engaged in research or creative activity at any level of their program are eligible for GRAs. Graduate students may apply directly to the Graduate Research Awards Program or be nominated for consideration by a faculty member. College deans and department chairs may also solicit nominations as a means of demonstrating their unit's excellence in graduate education.
The review process requires letters of support from two evaluators familiar with the research/other creative activity, one of whom must be ladder-rank faculty at UC Riverside and only one of whom may be on the student's dissertation or thesis committee, ordinarily the thesis advisor. One outside evaluator who is well qualified by virtue of his/her familiarity with the particular field of the research or creative work to be evaluated is allowed.
UC Riverside faculty, graduate students, undergraduate students, and distinguished guests from the community are expected to attend the colloquium. For more information about the colloquium, call 909-787-3740. Media interested in covering the event can call Iqbal Pittalwala, 909-787-2645.
The University of California, Riverside (www.ucr.edu) is a doctoral research university, a living laboratory for groundbreaking exploration of issues critical to Inland Southern California, the state and communities around the world. Reflecting California's diverse culture, UCR's enrollment has exceeded 21,000 students. The campus opened a medical school in 2013 and has reached the heart of the Coachella Valley by way of the UCR Palm Desert Center. The campus has an annual statewide economic impact of more than $1 billion.
A broadcast studio with fiber cable to the AT&T Hollywood hub is available for live or taped interviews. UCR also has ISDN for radio interviews. To learn more, call (951) UCR-NEWS.