Red Imported Fire Ant Conference from March 30 through April 1, 2003
---
Red Imported Fire Ant Conference to discuss control and eradication of fire ants
Conference in California for the first time
(March 25, 2003)
NEWS MEDIA CONTACT
Name:

Iqbal Pittalwala


Tel:

(951) 827-6050


E-mail:

iqbal@ucr.edu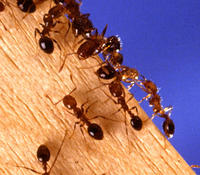 Red Imported Fire Ants.
RIVERSIDE, Calif. -- March 25, 2003 --The stinging Red Imported Fire Ant (RIFA) is back in the news by way of a conference, viz., the National Red Imported Fire Ant Conference, which will take place from March 30 through April 1, 2003, at the Palm Springs Riviera Resort & Racquet Club in Palm Springs, Calif.
The conference is hosted by UC Riverside's College of Natural and Agricultural Sciences and sponsored by the University of California Center for Invasive Species Research, UC Division of Agricultural and Natural Resources, and various agencies and industry organizations.
This is the first time the conference is being held outside the southeastern United States. In California, the RIFA has been seen in many parts of Orange, Riverside, Los Angeles, San Diego, Fresno, Madera, Merced, Stanislaus, and Sacramento counties.
The conference brings together scientists, agencies, affected industries, pest control professionals, and concerned citizens from the United States and Australia, who will share their research, experiences, and expertise in their common goal to understand, control and potentially eradicate the red imported fire ant.
"The first major infestation of the Red Imported Fire Ant outside the southeastern United States was detected in southern California in 1998," said Les Greenberg, associate research entomologist at UC Riverside. "An eradication program has been underway since 1999."
Mounds of RIFAs can be found in all types of irrigated property and are, therefore, of concern to people and their pets. RIFAs tend to build nests in open, sunlit, grassy areas. Fire ants aggressively defend their mound. When the mound is disturbed by an intruder, hundreds of RIFA worker ants pour out of the mound and simultaneously begin an attack.
A RIFA is dark reddish-brown in color, and 1/16" to 1/4" in length. A single RIFA can bite and sting its victim repeatedly, injecting a venom that causes a burning sensation at first (hence the name "fire ant") and a pustule later. These ants may also attack pets, livestock, and wildlife.
"The Red Imported Fire Ant represents an important threat to quality of life, agriculture, and our natural resources," said John Kabashima, environmental horticulture advisor at the University of California Cooperative Extension, Orange and Los Angeles counties. "The eradication effort has reduced RIFA populations and contained their geographical range, which is unprecedented. But budget cuts would undo this progress."
Originally from South America, the ants thrive in moist climates or in irrigated desert habitats and quickly take up residence in lawns, golf courses, school playgrounds, parks, agricultural fields, and natural areas if water is available. The RIFAs can also clog irrigation lines, short-circuit electrical systems and damage farm equipement.
"If the eradication program fails in California," warned Greenberg, "the ant will certainly spread northward along the coast and also into irrigated valleys. Since it is a stinging ant and eats almost anything, this ant becomes a major pest around homes, schools, nature preserves, and agricultural areas. The next couple of years will decide whether California continues or abandons the eradication effort. Abandonment of the effort will lead to increased pesticide usage by homeowners and agricultural interests reacting to the presence of the ant, as well as displacement of native species of ants and other animals."
Session topics at the National Red Imported Fire Ant Conference include biology, ecology and detection; quarantine and eradication efforts; biocontrol and chemical control of RIFAs; and areawide suppression projects. The conference is also host to a poster presentation, details of which can be found at http://www.morselab.ucr.edu/.
For registration information, or information regarding exhibitors or sponsors, please contact Carol Lerner at 909-787-5089 or at carol.lerner@ucr.edu. Media interested in covering the event can call 909-787-5185.
The College of Natural and Agricultural Sciences (CNAS) integrates the agricultural, biological and physical sciences under one umbrella to create an atmosphere favorable for multidisciplinary research. Plant disease such as Pierce's Disease, which threatens California's grapevines, and exotic insects such as the olive fruit fly, one of the most damaging pests of the olive in southern Europe, North Africa and the Middle East, are among the subjects of today's intensive research efforts in CNAS. The college has 215 faculty members in 13 academic departments and conducts research that explores the fundamental principles underlying biological activity, the nature of the physical universe, and mathematical and statistical operations.
RELATED LINKS
ADDITIONAL CONTACTS
The University of California, Riverside (www.ucr.edu) is a doctoral research university, a living laboratory for groundbreaking exploration of issues critical to Inland Southern California, the state and communities around the world. Reflecting California's diverse culture, UCR's enrollment has exceeded 21,000 students. The campus opened a medical school in 2013 and has reached the heart of the Coachella Valley by way of the UCR Palm Desert Center. The campus has an annual statewide economic impact of more than $1 billion.
A broadcast studio with fiber cable to the AT&T Hollywood hub is available for live or taped interviews. UCR also has ISDN for radio interviews. To learn more, call (951) UCR-NEWS.