Pingyun Feng receives prestigious award
---
UC Riverside chemist receives Beckman Young Investigator Award

(April 8, 2003)
NEWS MEDIA CONTACT
Name:

Iqbal Pittalwala


Tel:

(951) 827-6050


E-mail:

iqbal@ucr.edu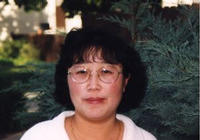 Dr. Pingyun Feng of the department of chemistry at UC Riverside. Dr. Feng is the recipient of the Beckman Young Investigator Award this year.
RIVERSIDE, Calif. -- Dr. Pinyung Feng, assistant professor of chemistry at UC Riverside, is the recipient of the prestigious Beckman Young Investigator Award this year. The $240,000 award was presented to her in March 2003 for three years.
"The award will be used to support my graduate students and postdocs, and also for the acquisition of instruments related to our research," said Feng, who also received the Sloan Research Fellowship earlier this year.
Feng earned her Ph.D. in 1998 from the University of California, Santa Barbara, where she was also a postdoctoral fellow until 2000. Her research interest centers on the development of synthetic methodologies based on self-assembly and supramolecular templating to prepare novel catalytic, electronic, and optical materials. She has authored nearly 50 research papers.
Feng is one of only three University of California faculty to receive the Beckman Young Investigator Award in 2003. The Arnold and Mabel Beckman Foundation makes grants to non-profit research institutions to promote research in chemistry and the life sciences, and particularly to foster the invention of methods, instruments, and materials that will open up new avenues of research in science. The Beckman Young Investigators Program is intended to provide research support to the most promising young faculty members in the early stages of their academic careers in the chemical and life sciences.
Title of Pinyung Feng's Research
: Towards a New Generation of Crystalline Microporous Semiconductors: Thermally Stable and Photoluminescent Chalcogenide Zeolite Analogues
Abstract
: The proposed research seeks to develop a synthetic methodology that will produce a large family of thermally stable porous semiconductors. These materials will share the fundamental structural and compositional characteristics of zeolites and will be built from tetravalent (M4+ = Ge4+ or Sn4+ etc.) and trivalent (M3+ = Ga3+ or In3+ etc.) cations. Both wide gap (i.e., sulfides) and narrow gap (i.e., selenides and tellurides) porous semiconductors will be developed. Their flexible chemical compositions and framework topologies will allow great diversity in their design and a systematic exploration of the relationship between structure and property. The feasibility and potential impact have been demonstrated by our preliminary results indicating new materials with diverse and unprecedented compositions can be made. In addition, it has been found that these materials have tunable electronic and optical properties, novel framework topologies, high ion exchange capacity, and high thermal stability to at least 380 C. The proposed research will generate new interdisciplinary research areas focused on the novel properties and applications due to the unique combination of crystalline porosity and conductivity. It will open up new opportunities in the design of applications based on both zeolitic and electronic properties of these materials.
The department of chemistry at UC Riverside has 27 faculty, several of whom hold the title of Distinguished Professor. The department offers an excellent environment for graduate studies in chemistry and is well equipped with state-of-the-art instrumentation, including NMR, mass spectrometry, optical spectroscopy and x-ray crystallography instrumentation. In fall 2002, the department had nearly 100 Ph.D. students in the graduate program, the largest in the College of Natural and Agricultural Sciences at UC Riverside.
The University of California, Riverside (www.ucr.edu) is a doctoral research university, a living laboratory for groundbreaking exploration of issues critical to Inland Southern California, the state and communities around the world. Reflecting California's diverse culture, UCR's enrollment has exceeded 21,000 students. The campus opened a medical school in 2013 and has reached the heart of the Coachella Valley by way of the UCR Palm Desert Center. The campus has an annual statewide economic impact of more than $1 billion.
A broadcast studio with fiber cable to the AT&T Hollywood hub is available for live or taped interviews. UCR also has ISDN for radio interviews. To learn more, call (951) UCR-NEWS.