Glassy-Winged Sharpshooter Workshop
---
Glassy-Winged Sharpshooter Workshop Follows Insect to Northern California
(April 17, 2003)
NEWS MEDIA CONTACT
Name:

Iqbal Pittalwala


Tel:

(951) 827-6050


E-mail:

iqbal@ucr.edu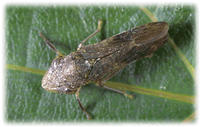 Glassy-winged sharpshooter. (Photo credit: UC Regents.)
RIVERSIDE, Calif. -- Having spread throughout Southern California, the glassy-winged sharpshooter is now moving northward. Native to the southeastern United States and first found in California in 1990, the insect could pose a serious threat to California's vineyards.
On April 22, 2003, UC Riverside's College of Natural and Agricultural Sciences will host the Glassy-Winged Sharpshooter/Pierce's Disease Workshop in Napa Valley, Calif. (Embassy Suites, 1075 California Blvd., Napa, Calif.). The workshop will be attended by growers, vineyard managers, enologists, pest control advisors and University of California farm advisors and researchers.
"We are expecting close to 150 people at the workshop," said Dr. Nick Toscano. "UC Riverside is hosting this workshop because 95 percent of research on the glassy-winged sharpshooter is being and has been done by UC Riverside entomologists. This workshop should give people an idea on how the insect can be managed in agricultural systems. We will also discuss what future research will be of benefit in regards to controlling the insect."
Receiving its name from its transparent wings, the glassy-winged sharpshooter spreads the incurable Pierce's disease that has wrought millions of dollars of damage in a few years. Extensive research on Pierce's disease has been and is being conducted at UC Riverside, UC Davis and UC Berkeley.
Pierce's disease is caused by a bacterium,
Xylella fastidiosa
. The bacterium blocks the xylem, the water- and nutrient-conducting vessels of plants. The typical symptom is for leaves on the plant to begin to dry or to scorch. Infected vines can die in as little as one to two years.
Sharpshooters can acquire the bacterium from infected plants and transmit it to healthy plants while feeding. Once a plant is contaminated with Pierce's disease, the plant can act as a reservoir of the bacterium. Any sharpshooter that feeds on the plant can pass the infection to other plants. Once an adult sharpshooter acquires the bacterium, it may transmit the disease throughout the rest of its life (over six months). The glassy-winged sharpshooter is a voracious eater, consuming 10 times its body weight in liquids per hour.
Almost a half-inch (12 mm) in length, the glassy-winged sharpshooter is dark brown to black in color. Its head and back are stippled with either ivory or yellowish spots. The insect can fly up to one-quarter of a mile, and it frequently appears in high numbers. It is able to survive winter temperatures dipping as low as 20 degrees Fahrenheit.
Topics for discussion at the one-day workshop include the epidemiology of Pierce's disease, future management and present strategies to combat the problem, regulatory issues, the management of glassy-winged sharpshooter, and the status of research funding programs.
The University of California's entomological research in Southern California dates back to 1906. Over the years, the UC Riverside Department of Entomology has excelled in virtually all phases of entomological research and developed a scope of expertise unmatched by any other entomology department in the country. Today, the UC Riverside campus is on the cutting edge of advanced entomological research and features a unique new Insectary and Quarantine facility that permits the safe study of exotic organisms from around the world.
RELATED LINKS
ADDITIONAL CONTACTS
The University of California, Riverside (www.ucr.edu) is a doctoral research university, a living laboratory for groundbreaking exploration of issues critical to Inland Southern California, the state and communities around the world. Reflecting California's diverse culture, UCR's enrollment has exceeded 21,000 students. The campus opened a medical school in 2013 and has reached the heart of the Coachella Valley by way of the UCR Palm Desert Center. The campus has an annual statewide economic impact of more than $1 billion.
A broadcast studio with fiber cable to the AT&T Hollywood hub is available for live or taped interviews. UCR also has ISDN for radio interviews. To learn more, call (951) UCR-NEWS.