Rivera Conference Focus is Arts and Activism
---
Tomás Rivera Conference Continues for 16th Year
The Next Generation Takes on Annual Tribute to Former UCR Chancellor
(April 21, 2003)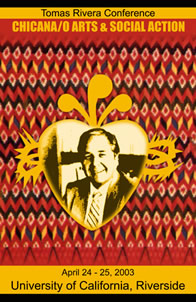 Tomás Rivera Conference postcard
RIVERSIDE, Calif. -- United Farm Workers co-founder Dolores Huerta will speak at the 16th Annual Tomás Rivera Conference, which begins Thursday, April 24 at Zacatecas Restaurant and continues Friday, April 25 at the University of California, Riverside with a series of performance by artists who combine art with social action.
It is a conference that might not have happened at all this year.
Last year at this time, Concepción "Concha" Rivera, who founded the conference to honor her husband's memory, said she would not be organizing this year's although she hoped someone else would take up the cause. The person who stepped up is Tiffany Ana Lopez, 37, an associate professor of English who leads an academic program called CASA, which stands for Chicana/o Arts & Social Action. "The conference is in good hands," said Concha Rivera. "I'm very confident that this is a good thing."
Lopez attended public schools and then community college before transferring to a Cal State campus and then a UC campus for her Ph.D. "I'm a poster child for public schools," she said. "This is an opportunity for me to pay homage to someone who has inspired so many of us to go on into higher education, including myself. The only reason I am here is because of people like Tomás Rivera. He paved the path."
She said this year's Rivera conference will showcase artistic work done in a series of visiting professorships here on campus with major figures in Chicano arts and activism. For instance, Barbara Carrasco, a UCR Regent's Professor who worked with both Dolores Huerta and Cesar Chavez making murals for the United Farm Workers struggle, will present a slide presentation of her work. She will be joined by digital medial artist Alma Lopez, the first CASA Visiting Assistant Professor and designer of the poster image for the Rivera conference. This year's CASA professor, Monica Palacios, is a solo comic performer who will offer a sample of her existing work as well as premiering some brand new work. Another activist at the conference is Maria Elena Gaitán, creator of "The Teta Show," commissioned by Las Isabelas, a support Agency for Latina survivors of breast cancer. "She uses humor, storytelling, music, video and the personal testimony of survivors to inspire community building and emotional healing," said Lopez.
Tomás Rivera was a poet and academic who was UCR's chancellor from 1979 to 1984. He was the first Hispanic Chancellor in the UC system, and also, at 43, the youngest person ever appointed to lead a UC campus. He died in 1984 after a heart attack.
"For Chicano students and faculty, he has always been a pivotal figure and a model for the possibilities in education," Lopez said. "What we are trying to do with the Rivera Conference, is not only honor his legacy, but also continue planting the seeds to foster new generations of Chicano scholars."
The conference will open at 4 p.m. Thursday at Zacatecas Restaurant, 2472 University Ave. in Riverside. Dolores Huerta's keynote address is "A Life's Work in the Building of Community." A reception will follow.
The rest of the conference will be 9 a.m. to 5 p.m. Friday in room 1500 of the Humanities and Social Sciences building on campus. After Prof. Lopez and Concha Rivera join forces to welcome participants, the daylong program will be divided into three segments:
Chicana/o Arts: Recollections and Revisions
• Barbara Carrasco, UCR Regents Professor, muralist and visual artist
• Alma Lopez, visual artist and first visiting assistant professor with the CASA program.
• Monica Palacios, performance artist and visiting assistant professor with the CASA program.
The Legacy of Tomás Rivera on Chicanas/os in Higher Education,
• Alicia Gaspar de Alba, an associate professor at UCLA and associate director of the Chicano Studies Research Center
•
The Teta Show: Performance, Community Building and Latina Health Issues
• Maria Elena Gaitán, performer and creator of "The Teta Show" for Latina survivors of breast cancer.
• Isabel Durón, director, Las Isabelas Support Agency for Latinas with Cancer.
• Yolanda Broyles Gonzalez, professor, UC Santa Barbara
• Felicitas Nuñez, breast cancer survivor
The conference is free and open to the public, sponsored by donors devoted to the legacy of Tomás Rivera and by the College of Humanities, Arts and Social Sciences. Parking on campus costs $6 per day. A registration form is online at http://chass.ucr.edu/news/tomas-rivera-conference.html
For further information, contact Sandy Schauer, (909) 827-7109
RELATED LINKS
ADDITIONAL CONTACTS
The University of California, Riverside (www.ucr.edu) is a doctoral research university, a living laboratory for groundbreaking exploration of issues critical to Inland Southern California, the state and communities around the world. Reflecting California's diverse culture, UCR's enrollment has exceeded 21,000 students. The campus opened a medical school in 2013 and has reached the heart of the Coachella Valley by way of the UCR Palm Desert Center. The campus has an annual statewide economic impact of more than $1 billion.
A broadcast studio with fiber cable to the AT&T Hollywood hub is available for live or taped interviews. UCR also has ISDN for radio interviews. To learn more, call (951) UCR-NEWS.