Reviving Ancestral Languages
---
Ancestral Language Revitalization Efforts Complete Successful First Year
Visitors from Northern California Tribes Observe Classes in Luiseño

(May 14, 2003)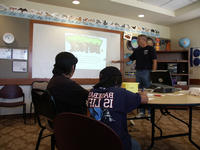 Enlarge
Linguist Eric Elliott works with two young people from Pechanga on mastering Luiseno, the ancestral language.
RIVERSIDE, Calif. -- Scholars at the University of California, Riverside and cultural leaders of the Pechanga Band of Luiseño Mission Indians are celebrating the completion of the first year of an ambitious effort to teach tribal members their ancestral language. The work is paying off.
Last week, Native Americans from Northern California visited UC Riverside to observe the Takic Language Revitalization Project in action at the Pechanga Tribal Headquarters near Temecula. They watched children learn Luiseño, one of approximately 100 tribal languages native to California. Fully half of those languages are now nearly extinct.
The Native American Languages Protection Act was approved by Congress in the early 1990s, and right now there is a movement to provide additional funding to help revive many of the endangered native languages across the nation. That could help efforts like the one at Pechanga.
The people who observed the language program were from the Paiute Tribe in Bishop, the Tule River reservation near Visalia and individuals representing the Numa Yadoha Program in Bishop. They spent a week at UCR Extension learning teaching techniques that can help in their own efforts to revitalize their native languages.
"I really liked seeing the program," said Carrie Franco, who is learning the Yowlumni language on the Tule River reservation, home to 13 different native tribes. She is studying her ancestral language in order to pass it down to her children and grandchildren. Her cousin, Lucy Rodilez, said she enjoyed watching children at Pechanga sing and understand Luiseño.
The Tule River reservation covers 56,000-acres, including towering redwood trees and elevations of 7,000 ft. Since there are 13 different tribes on the reservations, issues of language revitalization get complicated.
Margaret Valdez, who lives on the Tule River reservation, said her father is Mexican, her mother is Yowlumni and her husband was Navajo. "I have five children and they all understand Yowlumni," she said. She has started to teach her grandchildren. When a language dies, she said, so does the culture.
That is the theory that launched the effort to revitalize Luiseno, according to Gary DuBois, director of Pechanga Cultural Resources. "With the death of ancestral languages, the process of comprehending one's own history and describing the landscape is changed. It becomes impossible to transmit fundamental cultural ways of knowing across the generations."
He said last week that the first year of the program has gone well, in fact better than he expected. "We are concentrating our efforts on the preschool program, and we have waiting lists of Pechanga children who would like to attend the preschool." Recently, DuBois said, the tribe approved a kindergarten program to start in the fall. The adult classes are geared to support the preschool. "It helps family members and tribal members keep up with the children," said DuBois.
Sheila Dwight, director of International Education Programs at UCR Extension, helped assembled a team of language teaching experts to work on the project. And she hosted the group touring the Riverside County language programs this week.
The lead linguist for the project is Eric Elliott, who is uniquely qualified for the task. A Southern California native, Elliott spent five years documenting the endangered Luiseño language working closely with Villiana Hyde, native speaker of the Rincon dialect of Luiseño. His doctoral dissertation at UC San Diego was a 1,700 page bilingual English-Luiseño/Luiseño-English dictionary, the result of thirteen years of research on the Luiseño language. For the past eleven years he has documented the Mountain Cahuilla dialect of Cahuilla, and the Serrano language spoken by one remaining native speaker residing at the Morongo Reservation of Riverside County.
Joel Martin, Rupert Costo Chair of American Indian Affairs at UCR, helped put all of the parties together. His goal has always been to design a program that could be used as a model nationwide.
"We're on our way now," Martin said. "The children are learning so well and the teachers are doing so well. It is very heartening to see how far we've come."
This effort is connected to UCR's proposed Center for California Native Nations, which will help facilitate innovative educational partnerships, coordinate important research related to Native Americans, and share best practices. A new Web site at UC Riverside that offers curriculum ideas for language revitalization, free magazines for children and other resources, is available at www.americanindian.ucr.edu
THE TAKIC LANGUAGE REVITALIZATION PROJECT
• Has developed teaching models to revitalize the Luiseño language
• Has created successful preschool and adult classes at the Pechanga Tribal Headquarters
• Has trained tribal members to be teachers in Luiseno
• Has taken the model and demonstrated it to national audiences at conferences, as well as accepted visits from observers to see the program in action.
Relevance to UCR
UCR's focus on American Indian Affairs reflects its location and unique positive heritage. Located at the fastest growing and most diverse campus in the UC system, UCR's Native American Studies program consists of more than 40 courses distributed across many departments. A strong concentration of faculty in History supports one of the country's most highly regarded Ph.D. programs in Native American history as well as a new M.A. program. Efforts are underway to offer an M.A. and Ph.D. in Native American Studies as well, tapping full-time faculty in Anthropology, Dance, English, Ethnic Studies, and Religious Studies. UCR's program enjoys institutional support, including the Rupert Costo Library of American Indian History, the Costo Endowed Chair in American Indian Affairs, the Costo Historical and Linguistic Native American Research Center, and a strong Native American Students Program. Near neighbor to more than 30 federally recognized tribes as well as several unrecognized ones, UCR's program supports interdisciplinary, culturally sensitive, critically sophisticated, and communally based research. A Web site is available at http://americanindian.ucr.edu/
Sheila Dwight
Director, International Education Programs
University of California, Riverside
Riverside, CA 92521
e-mail: sdwight@ucx.ucr.edu; Phone: (909)787-4346
The University of California, Riverside (www.ucr.edu) is a doctoral research university, a living laboratory for groundbreaking exploration of issues critical to Inland Southern California, the state and communities around the world. Reflecting California's diverse culture, UCR's enrollment has exceeded 21,000 students. The campus opened a medical school in 2013 and has reached the heart of the Coachella Valley by way of the UCR Palm Desert Center. The campus has an annual statewide economic impact of more than $1 billion.
A broadcast studio with fiber cable to the AT&T Hollywood hub is available for live or taped interviews. UCR also has ISDN for radio interviews. To learn more, call (951) UCR-NEWS.