Graduate Student Wins Best Poster Award at International Conference
---
UC Riverside Graduate Student Wins Best Poster Award at International Conference
(May 15, 2003)
NEWS MEDIA CONTACT
Name:

Iqbal Pittalwala


Tel:

(951) 827-6050


E-mail:

iqbal@ucr.edu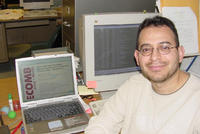 Computer science graduate student Andres Figueroa won the Best Poster competition at the Seventh Annual International Conference on REsearch in COmputational Molecular Biology (RECOMB). (Photo credit: A. Figueroa.)
RIVERSIDE, Calif. -- Computer science student Andres Figueroa went from UC Riverside to a conference in Germany with a poster in hand and returned home with a laptop, the coveted prize his poster won. Of the more than 180 poster presentations at the Seventh Annual International Conference on Research in Computational Molecular Biology (RECOMB) held last month in Berlin, Figueroa's poster was recognized with the Best Poster award (see photo at end of release).
The title of Figueroa's poster was 'Clustering binary fingerprint vectors with missing values for DNA array data analysis.' Other co-authors of the winning poster were James Borneman, assistant professor of plant pathology, and Tao Jiang, professor of computer science and engineering at UC Riverside. The poster is based on a paper that Figueroa, Borneman and Jiang have submitted for publication to the
Journal of Computational Biology
.
"This is my first award in the United States," said Figueroa, 32, whose previous award, in Mexico, was the 'Best Student in 1995' at the Universidad Autonoma del Estado de Morelos, from where he acquired his B.S. in mathematics in 1998. "It is an honor to receive the Best Poster award. I was surprised when I learned that my work had been chosen as the winning poster. After all, there were many works of high quality and excellence at the poster session by researchers from different parts of the world. I am thrilled that people in my field think the research I am doing is important."
Figueroa's Ph.D. research focuses on designing, implementing, and developing efficient algorithms for DNA microarray data analysis (DNA microarray is the exact point placement of numerous DNA samples on a very small chip.). He expects his research will further help classify microorganisms, detect certain diseases such as leukemia, and facilitate the discovery of new genes.
"The work presented in Andres's poster describes a novel approach for the cluster analysis of DNA microarray," said Tao Jiang, who is Figueroa's Ph.D. advisor. (Cluster analysis is the clustering, or grouping, of large data sets.) "Most existing methods are based on traditional statistical approaches and use normalized 'real intensity values' -- intensity values that correspond to real numbers. Our method discretizes the intensity values, i.e., it simplifies them by mapping the real numbers on to integers. This has the potential of saving a lot of storage space because discretized values take less space to store than real values. Moreover, the poster showed that our method offers better clustering than traditional methods in the classification of DNA sequences."
At present, Figueroa holds a fellowship from UC Mexus/CONACYT (the University of California Institute for Mexico and the United States/the National Council for Science and Technology in Mexico). CONACYT provided Figueroa with financial support for his first two years at UC Riverside to cover tuition, living expenses and health insurance; UC Mexus has provided similar assistance thereafter.
Figueroa expects to graduate from UC Riverside in summer 2004. "I will look for a faculty position in computational biology," he said. He has already put the new laptop he won to full use in his research. While this has shrunk his free time, he still manages to play racquetball. He has been the racquetball champion at UC Riverside each quarter since fall 2002.
Computer Science and Engineering (CSE) is the largest and fastest-growing department in the Marlan and Rosemary Bourns College of Engineering at UC Riverside. While students have the opportunity to study in many areas, the department offers active research programs in algorithm design, artificial intelligence, computational biology, computer architecture, computer networks, distributed systems, operating systems, databases, compilers, software engineering, digital systems, VLSI/CAD, embedded systems design, and theory of computation. Numerous laboratories exist within the CSE Department, providing undergraduates with opportunities for hands-on experience and interaction with faculty. These include the Database and Datamining Lab, Mobile and Multimedia Networking Lab, Architecture and Embedded Systems Lab, Network Security Lab, Riverside Graphics Lab, and Algorithms and Computational Biology Lab.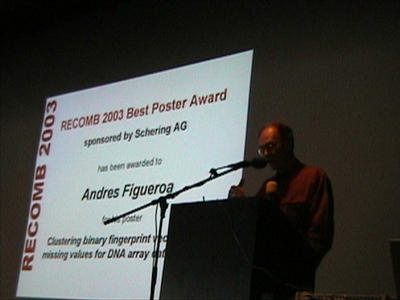 A poster by UC Riverside's Andres Figueroa, entitled "Clustering binary fingerprint vectors with missing values for DNA array data analysis," was announced as the winner of the Best Poster at the Seventh Annual International Conference on REsearch in COmputational Molecular Biology (RECOMB), Berlin, Germany. (Photo credit: A. Figueroa.)
The University of California, Riverside (www.ucr.edu) is a doctoral research university, a living laboratory for groundbreaking exploration of issues critical to Inland Southern California, the state and communities around the world. Reflecting California's diverse culture, UCR's enrollment has exceeded 21,000 students. The campus opened a medical school in 2013 and has reached the heart of the Coachella Valley by way of the UCR Palm Desert Center. The campus has an annual statewide economic impact of more than $1 billion.
A broadcast studio with fiber cable to the AT&T Hollywood hub is available for live or taped interviews. UCR also has ISDN for radio interviews. To learn more, call (951) UCR-NEWS.