Engineering Students Ride "Victory" to Top Ten Ranking
---
UC Riverside Engineering Students Ride "Victory" to Top Ten Ranking
Human Powered Vehicle Challenge Inspires Unique Design
(May 28, 2003)
NEWS MEDIA CONTACT
Name:

Iqbal Pittalwala


Tel:

(951) 827-6050


E-mail:

iqbal@ucr.edu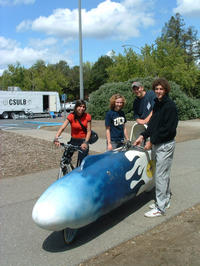 Four members of "Team UCR" of the UCR Chapter of the American Society of Mechanical Engineers. Team UCR is seen here with 'Victory,' the human powered vehicle the team designed and fabricated. (Photo credit: UCR Chapter of ASME.)
RIVERSIDE, Calif. -- (
www.ucr.edu
) -- While you may not see this model in a showroom any time soon, 'Victory,' the 68 pound, $1,200 single-rider vehicle designed and fabricated by the UCR Chapter of the American Society of Mechanical Engineers (ASME), provided an inspirational experience for its designers.
At the West Coast competition of the American Society of Mechanical Engineers (ASME) Human Powered Vehicle (HPV) Challenge held in Davis, Calif., in April 2003, the UC Riverside team - 'Team UCR' - entered Victory in the competition and ranked 8th in the final standings. This year, 23 teams participated in the event with 29 vehicles in total.
ASME sponsors the HPV Competition to encourage students to design a vehicle that can be used for everyday activities ranging from commuting to and from work to going to the grocery store. The competition includes three classes of vehicles: single rider - operated and powered by a single individual; multi-rider - operated and powered by two or more individuals; and utility, i.e, a vehicle designed for everyday transportation for activities like commuting to work/school, shopping trips, and general transportation. Utility vehicles have provision to also carry a small load, such as a briefcase.
The vehicles at the challenge were judged for design, sprint, and endurance. For vehicle design, the judges considered both the formal written report and the oral presentation. The sprint event took place on a single track; the timed portion of the course was a 100 m straightaway. For endurance, single rider and multi-rider vehicles competed in grand prix style road races of approximately 40 miles.
"The HPV Challenge is an occasion for engineering students from various universities to get together to show off the design of their vehicles," said Andy Rodger, 31, president of the UCR Chapter of ASME. The chapter has approximately 25 members. "To race faster, Team UCR decided to go with a single-rider bicycle. We used fiberglass and styrofoam to build Victory."
Built to withstand a load of 1,300 lbs, Victory, with a length of 10.5 ft and a width of 2 ft, has a top speed of about 50 miles per hour. From a distance, it resembles a large cigar. "We had a lot of fun participating in the event and preparing for it," said Rodger. "Our team met about once a week in Bourns College of Engineering to work on Victory. In total, we invested more than 200 hours in design and fabrication."
Funded by the Associated Students of UCR, a team from UC Riverside was able to compete in the HPV Challenge for two years in a row. "The challenge gave the UCR chapter of ASME a strong identity and for many in the club it was the best college experience we've had," said Rodger. "It was a lot of hard work but it gave our club something to rally around. For all of us, it was nice to see what we'd designed come together in a robust, metallic way."
Coming in 4th in the men's finish and 7th in the women's finish of the single rider sprint event, Victory gave the UC Riverside an overall standing of 6 in the sprint event. Team UCR also ranked 16 in the single rider standings in design and 4 in the endurance event.
Members of Team UCR are Andy Rodger, David McComb, Gus Dominguez, Taylor Cole, John Becker, Jayme Anderson, Lucy Munoz, Dan Pound, Trey Sims, Don Oswald, and Dean Schlingmann. Dr. James Sawyer, lecturer in the department of mechanical engineering, advised the students on the project.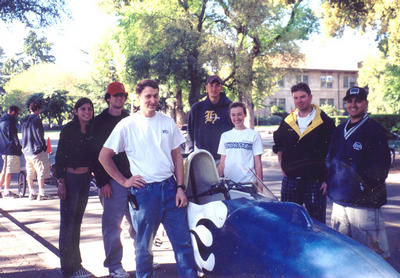 Members of Team UCR (L to R): Lucy Munoz, Taylor Cole, David McComb, John Becker, Jayme Anderson, Andy Rodger, and Gus Dominguez. (Photo credit: UCR Chapter of ASME.)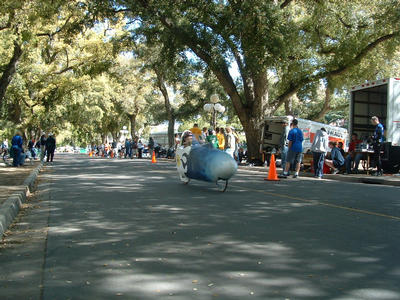 David McComb of Team UCR participating in the endurance competition at the West Coast competition of the American Society of Mechanical Engineers Human Powered Vehicle Challenge held in Davis, Calif., in April 2003. (Photo credit: UCR Chapter of ASME.)
RELATED LINKS
ADDITIONAL CONTACTS
The University of California, Riverside (www.ucr.edu) is a doctoral research university, a living laboratory for groundbreaking exploration of issues critical to Inland Southern California, the state and communities around the world. Reflecting California's diverse culture, UCR's enrollment has exceeded 21,000 students. The campus opened a medical school in 2013 and has reached the heart of the Coachella Valley by way of the UCR Palm Desert Center. The campus has an annual statewide economic impact of more than $1 billion.
A broadcast studio with fiber cable to the AT&T Hollywood hub is available for live or taped interviews. UCR also has ISDN for radio interviews. To learn more, call (951) UCR-NEWS.