David Reznick receives 2003 E. O. Wilson Naturalist Award
---
UC Riverside's David Reznick receives 2003 E. O. Wilson Naturalist Award
(June 4, 2003)
NEWS MEDIA CONTACT
Name:

Iqbal Pittalwala


Tel:

(951) 827-6050


E-mail:

iqbal@ucr.edu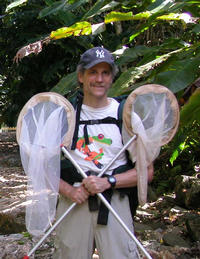 Biologist David Reznick at UC Riverside won the 2003 E. O. Wilson Naturalist Award. (Photo credit: D. Reznick.)
RIVERSIDE, Calif. -- (
www.ucr.edu
) -- David Reznick, professor of biology at UC Riverside, is the recipient this year of the prestigious E. O. Wilson Naturalist Award and joins a distinguished group of researchers who have previously been honored. Reznick will receive the award on June 23, 2003, from the American Society of Naturalists.
The purpose of the American Society of Naturalists is to advance and diffuse knowledge of organic evolution and other broad biological principles so as to enhance the conceptual unification of the biological sciences. The E. O. Wilson Naturalist Award was established in recognition of the lifetime of outstanding contributions of Professor E. O. Wilson in the areas of ecology and evolutionary biology, including the study of social insects, biodiversity and biophilia.
Reznick, who earned his Ph.D. in biology from the University of Pennsylvania in 1980, came to UC Riverside in 1984 and specializes in evolutionary biology. His previous awards include Distinguished Professor at the University of Miami (1999), UC Riverside Faculty Research Lecturer (1999) and Fellow of the American Association for the Advancement of Sciences (2000).
"This award is an unexpected and welcomed honor," said Reznick. "It is important to me to receive recognition from colleagues who are so able to judge accomplishments in their own discipline. I am particularly grateful to those who took the time to nominate me since I know there are many who deserve recognition and it is only through their efforts that I was chosen for the award."
Reznick studies the process of evolution by natural selection from an experimental perspective and testing evolutionary theory in natural populations. His research focuses especially on guppies from the Caribbean Island of Trinidad. He has addressed the evolution of features of the life history ranging from size at birth to age and size at maturity, reproduction, and senescence.
"Dr. Reznick has combined long-term fieldwork and careful laboratory studies, all with rigorous experimental design, to demonstrate that natural selection can achieve rapid and dramatic changes in life history characteristics," said Professor Mark Springer, chair of the department of biology at UC Riverside. "This work is regarded as a classic in evolutionary biology and is regularly featured in both introductory biology textbooks and evolution textbooks."
The E. O. Wilson Naturalist Award is given to an active investigator in mid-career who has made significant contributions to the knowledge of a particular ecosystem or group of organisms. Special consideration is given to those individuals whose research and writing illuminate principles of evolutionary biology and an enhanced aesthetic appreciation of natural history.
Nominations for the award are solicited on an annual basis. A committee appointed by the president of the American Society of Naturalists selects recipients of the award. The award consists of an especially appropriate work of art and an honorarium of $2,000, presented at the annual meeting.
The UC Riverside Department of Biology serves three main functions: undergraduate instruction, graduate education, and research in basic biology. The department conducts research and teaching in many areas of life science including cell biology, conservation biology, developmental biology, ecology, evolution, molecular biology, physiology, and population biology. The department is part of the College of Natural and Agricultural Sciences, a multi-departmental unit dedicated to instruction and basic research in the physical and life sciences, and also to 'mission-oriented' applied research in the agricultural sciences. The Biology major is a popular undergraduate major on the UC Riverside campus, with approximately 1000 students currently enrolled. Biology also provides much of the undergraduate instruction for majors in other life science departments and other science majors.
The University of California, Riverside (www.ucr.edu) is a doctoral research university, a living laboratory for groundbreaking exploration of issues critical to Inland Southern California, the state and communities around the world. Reflecting California's diverse culture, UCR's enrollment has exceeded 21,000 students. The campus opened a medical school in 2013 and has reached the heart of the Coachella Valley by way of the UCR Palm Desert Center. The campus has an annual statewide economic impact of more than $1 billion.
A broadcast studio with fiber cable to the AT&T Hollywood hub is available for live or taped interviews. UCR also has ISDN for radio interviews. To learn more, call (951) UCR-NEWS.