Plant Cell Biologists Show How Plants Process and Degrade Proteins
---
UC Riverside Plant Cell Biologists Show that Plants Use Unique Mechanisms to Process and Degrade Proteins
(June 5, 2003)
NEWS MEDIA CONTACT
Name:

Iqbal Pittalwala


Tel:

(951) 827-6050


E-mail:

iqbal@ucr.edu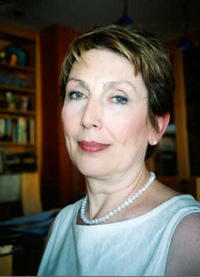 Natasha Raikhel, Distinguished Professor of Plant Cell Biology at UC Riverside, reports in the Proceedings of the National Academy of Sciences the mechanisms plants use to process and degrade proteins. (Photo credit: N. Raikhel.)
RIVERSIDE, Calif. -- (
www.ucr.edu
) -- In plants, many proteins are degraded or activated within the vacuole, a large water and nutrient-filled vesicle found in plant cells that helps maintain the shape of plant cells and that stores food molecules. The manner by which this degradation or activation occurs, however, is uncertain.
In the June 10, 2003, issue of the Proceedings of the National Academy of Sciences (PNAS), however, scientists from UC Riverside identify a key protein,
v
acuolar
p
rocessing
e
nzyme or VPEg, in Arabidopsis thaliana (thale cress) that is required for this process.
"Plants that do not have VPEg fail to accumulate the active form of an important vacuolar enzyme and fail to degrade a variety of proteins that would not normally accumulate to high levels within vacuoles, particularly those of older tissues," said Natasha Raikhel, Distinguished Professor of Plant Cell Biology at UC Riverside and the principal investigator of the research project.
The findings, which would interest researchers studying changes that occur within plants during the aging process as well as those studying the role of vacuoles in plants, indicate that VPEg is likely involved in a variety processes that range from proper development during aging to stress and defense responses.
This is an important discovery because it demonstrates a previously unknown mechanism through which plants control protein composition of the vacuole. "Plants cannot live without vacuoles," explained Raikhel. "Since the vacuole plays such a central role in a wide variety of physiological processes, the VPEg pathway for protein processing and degradation may have a large impact on many of these processes."
The research, funded by the National Science Foundation, was performed from 2001-2003 in the UC Riverside Department of Botany and Plant Sciences and the Center for Plant Cell Biology (CEPCEB). Besides Raikhel, the co-authors of the PNAS paper are Enrique Rojo, Jan Zouhar, Clay Carter and Valentina Kovaleva, all of whom are researchers in Raikhel's laboratory.
The Center for Plant Cell Biology was established in early 2002 and attempts to answer significant outstanding questions in plant biology by integrating genomic, bioinformatic, cellular, molecular, biochemical, and genetic approaches. The mission of the center is to incorporate scientists from diverse disciplines in a team approach toward determining the function of proteins within living plant cells in the context of whole plants. The center addresses a broad spectrum of research topics, including cell architecture, intracellular protein transport, cell-cell communication, signal transduction, cytoskeleton, cell cycle control, mechanisms of gene regulation, responses to environmental changes, and mechanisms of plant-pathogen interactions.
The University of California, Riverside (www.ucr.edu) is a doctoral research university, a living laboratory for groundbreaking exploration of issues critical to Inland Southern California, the state and communities around the world. Reflecting California's diverse culture, UCR's enrollment has exceeded 21,000 students. The campus opened a medical school in 2013 and has reached the heart of the Coachella Valley by way of the UCR Palm Desert Center. The campus has an annual statewide economic impact of more than $1 billion.
A broadcast studio with fiber cable to the AT&T Hollywood hub is available for live or taped interviews. UCR also has ISDN for radio interviews. To learn more, call (951) UCR-NEWS.