Outstanding UCR Staff Earn Recognition
---
Contributions of Outstanding Staff Honored At UC Riverside Ceremony
Bob Gill, Assistant to Chancellor, Earns Top Staff Prize for 2003
(June 10, 2003)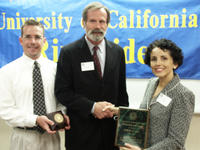 Enlarge
Aaron Bushong, Bob Gill and Chancellor France A. Cordova celebrate Gill's selection as 2003 Outstanding Staff
RIVERSIDE, Calif. (www.ucr.edu) — Robert Gill, who has worked for nearly 30 years as an administrator at UC Riverside, was selected for the 2003 Outstanding Staff Award at UC Riverside Tuesday in an afternoon ceremony at the UCR Extension Center.
Chancellor France Córdova and Aaron Bushong, president of the UCR Staff Assembly, recognized four other staff employees from all parts of the campus as "Staff Who Make A Difference."
The winners are: staff researcher Vincent Weng, student recruiter Richard Vargas, outreach coordinator for Engineering Linda O'Neill and customer service representative Linda Gryniuk.
This annual ceremony, hosted by Chancellor Córdova, recognizes the crucial role played by staff members on the UC Riverside campus.
"The contributions you make on the job have helped us build our reputation, and your contributions in our community, extending beyond the boundaries of your job descriptions, have made this campus a valuable and respected institution," Córdova said. "You will notice as you read the program notes that the people we are honoring today are not only excellent at their professions, but they are out there graciously giving long hours to the cause of serving their campus and their community."
This year's ceremony also included a tribute from the staff to Executive Vice Chancellor David Warren, who is stepping down after nine years. In turn, he credited the staff for supporting him.
"You provide the high octane fuel that makes this campus what it is," Warren said.
The Outstanding Staff Awards have been given for 17 years at UC Riverside. All career staff employees are able to nominate worthy employees for recognition. A committee reads the nominations, looking for the people who demonstrate excellence in their careers, as well as through campus and community service, and recommends the winners to the Staff Assembly officers.
Outstanding Staff for 2003
Bob Gill, Executive Assistant to the Chancellor, attended Oberlin College in Ohio, where he graduated Magna Cum Laude and received his BA in Zoology. He earned his master's and Ph.D. in Zoology at the University of Michigan. In 1967, he arrived at UC Riverside as a professor of biology. In 1974, he accepted a position serving as Special Assistant to the Vice Chancellor. He continued in the same capacity for the Executive Vice Chancellor, and then for the Chancellor. His intuitive executive and managerial skills have served this campus well. His stellar community service includes membership in the Western Inland Empire Coalition Against Hate, the Coalition for Common Ground, the City of Riverside Human Relations Commission, the Technical Advisory Committee of the March (AFB) Joint Powers Commission for Reuse of March Air Force Base and the Western Association of Schools and Colleges. He has acted as a facilitator and trainer of facilitators for the City of Riverside Study Circles Program (for race relations and community dialogue). He is active in Toastmasters International and has been lauded for his public speaking abilities. In 2002, he earned the Civil Rights Leadership Award from the California Association of Human Relations Organizations.
Staff Who Make A Difference for 2003
Vincent Weng, Staff Research Associate for Botany and Plant Sciences, has worked in the Department of Botany and Plant Sciences since 1969. Before coming to UCR, he studied at the New Mexico State University and earned a master's degree in Agronomy. For more than thirty years, as a Staff Research Associate, he has worked in a variety of plant science research projects ranging from plant breeding trials in the field to molecular biological measurements in the laboratory. From 1984 to 1989, Weng accompanied Professor Frank Vasek criss-crossing the Mojave Desert and the San Bernardino Mountains to study the ecology of California's native vegetation. They co-authored three technical papers describing the evolution of Clarkia unguiculata, a beautiful wildflower known as Mountain garland. Starting in 1990, Weng focused his work on the application of molecular biology to plant research. He has provided the technical support for Professors Richard Whitkus and S.C. Kim. In this capacity, he extracts and amplifies DNA from Hawaiian daisy and sunflowers and identifies the genetic traits of various hybrids. In addition to his assigned work, Vincent often volunteers for university activities including the campus open house and Citrus Variety Collection exhibits at the Orange Blossom Festival. He is also active in community outreach for the March of Dimes and the American Institute for Cancer Research.
Linda Gryniuk, Customer Service Coordinator in Physical Plant, operates as the "right hand" to Mike Miller, the Assistant Vice Chancellor of Physical Plant. Linda's efficient manner enhances service continuity while her positive attitude spreads a ray of sunshine in the day of the person who has asked for help. As liaison between faculty, staff and physical plant, Linda handles customer service issues providing professional, courteous assistance no matter how large or small the job. She manages emergency and high-priority customer service matters for the department and ensures that every customer goes away satisfied. Linda has worked on the United Way Campaign and organizes bi-monthly blood drives that have been extremely successful in banking blood, sometimes in honor of a seriously ill member of the UC Riverside family. She has consistently volunteered for both the Orange Blossom Festival and Commencement. For the last two years Linda has been a UCR representative, participating in the American Heart Association Walk raising funds and public awareness.
Linda O'Neill, Director of Special Programs in the Bourns College of Engineering, has worked for UCR for 18 years and is currently the Director of Special Programs for the Marlan and Rosemary Bourns College of Engineering. Linda created many outreach and retention programs, promotes industry relations and develops training programs. She helped develop the concept of "Senior Design Projects," a rare chance for industry leaders to recognize our graduating seniors and their hands-on engineering work. She also conducts the career preparation workshops. If you've heard of MESA, that's one of Linda's programs that helps reach out to underrepresented students. MESA stands for Mathematics Engineering Science Achievement. Linda develops scholarships and grants for the college, coordinates summer programs and serves as an advisor for many student organizations. She co-founded the UC Riverside Toastmaster's group and she provides workshops for at-risk youth and adults for the Riverside Unified School District. She has been to this ceremony before, as a recipient of Staff Who Makes a Difference in 1992-93, the first of many campus awards.
Richard Vargas, Student Affairs Officer, Relations With Schools, has not only worked for UCR for the past five years, but he graduated from UCR in the year 2000, receiving his bachelor's in Political Science/Law & Society. He plans to continue his education with a law degree and an MBA. As a Student Affairs Officer, Richard focuses on motiviating more students to choose UC Riverside. He is also responsible for developing effective recruitment and admissions outreach to high school and community colleges throughout California. Ricardo said he is inspired by the chance to help students turn their college dreams into reality. Richard also serves on the Incentive and Development Award Committee and the Chicano Educational and Cultural Fund Committee. He volunteers his time to Camp Fire USA, and with local T-ball with his children Jake and Cheyenne.
The University of California, Riverside (www.ucr.edu) is a doctoral research university, a living laboratory for groundbreaking exploration of issues critical to Inland Southern California, the state and communities around the world. Reflecting California's diverse culture, UCR's enrollment has exceeded 21,000 students. The campus opened a medical school in 2013 and has reached the heart of the Coachella Valley by way of the UCR Palm Desert Center. The campus has an annual statewide economic impact of more than $1 billion.
A broadcast studio with fiber cable to the AT&T Hollywood hub is available for live or taped interviews. UCR also has ISDN for radio interviews. To learn more, call (951) UCR-NEWS.