UC Riverside on Cover of the Journal of the Assoc. for Laboratory Automation
---
UC Riverside Research Featured on the Cover of the Journal of the Association for Laboratory Automation
Technology developed by the researchers could benefit public health directly
(June 11, 2003)
NEWS MEDIA CONTACT
Name:

Iqbal Pittalwala


Tel:

(951) 827-6050


E-mail:

iqbal@ucr.edu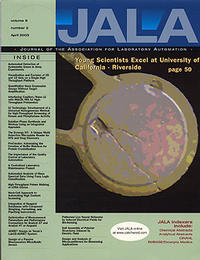 Cover of the Journal of the Association for Laboratory Automation, vol. 8, no. 2, April 2003.
RIVERSIDE, Calif. -- (
www.ucr.edu
) -- The cover of the April 2003 issue of JALA, the
Journal of the Association for Laboratory Automation
, features UC Riverside researchers studying bio-sensing and highlights three Technical Report posters appearing in the issue by the same engineers.
The JALA cover story, "Young Scientists Excel at University of California - Riverside," profiles three student researchers, Shalini Prasad, Xuan Zhang and Mo Yang, who work with Mihri Ozkan, assistant professor of electrical engineering and chemical/environmental engineering, and Cengiz Ozkan, assistant professor of mechanical engineering in the Bourns College of Engineering at UC Riverside.
A biosensor is a device involving a biological sensing element that converts a change in an immediate environment to signals that can then be processed. Biosensors have been used for a number of applications ranging from environmental pollution detection to defense monitoring.
Examples of biosensors are pH meters based on ion sensitive field effect transistors (Beckman Instruments, Inc., Fullerton, CA), surface plasmon resonance sensors for label-free detection of antigen-antibody interactions (Pharmacia Biosensor, Uppsala, Sweden) and the glucose monitoring diabetes sensor (MiniMed, Inc., Northridge, CA). Development of many other types of biochemical sensors for a variety of applications ranging from clinical diagnostics to warfare monitoring are currently underway.
The papers in JALA by UC Riverside engineers report that, for the first time, single neuron positioning on microelectrodes in a highly controlled fashion has been achieved. "Neuron cell culture is accompanied by other types of cells called glials," said Mihri Ozkan, co-author of the paper entitled 'Patterned live neural networks by induced electrical fields for bio-sensing' that appears in the journal.
Ozkan explained that the presence of glials complicates the neuron cell culture. "Glials tend to interfere when we pattern neurons using microelectrode arrays," she said. "But with technology we have developed in our labs, we were able to position neurons on microelectrodes by sorting glials in such a way that they ceased to interfere. We used simple electrical forces to develop our technique. Our method gives us the flexibility needed to build single neural networks to study brain functions and diseases such as dementia."
Ozkan explained that a single neural network is based on a single connection formed between two neurons on a microelectrode array device. Her research group plans to study the electrochemical modulation of the neural network to understand the effect of changing chemical balance and electrical connectivity in a tissue environment.
The new technology developed at UC Riverside enables the researchers to study how a brain functions as a network of neurons while simultaneously sensing potential changes in the immediate environment. "Research done by using our technology could potentially benefit public health directly by enabling a better understanding of how the brain functions," said Ozkan. "We are now working on developing a full portable device that can be used by others to do brain research. The methodology developed can also have an impact ion the area of spinal cord injuries."
Ozkan's areas of expertise include bio-MEMS (Bio-microelectro mechanical systems) and bio-photonics. Her research also covers nanotechnology with applications in bioengineering. Presently, she is working on the development of novel biomedical microdevices and the exploration of engineering principles in the field of bio-photonics and bio-MEMS.
Other co-authors of the UC Riverside papers in the April, 2003, issue of JALA are Cengiz Ozkan, Shalini Prasad, Mo Yang and Xuan Zhang. Vladimir Parpura and Yingchun Ni of the department of cell biology and neuroscience at UC Riverside also collaborated on the research. UCR Faculty Start Up funds supported the research.
The three papers in the April, 2003, issue of JALA that feature UC Riverside authors are:
1)
Patterned Live Neural Networks by Induced Electrical Fields for Bio-sensing
The paper describes a method of assembling neurons patterned on an integrated circuit device where the physiological properties can be modulated by subjecting them to chemicals. This provides a methodology for bio-sensing.
2)
Self Assembly of Polymer Structures Induced by Electric Fields
The paper describes a methodology for directed- and self-assembly of structures in the micro- and nano- scales. The described method has potential applications for fabricating devices for micro-electro-mechanical and nano-electro-mechanical systems.
3)
Design and Analysis of Microcantilevers for Biosensing Applications
The paper describes research where microcantilevers have been utilized for chemical biosensing. The paper presents an analysis of the shifts in the resonance frequency as a function of analyte binding to the cantilever surface.
JALA is the premier scientific journal in the field of laboratory automation and robotics. It is published by the Association of Laboratory Automation, a nonproft organization with a membership of more than 1300 scientists with the vision of providing premier educational opportunities in the field of laboratory technologies.
The Bourns College of Engineering (BCOE) at UC Riverside is well known for its research in embedded systems and networking in computer science, for environmental sciences (e.g., low emission vehicles, air pollution research), nanotechnology and research in intelligent systems. BCOE includes four departments: chemical & environmental engineering, computer science & engineering, electrical engineering, and mechanical engineering.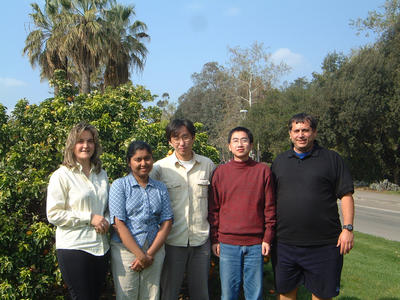 Key players in the UC Riverside Biomedical Science and Naotechnology Lab. From left to right: Mihri Ozkan, Shalini Prasad, Xuan Zhang, Mo Yang, and Cengiz Ozkan. (Photo credit: Andre Morgan.)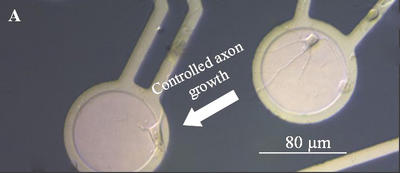 Neurons on electrodes, representative of the work being done at UC Riverside's Biomedical Science and Nanotechnology Lab. (Photo credit: M. Ozkan.)
The University of California, Riverside (www.ucr.edu) is a doctoral research university, a living laboratory for groundbreaking exploration of issues critical to Inland Southern California, the state and communities around the world. Reflecting California's diverse culture, UCR's enrollment has exceeded 21,000 students. The campus opened a medical school in 2013 and has reached the heart of the Coachella Valley by way of the UCR Palm Desert Center. The campus has an annual statewide economic impact of more than $1 billion.
A broadcast studio with fiber cable to the AT&T Hollywood hub is available for live or taped interviews. UCR also has ISDN for radio interviews. To learn more, call (951) UCR-NEWS.