Brian Federici Receives Secretary's Annual Honor Award from USDA
---
Brian Federici Receives Secretary's Annual Honor Award from USDA
Prestigious award recognizes the entomologist's research on insect pathogens
(June 16, 2003)
NEWS MEDIA CONTACT
Name:

Iqbal Pittalwala


Tel:

(951) 827-6050


E-mail:

iqbal@ucr.edu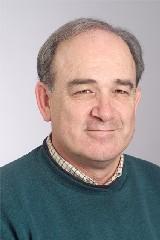 Brian Federici, professor of entomology and entomologist at UC Riverside, was recognized on Friday, June 13th, 2003, with one of the 2003 Department of Agriculture Secretary's Annual Honor Awards.
RIVERSIDE, Calif. -- (
www.ucr.edu
) -- Brian Federici, professor of entomology and entomologist at UC Riverside, has been recognized with one of the 2003 Department of Agriculture (USDA) Secretary's Annual Honor Awards in the category 'Promoting health by providing access to safe, affordable, and nutritious food.' The award was presented to Federici on Friday, June 13th, 2003, in Washington, DC.
The Secretary's Annual Honor Awards, which are presented by the Secretary of Agriculture, are the most significant recognition the USDA can bestow to acknowledge outstanding contributions to agriculture and to the consumers of agricultural products. The purpose of Honor Awards is to provide high-level recognition to deserving USDA employees at all levels and private citizens who have made outstanding contributions supporting the USDA's mission. The Honor Awards Program was created in 1947.
Federici received the award "for research on insect pathogens, especially Bt [
Bacillus thuringiensis
], that has led to a novel biocontrol product and has significantly enhanced understanding of microbial pest control agents." Federici's research exploits Bt as an environmentally safe and effective method for controlling agricultural insect pests. Several significant discoveries during his career include explaining and manipulating the processes that make certain Bt strains more potent, engineering novel biocontrol agents, and discovering a new class of insect viruses.
The award recognizes Federici's objectivity in the line of his own research and assessment of the research of others dealing with the safety of genetically engineered food crops (such as Bt corn), with specific reference to the safety of these foods to humans and non-target organisms (such as the monarch butterfly and beneficial insects such as insect-parasitic wasps and beetles that prey on pest insects).
"I am honored to receive the award," he said. "I see it as a validation of my view that decisions about the safety of our food should be based on evaluation of the scientific evidence. This is in contrast to the often emotional opinions of lay people as well as those of some scientists, who are against the use of genetically engineered crops because of recombinant DNA technology, the method used to develop these crops, rather than on an assessment of the safety of the food products derived from these crops."
In Europe, the "unscientific" view based largely on public opinion has prevented use of these crops. But this is likely to change in the future, Federici opines, as more and more research shows that these crops are much better for humans and non-target organisms than synthetic chemical insecticides.
Federici is one of the highest-ranking professors at UC Riverside, where he has worked for more than 28 years. He has also achieved international recognition as an expert in his scientific field, in part because he is a prolific author, with more than 170 published scientific articles. His specialty is insect pathology, studying the viruses, bacteria, and fungi that are toxic to insect pests.
"Brian is a national leader in delivering innovative technologies for the control of mosquitoes and other insect pests," said Steven Angle, dean of the College of Natural and Agricultural Sciences at UC Riverside. "He is at the forefront of applying the techniques of molecular biology to insect pest management in ways that are environmentally benign. This most recent honor that Brian has received is well deserved."
Federici's work in genomics and molecular biology is now providing the basis for an effort to develop novel agents to control sap-feeding pests such as whiteflies, aphids, and plant bugs. This research focuses on identifying the proteins in insects' digestive tracts that can be introduced into animals, which will then produce antibodies in response to the introduced antigens. Once antibodies with effectiveness as insect toxins have been identified, they will be engineered into tomato and cotton plants to develop new lines of insect-resistant crops.
Another significant aspect of Federici's work involves his study of insect viruses. His work not only has practical applications to the control of insect pests, such as the mosquito, but also provides the fundamental science that advances entomology and pest control research on an international scale.
In recent years he has been an invited presenter at numerous scientific arenas, including the following agricultural-related events or institutes: the Asia-Pacific Conference on Agricultural Biotechnology (1998), the National Sweet Corn Breeders Association Annual Meeting (1998), the California Advisors Pest Control Association (1998), the 14th International Plant Protection Congress (1999), the International Conference on Emerging Technologies in IPM (2000), the International Center for Potato Research (2000), the 2000 Plant and Soil Conference: Farming in Crisis-Sustaining Agriculture in California, and the Symposium on Managing Insecticide Resistance to Insecticidal Transgenic Crops, 21st International Congress of Entomology (2000).
In 2000, Federici was the Founders' Memorial Research Lecturer for the Society for Invertebrate Pathology. From 2000 to the present, he has been a member of four scientific advisory panels on Bt for the U.S. Environmental Protection Agency. In 2000, he was the organizer of the Inaugural U.S.-China Agricultural Conference: Cooperation for Progress in the 21st Century. From 1998 to 2003, he was the Editor-in-Chief of the Journal of Invertebrate Pathology.
The University of California's entomological research in Southern California dates back to 1906. Over the years, the UC Riverside Department of Entomology has excelled in virtually all phases of entomological research and developed a scope of expertise unmatched by any other entomology department in the country. Today, the UC Riverside campus is on the cutting edge of advanced entomological research and features a unique new Insectary and Quarantine facility that permits the safe study of exotic organisms from around the world.
The University of California, Riverside (www.ucr.edu) is a doctoral research university, a living laboratory for groundbreaking exploration of issues critical to Inland Southern California, the state and communities around the world. Reflecting California's diverse culture, UCR's enrollment has exceeded 21,000 students. The campus opened a medical school in 2013 and has reached the heart of the Coachella Valley by way of the UCR Palm Desert Center. The campus has an annual statewide economic impact of more than $1 billion.
A broadcast studio with fiber cable to the AT&T Hollywood hub is available for live or taped interviews. UCR also has ISDN for radio interviews. To learn more, call (951) UCR-NEWS.