UCR Prof. Plays the Viper Room
---
UC Riverside Music Professor Plays the Viper Room in Los Angeles
Improvising with Band "Erroneous Funk" Makes Her Teaching More Hands-On
(June 27, 2003)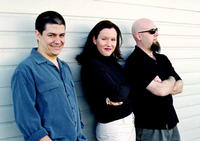 Erroneous Funk
RIVERSIDE, Calif. (www.ucr.edu) — Improvising is a way of life for Renee T. Coulombe, who is both a busy assistant professor of music at UC Riverside and the pianist in an improvisational band called "Erroneous Funk."
At 11 p.m. Wednesday, July 2, Renee and bandmates Mark Graham (bass) and Walter Gershon (percussion, saxophone) will take their music to the Viper Room, on Sunset Blvd. in Los Angeles, a club owned by Johnny Depp and frequented by mainstream rock gurus such as Bruce Springstreen, Tom Petty and Courtney Love.
Since Erroneous Funk plays free improvisation that touches on rock, blues, funk, classical atonality and noise, Coulombe says her group is not exactly typical for the Viper Room. "This is an interesting event for both us and the venue," she said. "It's a chance for us to reach a different audience from the jazz and classical fans for whom we normally perform."
She said playing clubs and composing music brings a real-world element into her classroom teaching at UC Riverside. "Many of my students want to work in this industry, and most have a very romanticized view of how the industry operates," she said. "Working regularly in clubs keeps me fresh and plugged in to the skills and experiences my students will need to compete successfully in the music industry in Los Angeles."
Coulombe, along with Tim Labor, a faculty colleague in the music department, coordinate a new internship program for students. "The connections I've made in the industry will have a direct impact on where and for whom my students will gain experience in this industry internship program," Coulombe said.
Coulombe earned her Ph.D. in 1998 at the University of California, San Diego, where she was greatly influenced by George Lewis, professor of music in the Critical Studies/Experimental Practices Program. She now works as a composer, performer, improviser and scholar at UC Riverside, where she teaches composition, 20th century music history, the history of theory, critical theory and free improvisation. She serves as the faculty coordinator for music in the Gluck Fellowship Program, an outreach program through the Gluck Foundation which presents several hundred free performances each year at schools, civic groups, nursing homes, and other community organizations. As a scholar, she has published numerous articles on topics as far-reaching as gender and sexuality in opera, feminism in punk and blues music, post-colonial issues in the work of several current anglo-indian DJ's, and the early atonal works of Anton Webern.
The Viper Room is at 8852 Sunset Blvd., an off ramp of the 101 Freeway. Opened in 1993, it is styled after Harlem's great jazz clubs of the 1920's. The Viper Room is open seven nights a week, and admits patrons over 21 years of age. The club generally opens at 9 p.m. and closes at 2 a.m. There is no membership required, and cover charges vary.
RELATED LINKS
ADDITIONAL CONTACTS
The University of California, Riverside (www.ucr.edu) is a doctoral research university, a living laboratory for groundbreaking exploration of issues critical to Inland Southern California, the state and communities around the world. Reflecting California's diverse culture, UCR's enrollment has exceeded 21,000 students. The campus opened a medical school in 2013 and has reached the heart of the Coachella Valley by way of the UCR Palm Desert Center. The campus has an annual statewide economic impact of more than $1 billion.
A broadcast studio with fiber cable to the AT&T Hollywood hub is available for live or taped interviews. UCR also has ISDN for radio interviews. To learn more, call (951) UCR-NEWS.