Will the Real Arnold Please Stand Up
---
UC Riverside Professor Comments on California Recall
Professor Shaun Bowler Says With This Many Candidates, It Won't Be Easy for Governor Davis
(August 7, 2003)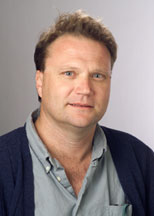 Shaun Bowler
For latest release, see http://www.newsroom.ucr.edu/cgi-bin/display.cgi?id=677
RIVERSIDE, Calif. (www.ucr.edu) -- Shaun Bowler, a UC Riverside political science professor, is predicting that the entrance of Republican Arnold Schwarzenegger and Lt. Gov. Cruz Bustamante into the California Governor's makes Gray Davis a long-shot to survive this election.
Of all the celebrities who have entered the race, Schwarzenegger has the best chance of winning, Bowler said, because of his movie stardom and deep pockets. His advisor is a long time Pete Wilson advisor who also helped Boris Yeltsin get elected. "So Arnold not only has deep pockets, he also has been smart enough to hire good help," Bowler said.
"There are two Arnolds," Bowler continued. "There is the movie Arnold, a powerful figure very popular with many conservative voters, and there is the real world Arnold who is socially very liberal, on gay rights, on using tax money to support social programs and so on. Movie Arnold puts off lots of voters and Real Arnold will get lots of support from middle of the road voters -- but make Republicans cool towards him. His chances depend in part on which Arnold shows up in the campaign."
Bowler said it is ironic Real Arnold could never have won a Republican primary, just look at Riordan's showing in the last election. "If Arnie gets to play it both ways -- be Movie Arnold to one set of voters and real Arnold to another -- then he should win. But it's not clear if he can pull that off."
As for other celebraties in the race, Gallagher and Gary Coleman, for instance, Bowler said are just "grab the spotlight" candidacies. He said Arianna Huffington, who has become a left wing columnist, will get more media attention than she 'deserves' because she works in the media so knows lots of editors. (Just as conservative pundit Pat Buchanan gets lots more attention than his vote share deserves).
"The other thing that has yet to happen is that Davis has yet to campaign," Bowler said. "All of this discussion so far is hyped up. After the close of
nominations the gloves come off and we'll see how the Davis campaign
manages Arnold."
On Davis' effort to delay the recall election through the courts, Bowler said Davis' reasoning doesn't seem very plausible. "His basic complaint is, "Boy, wasn't Florida a shambles three years ago we wouldn't want that to happen here now," Bowler said. "I doubt it will work but the courts can sometimes get pretty silly and interventionist."
Bowler said whoever ends up winning the election will have won the governorship
of California during one of the worst budget crises in the state's history. "There are all kinds of problems in store -- unpopular cuts this year and problems put off till next year. This recall is going to be a lot more painful for the Republicans than they were hoping," he said.
Recalls, he said, are usually a good sign, because it means democracy is working. "It's a means of sending a message to leaders who are not doing a good job." The fact that citizens of California actually lined up and waited to sign the recall petition at the local Sam's Club means the Republicans have tapped into a very strong emotion.
Bowler contends that successful recall campaigns are really quite rare, because it requires a cause that citizens can grab hold of. But the ongoing battle of political wills may not do anyone any good in the long run, Bowler said. A successful recall might just encourage others to start one every time they are unhappy with an election outcome. California might become the land of the perpetual recall, sparking a similar reaction in other states. And that wouldn't be good for anyone.
"It's like throwing stones in a glass house," he said. "When the voters are fed up with both parties it will be a plague on both."
The co-author of Demanding Choices: Opinions and Voting in Direct Democracy, Bowler has studied elections all over the world. He came to UC Riverside in 1989.
RELATED LINKS
ADDITIONAL CONTACTS
The University of California, Riverside (www.ucr.edu) is a doctoral research university, a living laboratory for groundbreaking exploration of issues critical to Inland Southern California, the state and communities around the world. Reflecting California's diverse culture, UCR's enrollment has exceeded 21,000 students. The campus opened a medical school in 2013 and has reached the heart of the Coachella Valley by way of the UCR Palm Desert Center. The campus has an annual statewide economic impact of more than $1 billion.
A broadcast studio with fiber cable to the AT&T Hollywood hub is available for live or taped interviews. UCR also has ISDN for radio interviews. To learn more, call (951) UCR-NEWS.