Outreach Gets Grant Funding
---
Grant Pushes Federal TRIO Program Outreach Funding Over $1 million at UC Riverside

$220,000 New 4-Year Grant For UC Riverside Expands Upward Bound Outreach Program for Low-Income High School Students Who May be First in Their Families to Attend College
(July 20, 2003)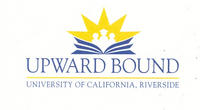 Upward Bound
RIVERSIDE, Calif. — www.ucr.edu — A new $220,000 outreach grant from the U.S. Department of Education will allow the University of California, Riverside to expand its Upward Bound program, which provides comprehensive help and enrichment activities for low-income high school students who show promise for college success.
The four-year grant pushes federal TRIO Program outreach funding at UC Riverside over the $1 million mark with five grants, four for the Upward Bound program, and one for Educational Talent Search.
"Specifically, what the latest grant does, is it allows us to expand the Upward Bound program to the Banning and Beaumont areas," said Javier Hernandez, director of the Office of Early Academic Outreach at UC Riverside.
The Upward Bound program at UC Riverside currently serves the following high schools: Banning, Moreno Valley, North and Norte Vista in Riverside, Perris, Rubidoux and Hemet West Valley. It is one of three programs, known as TRIO programs, funded under Title IV of the federal Higher Education Act of 1965, which include Upward Bound, Educational Talent Search and Student Support Services. Their focus is to help low-income and disabled students enter and succeed in college.
Upward Bound serves high school students from low-income families, from families in which neither parent holds a bachelors degree, and low-income, first-generation military veterans who are preparing to enter postsecondary education, according to the U.S. Department of Education Web site. They are frequently identified in 9th grade and remain involved throughout high school.
At UC Riverside, Upward Bound offers a variety of services, from work-study programs at the campus; to a summer residency academy, where students live, study, eat and play at UC Riverside for five weeks, attend classes and lectures organized by high school teachers and faculty members, learn about the resources available to them at UC Riverside, attend preparation workshops for college entrance examinations, and take Friday outings to other local university campuses, and one weekend at the Grand Canyon.
Upward bound also organizes tours of college campuses throughout the state and to Arizona. This summer Upward Bound participants plan on touring UC campuses at Davis, Berkeley and Santa Cruz; Cal. State campuses at San Francisco, San Luis Obispo and Sacramento; Arizona State University and Northern Arizona University; and the private university campuses of La Sierra in Riverside, Redlands, Occidental and Loyola Marymount in Los Angeles, and Stanford in Palo Alto.
"A typical Upward Bound student, if involved from 9th to 12th grade, will visit 20 or more campuses," Hernandez said.
Upward Bound staffers organize a weeklong Summer Bridge program that helps prepare graduating high-school seniors for success in college by honing their skills in college writing, note-taking, time management, money management and dealing with roommates. Upward Bound also offers speed-reading courses.
The latest addition to the Upward Bound arsenal at UC Riverside is a College Academy in which 18 high school students will complete a University of California-level college course for credit and a letter grade, said Gustavo Oceguera, the director of UC Riverside's Upward Bound Program.
The program, now in its eighth year at UC Riverside, has helped about 200 to 250 area high school students, Oceguera estimated. When Upward Bound started at UC Riverside, about 50 students were involved, he said. "Today, a typical year includes about 170 students," Oceguera added.
UC Riverside works with high school counselors and teachers, who identify students who both meet the criteria of the program and show promise and potential to do well in college.
"We go through an interview process with both the students and their parents or guardians because it takes a lot of commitment on their part," Oceguera said. Students must keep their grades up. Parents must stay engaged in their children's studies and after-school activities.
Universities with Upward Bound programs too, must be committed to the participants, spending a great deal of time, money and effort into designing programs that will stimulate, educate and motivate their charges. Participating universities typically spend more than $4,000 on each Upward Bound student, according to Hernandez and Oceguera.
"This is a program for kids without many opportunities in life," Hernandez said. "Our aim is to link all our events and activities to academic success and the opportunities students make for themselves by doing this."
As mandated by Congress, two-thirds of the students served must come from families with incomes under $24,000, where neither parent graduated from college.
UC Riverside's new Upward Bound grant is one of about 13 new TRIO programs funded in California this year, and it is the only new program at any of the UC campuses, Hernandez added.
According to the U.S. Department of Education, over 1,900 TRIO Programs currently serve nearly 872,000 low-income Americans between the ages of 11 and 27. Many programs serve students in grades six through 12. Thirty-seven percent of TRIO students are White, 35 percent are African American, 19 percent are Hispanic, 4 percent are Native American and 4 percent are Asian American. Sixteen thousand TRIO students are disabled.
Over 1,200 colleges, universities, community colleges and agencies now offer TRIO Programs nationwide. TRIO funds are distributed to institutions through competitive grants, according to the U.S. Department of Education.
Students in the Upward Bound program are four times more likely to earn an undergraduate degree than those students from similar backgrounds who did not participate in TRIO; nearly 20 percent of all Black and Hispanic freshmen who entered college in 1981 received assistance through a TRIO program.
The University of California, Riverside (www.ucr.edu) is a doctoral research university, a living laboratory for groundbreaking exploration of issues critical to Inland Southern California, the state and communities around the world. Reflecting California's diverse culture, UCR's enrollment has exceeded 21,000 students. The campus opened a medical school in 2013 and has reached the heart of the Coachella Valley by way of the UCR Palm Desert Center. The campus has an annual statewide economic impact of more than $1 billion.
A broadcast studio with fiber cable to the AT&T Hollywood hub is available for live or taped interviews. UCR also has ISDN for radio interviews. To learn more, call (951) UCR-NEWS.