Professor Dymski Talks About Banking
---
Pay Us Now or Pay Us Later: The Social Impact of Banking and Housing Practices
Professor Gary Dymski Offers His Opinion on Banking, Consumer Services
(July 18, 2003)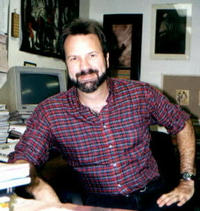 [The following is an available opinion piece by Gary Dymski, a professor of Economics at UC Riverside. In it, he argues that common business practices, as well as U.S. government policies, have created a class of the "unbanked," people who have to pay high fees at storefront check-cashing businesses. It is approximately 800 words in length. It is available electronically at www.ucr.edu, under "campus news." A picture of Prof. Dymski is available upon request.]
Pay Us Now or Pay Us Later: The Social Impact of Banking and Housing Practices
By Gary Dymski, Professor of Economics at UC Riverside
Favorable mortgage rates and free banking services seem to arrive magically along with the new SUV in the garage and a decent-sized checking account. Families who are already financially comfortable in many ways get a free ride.
But the families who can't afford to pay are hit with outrageous fees and interest on every financial transaction.
Is it fair that a relatively wealthy person pays nothing to cash a check when that same transaction would cost a low-income person a $10 fee? That is today's reality, and it is widening the gap between rich and poor in a way that threatens the long-term stability of the nation.
Banks compete to offer financial services to households with savings accounts and expendable income, using mass sales techniques and centrally collected databases that target the "creditworthy." Transaction fees are routinely waived for high-balance customers. Those folks receive piles of credit card offers every day in the mail, completely unsolicited. Poor households are shut out of access to large firms, and are served by marginal businesses, often operating in minority communities. They have to rely on storefront check cashing services, pawn shops, grocery stores or money order firms, all of which charge much higher rates for their services. A loan in a low-income household or business might come from relatives, or predatory lenders.
Once banking was highly regulated, with standardized products offered to an undifferentiated mass consumer market. Now this market has split into three parts. On top are the wealthy, who receive personalized service from specialist fund managers and investment advisors. The middle market, the new financial citizens, has access to more standardized borrowing, saving, and other financial-service options than ever before. And on the bottom? There is no service at the bottom. The "unbanked" are left with high fees and a vague sense of victimization.
It is tempting to say that the ruthless logic of the market process alone rewards the swift and punishes the slow. But in many key markets, larger businesses receive explicit subsidies. For instance, one crucial housing subsidy is the federal income-tax deduction for mortgage interest and property taxes. This subsidy affects housing and land values nationwide, and is paid for by the middle- and lower-income households who pay a disproportionate share of U.S. income taxes.
Federal housing policies have deepened patterns of racial exclusion and fed a chronic housing crisis. Immediately after World War II, federal housing policies favored those seeking housing in largely white neighborhoods. Federal Housing Administration (FHA) mortgage underwriting, set up in the 1930s to stabilize and subsidize mortgage lenders, relied on explicitly raciest criteria until the mid-1960s. Since over half the home-purchase loans made in the 1950s in Southern California were FHA loans, tax benefits and FHA subsidies flowed heavily to residential areas that excluded non-white households. Meanwhile, federal urban programs devalued homes in inner-city areas and destabilized many minority neighborhoods.
These federal housing policies echo to this day. Public housing units have been located primarily in lower-income, heavily minority areas. FHA loans promoted racial separation and, by favoring the suburbs, underwrote suburban sprawl.
On the other side of the policy ledger, the Fair Housing Act of 1968, along with the Equal Credit Opportunity Act of 1974, helped close the gap between rich and poor. Those laws made sure that brokers, builders, and lenders could not make a fast buck through racially discriminatory practices. That effort was broadened with the Home Mortgage Disclosure and the Community Reinvestment Acts in 1975 and 1977, which identified the overall sustainability of the community as a public value. This sort of public legislation is not a panacea — but points out that with a properly regulated free market, it is possible to create beneficial social consequences.
All businesses face uncertainty, and seek power in their markets. When they are able, businesses merge and consolidate operations to improve their bottom line. But since these megafirms dominate consumer services, generating market winners and losers, those same firms need to pay some attention to the needs of lower-income consumers and small business. In fact, providing affordable housing, and appropriate credit, is only fair considering the pervasive government subsidies in these markets.
It makes no sense to increase the vulnerability of the nation's poorest citizens, because hopelessness only breeds crime, or a drain on public aid programs. Policy-makers in the world's richest country need to reexamine these policies, with the help of progressive thinkers in business and the university.
Until then, ongoing financial practices will contribute to making the rich richer, and the poor poorer.
Gary A. Dymski is a Professor of Economics at the University of California, Riverside. He is the author of "The Bank Merger Wave: The Economic Causes and Social Consequences of Financial Consolidation." He is also the Director of the University of California Center at Sacramento.
The University of California, Riverside (www.ucr.edu) is a doctoral research university, a living laboratory for groundbreaking exploration of issues critical to Inland Southern California, the state and communities around the world. Reflecting California's diverse culture, UCR's enrollment has exceeded 21,000 students. The campus opened a medical school in 2013 and has reached the heart of the Coachella Valley by way of the UCR Palm Desert Center. The campus has an annual statewide economic impact of more than $1 billion.
A broadcast studio with fiber cable to the AT&T Hollywood hub is available for live or taped interviews. UCR also has ISDN for radio interviews. To learn more, call (951) UCR-NEWS.