Perchlorate Conference Discussed Risks, Regulation and Treatment
---
One-day Conference on Perchlorate at UC Riverside Discussed Risks, Regulation and Treatment
Senator Barbara Boxer was Keynote Speaker
(August 8, 2003)
NEWS MEDIA CONTACT
Name:

Iqbal Pittalwala


Tel:

(951) 827-6050


E-mail:

iqbal@ucr.edu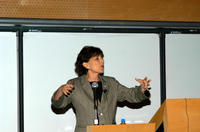 Senator Barbara Boxer was the keynote speaker at a one-day scientific conference at UC Riverside focusing on perchlorate. (Photo credit: M. Elderman.)
RIVERSIDE, Calif. -- (
www.ucr.edu
) -- UC Riverside hosted on its campus a one-day scientific conference on August 7, 2003, to discuss perchlorate, including its risks, regulation and treatment. U.S. Senator Barbara Boxer, a longtime fighter for the environment, delivered the keynote address. She emphasized that investing in cleanup efforts today will cost far less than it will in the future.
Perchlorate, a naturally occurring and man-made chemical, is a powerful thyroid toxin that can affect the thyroid's ability to take up the essential nutrient iodide and make thyroid hormone. While human health effects of perchlorate are still under study, small disturbances in thyroid hormone levels during pregnancy are understood to cause lowered IQ; larger disturbances can cause mental retardation, loss of hearing and speech, or deficits in motor skills for infants and children.
"UC Riverside hosted the conference because of the local impact of perchlorate on the drinking water wells in the Inland Empire," said William Frankenberger, professor of soil science and soil microbiology in the
department of environmental sciences
at UC Riverside, who was instrumental in putting together the conference. "Moreover, the university is conducting cutting-edge research on the remediation of perchlorate in groundwater."
First manufactured extensively in the 1940s, perchlorate is used in solid rocket propellant, explosives, fireworks, road flares, matches and car airbags. Perchlorate was discovered in the environment in California and Nevada in the 1980s. Since 1997, with development of a new ion chromatography analytical method that detects perchlorate at 4 parts per billion (ppb) or below, contamination of ground or surface water has been confirmed in at least 20 states.
With 16 known sources of perchlorate releases to the environment, California is particularly hard hit. To date, perchlorate has been detected in 319 wells throughout the state. Of these, 78 are in San Bernardino County, 52 in Riverside County, and 25 in Orange County. Further, two release sites in Nevada have resulted in perchlorate contamination of the Colorado River, which provides drinking and irrigation water serving more than 20 million people in California, Arizona, and Nevada. Of immediate concern to growers irrigating their crops with Colorado River or other contaminated water is the potential uptake of perchlorate by crops, including vegetables and hay.
In April 2003, perchlorate was reported in lettuce grown in the Imperial Valley and irrigated by Colorado River water. This, combined with findings in public water supplies in California ranging from 12 to 811 ppb, has caused concern among policy makers, regulators, and the public.
With its long tradition of agricultural research and outreach, UC Riverside is well equipped to respond to the needs of the agricultural industry on issues relating to perchlorate uptake by crops; best management practices, including irrigation; and, in the longer term, development of resistant crops. A major part of UC Riverside's agricultural mission is environmental and natural resource management. The campus offers a depth of expertise for dealing with issues related to risk assessment, fate and transport of perchlorate through soil and water, ecosystem impacts, and bioremediation.
Recently, UC Riverside scientists came together under the auspices of the university's
Center for Technology Development (CTD)
to develop a research and action plan for dealing with perchlorate. With UC Riverside's proximity to the Imperial Valley and heavily impacted areas in the Inland Empire, the CTD can respond quickly and effectively to the challenges of perchlorate contamination.
Topics of discussion at the conference included human and ecological exposure impacts, regulatory frameworks, remediation challenges, treatment technologies, and safe drinking water standards.
"We hope the conference has provided a more accurate and well researched understanding of perchlorate risks and treatment, and that it will aid policy makers in decisions relative to standards development," said Frankenberger.
UC Riverside researchers who are working on perchlorate and related issues are:
Christopher Amrhein
Professor of Soil & Environmental Sciences
Department of Environmental Sciences
Area of specialization: Soil and water chemistry of inorganic contaminants; redox processes. Perchlorate analysis, plant uptake, and partitioning mechanisms.
W. Bowman Cutter
Assistant Professor, Assistant Cooperative Extension Specialist
Department of Environmental Sciences
Area of specialization: Public economics, environmental economics, and applied econometrics.
William T. Frankenberger
Professor of Soil Science and Soil Microbiologist
Department of Environmental Sciences
Area of specialization: Bioremediation of perchlorate, selenium and arsenic in soil and water; development of methods for perchlorate analysis.
Jay J. Gan
Water Quality Specialist
Department of Environmental Sciences
Area of specialization: Fate, transport, and mitigation of toxic elements in the environment; water pollution and prevention. Perchlorate analysis and field management practices to reduce crop uptake.
William Jury
Distinguished Professor of Soil Physics
Department of Environmental Sciences
Area of specialization: Measurement and modeling of organic and inorganic chemical movement and reactions in field soils; development and testing of organic chemical screening models; characterization of the spatial variability of soil physical and chemical properties; and evaluating volatilization losses of organic compounds. Modeling the fate and transport of perchlorate.
Bob Krieger
Extension Toxicologist
Department of Entomology
Area of specialization: Development and the use of advanced analytical methodology to identify movement of perchlorate from environmental compartments to children and adults. The exposure assessment process, development of risk management and, particularly, risk perception data, as part of risk communication.
Paul B. Larsen
Assistant Professor
Department of Biochemistry
Area of specialization: Plant molecular biology and plant molecular genetics. Identification of genes required by plants for resistance and/or tolerance to toxic soil components, and engineering plants that can grow in these environments.
Milt McGiffen
Associate CE Vegetable Crops Specialist and Assistant Plant Physiologist
Department of Botany and Plant Sciences
Area of specialization: Models of cropping systems and population dynamics. Effects of agriculture on the environment, including the effect of farming practices on perchlorate concentrations in food and water.
David R. Parker
Professor of Soil Chemistry
Department of Environmental Sciences
Area of specialization: Soil chemistry and plant nutrition; chemistry and bioavailability of trace elements. Perchlorate analysis and plant uptake and partitioning mechanisms.
John Trumble
Professor of Entomology
Department of Entomology
Area of specialization: Plant compensation for insect herbivory; biological and microbial control in sustainable agriculture; impact of air and heavy metal pollution on plant/insect interactions.
Laosheng Wu
Associate Professor of Soil Science/Assoc. CE Water Management Specialist
Associate Director, Center for Water Resources
Department of Environmental Sciences
Area of specialization: Measurement and modeling water and solute transport in field soils; development of best management practices to maximize water and fertilizer use efficiency and minimize surface and ground water pollution; research on irrigation uniformity effect on crop yield and nitrate leaching, infiltration measurement and modeling, shallow groundwater management, and instrumentation and methodology for measuring soil physical properties.
The University of California, Riverside (www.ucr.edu) is a doctoral research university, a living laboratory for groundbreaking exploration of issues critical to Inland Southern California, the state and communities around the world. Reflecting California's diverse culture, UCR's enrollment has exceeded 21,000 students. The campus opened a medical school in 2013 and has reached the heart of the Coachella Valley by way of the UCR Palm Desert Center. The campus has an annual statewide economic impact of more than $1 billion.
A broadcast studio with fiber cable to the AT&T Hollywood hub is available for live or taped interviews. UCR also has ISDN for radio interviews. To learn more, call (951) UCR-NEWS.