UCR Institute for Integrative Genome Biology to have new director
---
Jian-Kang Zhu will be next director of the UCR Institute for Integrative Genome Biology
(August 28, 2003)
NEWS MEDIA CONTACT
Name:

Iqbal Pittalwala


Tel:

(951) 827-6050


E-mail:

iqbal@ucr.edu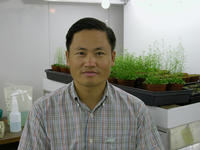 Jian-Kang Zhu, an internationally renowned leader in plant science, has been named the next director of the UCR Institute for Integrative Genome Biology. (Photo credit: J-K Zhu.)
RIVERSIDE, Calif. -- (
www.ucr.edu
) -- Jian-Kang Zhu, an internationally renowned leader in plant science whose groundbreaking and revolutionary research has contributed greatly to understanding the mechanisms behind salt tolerance, drought and low temperature stress in plants, has been named the next director of the UCR Institute for Integrative Genome Biology.
"Dr. Zhu will bring creativity and outstanding skills in organization, interpersonal communications, and fundraising to the directorship of the institute," said Steven Angle, dean of the
College of Natural and Agricultural Sciences
at UC Riverside. "As one of the world's top researchers in the area of abiotic stress in plants, he is an outstanding and an immensely productive scientist."
Currently, Zhu is a professor in the department of plant sciences at the University of Arizona. He will join UC Riverside on January 1, 2004, where he will also be professor in the department of botany & plant sciences. He succeeds Michael T. Clegg, whose vision of a genomics institute was realized when the UCR Genomics Institute, now renamed the UCR Institute for Integrative Genome Biology, was established in 2000. Clegg will be on sabbatical leave starting Oct. 1, 2003. Peter Atkinson, professor of entomology at UC Riverside, will serve as the interim director of the institute.
The UCR Institute for Integrative Genome Biology brings together faculty from every academic unit on campus to participate in this era of rapid genomics-based discovery. The institute provides researchers and students access to state-of-the-art tools for advanced studies in genomics, gene expression, proteomics, microscopy and bioinformatics. Research efforts are focused on insect genomics, plant cell biology/genomics, microbial genomics, mammalian genomics and bioinformatics. Through an associated Biotechnology Impacts Center, the institute also explores the policy dimensions of biotechnology, taking into consideration the social, economic, environmental and ethical impacts of new technologies.
"UC Riverside was the place I first came to when I arrived in the United States," said Zhu. "I have many fond memories of the place. It is like coming home. It will be wonderful to not only serve one's alma mater and but also to join the faculty who got me started on my scientific career."
Zhu was born and grew up in a village in Anhui province in central China. Periodic hunger because of poor harvests on his family's small farm (often caused by lack of fertilization or severe weather) left a lasting impression on him when he was a young boy. Driven to pursue a higher education, Zhu obtained a Bachelor's degree (1987) in soil science from Beijing Agricultural University. Later, attracted to the field of biology, he studied at UC Riverside for a Master's degree in botany (1990) and then at Purdue University for a Ph.D. in plant physiology (1993).
After working for a year at the Rockefeller University in New York City, Zhu moved to Auburn University, Alabama, to teach plant biology. He joined the University of Arizona, Tucson, in 1996 where he became a full professor in the department of plant sciences in 2000.
"UC Riverside has a strong basis in several areas of biology as well as in computer sciences and engineering," said Zhu. "The UCR Institute for Integrative Genome Biology is building on its existing strength and is on its way to becoming an international leader of functional genomics in several target areas. I envision an institute with top notch faculty doing creative, cutting-edge research, an institute with state-of-the-art instrumentation that enables all UC Riverside faculty and students to participate in and benefit from genomics research, and an institute that brings together faculty from different disciplines and departments to develop innovative approaches and technologies."
Zhu has conducted pioneering research with the model plant
Arabidopsis
to identify genes and proteins that have roles in such abiotic stresses as salt tolerance, drought and low temperature. He has published in many leading journals, including
Science
,
PNAS
, and
Cell
, and has been honored with a number of invitations to speak at prestigious meetings.
In 1994, Zhu was named Life Sciences Research Foundation Fellow. In 2002, he received the award of Researcher of the Year from the College of Agriculture and Life Sciences at the University of Arizona. This year, he was awarded the Charles Albert Shull Award from the American Society of Plant Biologists, an award conferred bi-annually to a young scientist who has made seminal contributions in plant research.
The Search Committee at UC Riverside for the position of the directorship of the UCR Institute for Integrative Genome Biology was chaired by Natasha V. Raikhel, Distinguished Professor of Plant Cell Biology. Others on the committee were Peter W. Atkinson, professor of entomology; Katherine A Borkovich, associate professor of plant pathology; Shou-Wei Ding, associate professor of plant pathology; Elizabeth Lord, professor of botany; Philip Roberts, professor of nematology; and Satish Tripathi, dean of the Bourns College of Engineering.
The University of California, Riverside (www.ucr.edu) is a doctoral research university, a living laboratory for groundbreaking exploration of issues critical to Inland Southern California, the state and communities around the world. Reflecting California's diverse culture, UCR's enrollment has exceeded 21,000 students. The campus opened a medical school in 2013 and has reached the heart of the Coachella Valley by way of the UCR Palm Desert Center. The campus has an annual statewide economic impact of more than $1 billion.
A broadcast studio with fiber cable to the AT&T Hollywood hub is available for live or taped interviews. UCR also has ISDN for radio interviews. To learn more, call (951) UCR-NEWS.