West Coast Debut of Singh Twins
---
Art of Singh Twins On Display Starting Oct. 2 at UC Riverside's Sweeney Art Gallery and downtown Riverside Art Museum
Merrill Lynch is sponsoring the exhibition, presented in two Riverside venues
(September 20, 2003)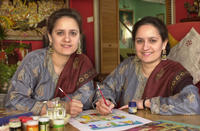 Amrit and Rabindra K.D. Kaur Singh at Twin Studio, Wirral, England

RIVERSIDE, Calif. (www.ucr.edu) -- This fall, East collides with West in Riverside. The Sweeney Art Gallery at UC Riverside and the Riverside Art Museum in Downtown Riverside will jointly present the exhibition "PAST MODERN The Singh Twins."
This international show, which opens on October 2 and continues through December 6, 2003, is the West Coast debut of the highly acclaimed British-Asian twin sisters, Amrit and Rabindra Singh. The Singh Twins have participated in more than twenty solo shows throughout the world, and are the focus of nearly 100 feature articles. Though their artwork is strongly inspired by traditional Indian miniature-style painting, they effectively undermine assumptions about contemporary art, Eastern and Western aesthetics, and the supposed primacy of the individual.
The Singh Twins' artistic process and collaborative partnership began early on in their careers. As art students, they faced harsh critiques from professors who reprimanded the two collaborators for their "derivative aesthetics and non-individualistic ideologies." Conscious of their position outside the mainstream social and artistic norm, the Singh Twins resolutely refused to conform to expectations of anti-conformity.
Maintaining their practice of working and exhibiting together as an artist, the Twins question the biases of an Establishment that honors self-expression as the ultimate achievement of contemporary art, yet denies the validity of anything that does not follow expectations. Indeed the artists assert their right to define their own cultural and artistic 'individuality' in a way that is meaningful and true to themselves - British Asians, Sikhs, artists and twins. Their work offers a compelling perspective on the need to re-evaluate strict cultural definitions and role models within the wider context of an evolving global society.
In their renowned painting, "Diana: The Improved Version (1997-98), " Princess Diana is simultaneously transformed into a hybrid of Britannia, the Madonna and Child, and the Hindu goddess Durga. In the exhibition's catalogue (produced by the Millais Gallery in the U.K.), Dr. Geoff Quilley explains that the Twins' work "is located in the interstices between satire and religious icon, and between east and west, and ironically criticizes all processes of cultural stereotyping through the reduction of complex identities to emblems."
A total of nearly sixty original, stunningly intricate and delicate paintings will be shared by the two Riverside venues. One of the highlights at the Sweeney Art Gallery is the Twins' recent SPOrTLIGHT series. These dozen or so paintings take a satirical, in-depth look at the relationship between sports, media, celebrity and identity. Mimicking the style of advertising boards, SPOrTLIGHT spotlights the Williams sisters, Mike Tyson, David Beckham and his wife, Posh Spice, among many others; all are "players" who have "transformed the humble sportsman into universal hero and icon." Parodying fashion trendsetters and mega-sponsors as well as the super-saturation of the sporting scandal du jour, the series celebrates sporting achievement and its collective worldwide impact while slyly uncovering the international obsession with the cult of celebrity and sport.
As presented in the painting "In Action Replay (2002), " a satirical representation of a World Cup Match re-cast as a not-so-distant military conflict, the staging of international sporting events promote not only celebrity, but enact specific national identities; indeed many consider the Beckhams Britain's "New Royal family."
The Twins' recently commissioned series titled "Facets of Femininity" will be featured at the Riverside Art Museum. Using Pre-Raphaelite artist Dante Gabriel Rossetti's 19th-century portrait painting "The Blue Bower" as a springboard, the Twins contrast a decidedly Victorian view of femininity with more contemporary achievements and personalities of 20th-century female icons. From Eva Peron to Madonna (who portrayed the Argentinean personality in the film "Evita"),the pantheon of women includes eight females who have made their mark worldwide. The Twins choose to represent only Western women in this series to make a statement; indeed the absence of non-Western icons of femininity underscores the virtual invisibility of Eastern female role models in Western culture. In their art practice, the Twins seek to address the cultural biases of an Euro-centric perspective. By alluding to their own experience as British Asians, they attempt to transcend the boundaries of Eastern and Western traditions, allowing for varied readings by audiences of many backgrounds.
MERRILL LYNCH is a proud sponsor of the exhibition. "Merrill Lynch has a long-standing history of supporting the fine arts and is particularly proud to be the lead sponsor of "PAST MODERN The Singh Twins." This exciting exhibition provides an important platform for Merrill Lynch to demonstrate its commitment to the South Asian community and celebrate the development of contemporary Indian Art," said Jyoti Chopra, Director of South Asian Business Development in the Merrill Lynch Global Private Client Group.
Artist Biography
Twin sisters Amrit and Rabindra Kaur Singh were born in London and now live on the Wirral in northwestern England. Their award-winning paintings have been exhibited widely in Great Britain, Germany, Switzerland and France;
"PAST MODERN The Singh Twins" follows on the heels of recent international media attention, including interviews for BBC's Womens' Hour, Mid Week and Belief, and the Granada TV documentary Singh Out Sisters. Other recent engagements include lectures and conference appearances at institutions such as the Tate Gallery, London; The Art Gallery of Ontario, Canada; and the Asian Art Museum, San Francisco. In 2002, their solo India tour was launched at the National Gallery of Modern Art, New Delhi - making them the only British artists (besides Henry Moore) to have been offered a solo show at this, one of India's foremost venues for Contemporary Art. That same year, they were appointed official Artists-in-Residence to the 2002 Commonwealth Games; it was during this residency that they completed the SPOrTLIGHT series.
An independently commissioned British Arts Council film about the Singh Twins will be screened throughout the duration of the exhibition. "Alone Together" (29minutes) was produced by Suman Bhuchar and received The Best Film on Art prize at the 2001 Asolo International Film Festival in Italy.
RELATED EVENTS: (All events are free and open to the public)
FRIDAY, October 3
Twins' Lecture in Arts 335 from 1:00 to 2:30pm, UCR
SATURDAY,
October 4- Opening Celebrations with the Artists
Reception at Sweeney Art Gallery from 2:00 to 4:00pm
Artists' Talk at Sweeney Art Gallery at 2:30pm
Reception at Riverside Art Museum from 4 to 6:00pm
SUNDAY, October 5
First Sundays at Riverside Art Museum,
Twins' family workshop from 1 to 4pm
The Sweeney Art Gallery is located across from the UCR campus in Watkins House, at 3701 Canyon Crest Drive, Riverside, CA. Hours are Tuesday thru Saturday 11 am to 4 pm;Admission is free. Web site: sweeney.ucr.edu
The Riverside Art Museum is located in Downtown Riverside at 3425 Mission Inn Avenue, Riverside, CA. Hours are Monday through Sunday 10 am to 4 pm; Admission is $5; members and children under 12 are free.
Web site: www.riversideartmuseum.org
Call 909/684-7111 for more information.
Merrill Lynch is a proud sponsor of PAST MODERN The Singh Twins
Additional support has been provided by Burgess Moving & Storage, Dalip & Latika Singh, The Press-Enterprise,
and Blanchard Signs.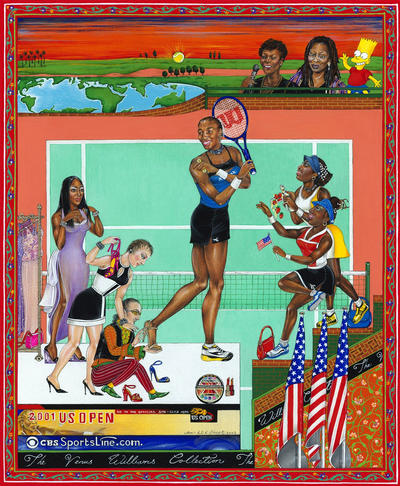 Enlarge
Dressed To Kill, 2002, Poster colour and gouache on paper
Artist: Amrit K.D. Kaur Singh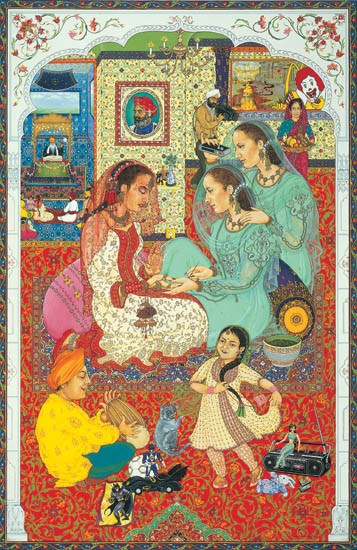 Nyrmla's Wedding II, 1985/6, poster colour, gouache and gold dust on mount board
Artist: Amrit K.D. Kaur Singh


Merrill Lynch is a proud sponsor of PAST MODERN The Singh Twins
RELATED LINKS
ADDITIONAL CONTACTS
The University of California, Riverside (www.ucr.edu) is a doctoral research university, a living laboratory for groundbreaking exploration of issues critical to Inland Southern California, the state and communities around the world. Reflecting California's diverse culture, UCR's enrollment has exceeded 21,000 students. The campus opened a medical school in 2013 and has reached the heart of the Coachella Valley by way of the UCR Palm Desert Center. The campus has an annual statewide economic impact of more than $1 billion.
A broadcast studio with fiber cable to the AT&T Hollywood hub is available for live or taped interviews. UCR also has ISDN for radio interviews. To learn more, call (951) UCR-NEWS.