UCR Congratulates Jian-Kang Zhu for Winning Charles Albert Shull Award
---
Recently Named Director of UCR Institute for Integrative Genome Biology Honored by American Society of Plant Biologists
Jian-Kang Zhu recognized for his extraordinary career progress and pioneering work in analyzing responses of plants to environmental stress.
(September 9, 2003)
NEWS MEDIA CONTACT
Name:

Iqbal Pittalwala


Tel:

(951) 827-6050


E-mail:

iqbal@ucr.edu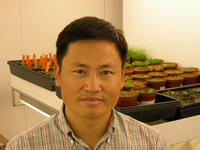 Dr. Jian-Kang Zhu will be the next director of the UCR Institute for Integrative Genome Biology.
RIVERSIDE, Calif. -- (
www.ucr.edu
)The University of California, Riverside today issued a congratulatory statement to Dr. Jian-Kang Zhu in recognition of his recent Charles Albert Shull Award from the
American Society of Plant Biologists
. Professor Zhu was
named director of the UCR Institute for Integrative Genome Biology
last month and will join the UC Riverside faculty in January 2004.
The
Charles Albert Shull Award
was initiated in 1971 by the Society to honor Dr. Charles A. Shull, whose personal interest and support were largely responsible for the founding and early growth of the Society. It is a monetary award made biennially in odd-numbered years for outstanding investigations in the field of plant physiology by a scientist residing in North America who is under 40 years of age on January 1st of the year of the presentation, or is less than 10 years from the granting of the doctoral degree. The recipient is invited to address the Society at the annual meeting the following year.
Zhu responded to receiving this award by stating, "I am very honored. I am grateful to my mentors and to all the students, postdocs, technicians and visiting scientists who have worked in my lab."
The citation for Dr. Zhu is as follows:
The Charles Albert Shull Award of 2003 goes to Dr. Jian-Kang Zhu for his extraordinary career progress and his pioneering work in the identification of key genes for modifying the responses of crops to environmental stresses. This work will ultimately lead to major contributions to agriculture. Despite his young age, Dr. Zhu is already recognized as the leading scientist in the field of genetic analysis of responses of plants to environmental stress. His research focuses on the molecular genetic mechanisms underlying plant responses to adverse environments such as salinity, drought, and low temperature. His research accomplishments place him at the forefront of efforts to elucidate the signaling pathways used by plants in responding to these and other environmental stresses. Dr. Zhu's first sequence of breakthroughs came from the characterization of the salt-sensitive sos mutants. From there, his group went on to describe SOS genes and proteins in great detail from molecular genetic to biochemical characterizations. The depth of his publications in this area reflects his elegant and thorough follow-up analyses after initial mutant isolations. Dr. Zhu and colleagues have found that SOS3 and SOS2 coordinately regulate the activities of several other transport systems important for salt tolerance, including vacuolar sodium/proton exchangers and proton pumps on both the plasma and vacuolar membranes. Overexpression of SOS1 or an activated form of SOS2 improves the salt tolerance of transgenic Arabidopsis plants. In addition, their work on SOS4 revealed a critical role of vitamin B6 in plant salt tolerance.
Dr. Zhu has also played a leading role in the genetic analysis of cold stress signal transduction. His group has discovered several novel regulators of cold-responsive gene transcription and of chilling and freezing tolerance. HOS1 provides the first example of a cellular protein that exhibits cold-regulated nucleocytoplasmic partitioning. More recently, through mutant analysis, his group has identified a key upstream transcription factor that binds to the CBF3 promoter and controls the expression of 03F genes in the cold.
In an independent line of research, Dr. Zhu developed and pursued a screen using stress-inducible rd29, a promoter-reporter line, to identify mutants that affect different stress responses, such as salinity, cold, and osmotic stress. His first Plant Cell publication in this field was already a tour de force and an important milestone as he demonstrated through analyses of the large set of initial mutants that were isolated how these stress signaling pathways interact.
His thinking and creativity in plant biology go far beyond "brute force" research advances.

End Citation

Founded in 1924, the American Society of Plant Biologists is a non-profit science society representing nearly 6,000 plant scientists from around the world. ASPB publishes two of the three most widely cited plant science journals in the world, The Plant Cell and Plant Physiology. ASPB, headquartered in Rockville, Maryland, changed its name from the American Society of Physiologists in 2001 to reflect the broader diversity of plant scientists in its membership.
The UCR Institute for Integrative Genome Biology, established in 2000, brings together faculty from every academic unit on campus to participate in this era of rapid genomics-based discovery. The Institute provides researchers and students access to state-of-the-art tools for advanced studies in genomics, gene expression, proteomics, microscopy and bioinformatics. Research efforts are focused on insect genomics, plant cell biology/genomics, microbial genomics, mammalian genomics and bioinformatics.
The University of California, Riverside (www.ucr.edu) is a doctoral research university, a living laboratory for groundbreaking exploration of issues critical to Inland Southern California, the state and communities around the world. Reflecting California's diverse culture, UCR's enrollment has exceeded 21,000 students. The campus opened a medical school in 2013 and has reached the heart of the Coachella Valley by way of the UCR Palm Desert Center. The campus has an annual statewide economic impact of more than $1 billion.
A broadcast studio with fiber cable to the AT&T Hollywood hub is available for live or taped interviews. UCR also has ISDN for radio interviews. To learn more, call (951) UCR-NEWS.