Dennis Fitz Awarded EPA Grant to Study Air Pollution
---
UC Riverside Engineer Awarded EPA Grant to Study Air Pollution
(September 17, 2003)
NEWS MEDIA CONTACT
Name:

Iqbal Pittalwala


Tel:

(951) 827-6050


E-mail:

iqbal@ucr.edu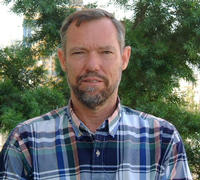 Dennis Fitz, a research engineer at UC Riverside, has been awarded a grant of $187,000 by the Environmental Protection Agency to study air pollution. (Photo credit: Lisa Arth, CE-CERT.)
RIVERSIDE, Calif. — (
www.ucr.edu
)— Dennis Fitz, a research engineer at UC Riverside, has been awarded a grant of $187,000 by the
Environmental Protection Agency (EPA)
to study air pollution. EPA's National Center for Environmental Research's Science to Achieve Results (STAR) Program will fund Fitz's research for a period of two years starting October 2003. The title of Fitz's research project is "Evaluation and Minimization of Organic Aerosol Sampling Artifacts as Impactors and Quartz Fiber Filter Denuders."
Fitz, who is assistant research engineer at the
College of Engineering — Center for Environmental Research and Technology (CE-CERT)
, will do all the research at UC Riverside with the assistance of an undergraduate student.
"I am honored to be awarded the EPA grant," said Fitz. "Even though all my research has been supported by external research grants for the past 20 years, winning this one has been the most satisfying of my career. The grant will let me perform research to answer a question that arose nearly fifteen years ago when I could not explain results I obtained when I developed a 'quartz fiber filter diffusion denuder' in an attempt to minimize the collection of gaseous pollutants on filters used to collect particles. Now I may finally have the answer."
Fitz's research project will involve measuring particulates in air. "It has been shown that fine particle air pollution shortens human life," said Fitz. "Accurately measuring the composition of these fine particles is essential to determining their source and ultimately controlling them. In this project, I will be working to improve measurement methods."
Fitz explained that when fine particles are collected on a filter for chemical analysis, some of the particles could evaporate, while gas phase species in the air could condense on the filter. "Since we are trying to measure the particulate component as it exists in the air, evaporation gives a result that is too low and condensation gives a result that is too high," he said. "I will be sampling air with a series of particle collection approaches that will help to quantify and minimize the errors in the results from the two processes, evaporation and condensation."
Fitz's research will require special instruments such as low pressure cascade impactors, custom diffusion denuders, and an instrument to measure the amount of carbonaceous material collected on a filter.
CE-CERT was established in 1992 as a model for partnerships among industry, government, and academia. CE-CERT's goals are to become a recognized leader in environmental education, a collaborator with industry and government to improve the technical basis for regulations and policy, a creative source of new technology, and a contributor to a better understanding of the environment. CE-CERT is committed to furthering education and research for the next generation of engineers. Its students receive an excellent education and unprecedented opportunities to be intimately involved in the research enterprise.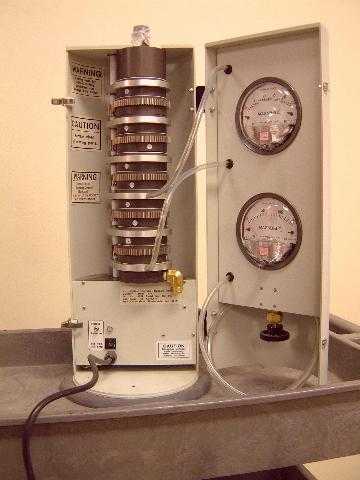 An image of the Micro Orifice Uniform Deposit Sampler (MOUDI), an instrument that Dennis Fitz will use in his research on the EPA-funded project. (Photo credit: Kurt Bumiller.)
ADDITIONAL CONTACTS
The University of California, Riverside (www.ucr.edu) is a doctoral research university, a living laboratory for groundbreaking exploration of issues critical to Inland Southern California, the state and communities around the world. Reflecting California's diverse culture, UCR's enrollment has exceeded 21,000 students. The campus opened a medical school in 2013 and has reached the heart of the Coachella Valley by way of the UCR Palm Desert Center. The campus has an annual statewide economic impact of more than $1 billion.
A broadcast studio with fiber cable to the AT&T Hollywood hub is available for live or taped interviews. UCR also has ISDN for radio interviews. To learn more, call (951) UCR-NEWS.