Accent on California Recall
---
Thick Accents Are Not A Problem in California Recall
UC Riverside Political Scientist Says Accents Just Add to the State Melting Pot

(September 26, 2003)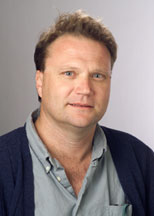 RIVERSIDE, Calif. (www.ucr.edu)-- Shaun Bowler, a professor of political science at the University of California, Riverside, says California is big enough and accepting enough not to flinch at the thick accents of Arnold Schwarzenegger and Arianna Huffington, two candidates in the Oct. 7 election to recall Governor Gray Davis.
"In fact that's one of the nice features of California," Bowler said, sounding every bit the Brit he is. "There are foreigners running and foreigners commentating and we're all just Californians. It's not possible to criticize them for "talking funny" because lots of people in the state have an accent of one sort or another."
He said despite the accent, Schwarzenegger is clearly an American movie star. He's one of us. Also, lots of politicians have pronounced accents that have generated lots of teasing and parody. The Kennedy family heavily nasal voice is parodied in the Mayor character on "The Simpsons." Lyndon Johnson and Jimmy Carter took all kinds of shtick for their heavy Southern drawls.
"Even the foreign-born and heavily accented Henry Kissinger was accepted for his expertise and his power and the place he made for himself in American politics," Bowler said.
He said the foreign voices in the recall campaign just mark themselves as new Californians. "The fact that it doesn't work against them with the public is one reason why so many of us like it here," he said.
Recalls, he said, are usually a sign of a healthy democracy. "It's a means of sending a message to leaders who are not doing a good job." The fact that citizens of California actually lined up and waited to sign the recall petition at the local Sam's Club means the Republicans have tapped into a very strong emotion.
Bowler contends that in the past, successful recalls have been quite rare, because it requires a cause that citizens can grab hold of. But the ongoing battle of political wills may not do anyone any good in the long run, Bowler said. A successful recall this time might just encourage others to start one every time they are unhappy with an election outcome. California might become the land of the perpetual recall, sparking a similar reaction in other states. And that wouldn't be good for anyone.
"It's like throwing stones in a glass house," he said. "When the voters are fed up with both parties it will be a plague on both."
The co-author of Demanding Choices: Opinions and Voting in Direct Democracy, Bowler has studied elections all over the world. He came to UC Riverside in 1989.
The University of California, Riverside (www.ucr.edu) is a doctoral research university, a living laboratory for groundbreaking exploration of issues critical to Inland Southern California, the state and communities around the world. Reflecting California's diverse culture, UCR's enrollment has exceeded 21,000 students. The campus opened a medical school in 2013 and has reached the heart of the Coachella Valley by way of the UCR Palm Desert Center. The campus has an annual statewide economic impact of more than $1 billion.
A broadcast studio with fiber cable to the AT&T Hollywood hub is available for live or taped interviews. UCR also has ISDN for radio interviews. To learn more, call (951) UCR-NEWS.