Plant Pathologist A.L.N. Rao Awarded $1 Million Grant
---
UC Riverside Plant Pathologist Awarded $1 Million Grant to Study Virus Assembly
(October 1, 2003)
NEWS MEDIA CONTACT
Name:

Iqbal Pittalwala


Tel:

(951) 827-6050


E-mail:

iqbal@ucr.edu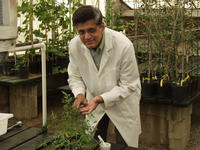 Enlarge
A. L. N. Rao of the department of plant pathology has been awarded a grant of $994,715 by the National Institutes of Health. (Photo credit: Stephen Wegulo. Click on image for a high-resolution photograph.)
RIVERSIDE, Calif. -- (
www.ucr.edu
) -- UC Riverside's
A. L. N. Rao
of the
department of plant pathology
has been awarded a grant of $994,715 by the
National Institutes of Health
- National Institute of General Medical Science for four years starting Aug. 2003. Rao was awarded the grant for studying 'the mechanism of virus assembly.'
"A fundamental question in virology is how viruses package their genomes into stable virions or virus particles," explained Rao, who is associate professor of plant pathology and associate plant pathologist. "If a virus has to spread to another host, it can only be accomplished if the virus is intact. Hence assembly of the virus is important."
(A virus is a minute infectious agent made up of nucleic acid -- DNA or RNA -- and protein that is totally inert outside the host cell. A mature virus is termed a virion and consists of a shell of protein units arranged around a central molecule of nucleic acid. A genome is all the DNA or RNA in a virus or an organism, encoding all its genes.)
Rao explained that once a virus enters a host cell, it releases its nucleic acid (i.e., the infectious part of the virus) into the cell. This nucleic acid then multiplies, and makes more virus particles, killing the cell and causing disease. To make more virus particles, the nucleic acid needs to synthesize the proteins it contains. One of these proteins, called the 'replication protein,' is made using the host's contents and is in turn used to make new copies of the original nucleic acid. Similarly, another set of special 'coat proteins' are synthesized from the newly made nucleic acids. These coat proteins interact with the newly synthesized nucleic acids to form a virion or virus particle with an incredible precision. This process is called virus assembly. This newly assembled particle is now ready to infect other surrounding healthy cells of the host. Since millions of nucleic acids are synthesized, the process eventually results in manufacturing millions of virus particles in a single host cell.
"For example, if a mosquito feeds on an infected host, it acquires the newly made virus particles," said Rao. "When the mosquito attacks a new host, these virus particles are released into the new host, thereby spreading the infection. Therefore, formation of virus particles, or assembly, becomes an important part in the virus life cycle. If we can block this assembly process, we can stop the spread of the virus. But to block the assembly process, we first need to understand how the virus manipulates to form these infectious virus particles."
Rao believes it is imperative to understand how viruses are assembled since sexually transmitted HIV and mosquito-transmitted West Nile virus are spread only in assembled form. For example, West Nile virus is acquired when mosquitoes feed on infected chicken. The mosquitoes acquire infectious virions and deposit them into healthy hosts such as humans and horses. Similarly, citrus trestiza virus, a most devastating virus to California's citrus industry, spreads to new hosts by insects such as aphids.
Most of Rao's research on understanding the mechanism of virus assembly will be performed at UC Riverside. The NIH grant will support two postdoctoral researchers, two graduate students and one or two undergraduate students.
For the research, a viral system is required in which one can easily disassemble the virus and again reassemble it in a test tube into infectious virions. Many viruses are not suitable for this kind of research but Rao's research group uses brome mosaic virus, a virus infectious to plants, as a model system that can be assembled with ease into infectious particles, thus fulfilling all the requirements for studying virus assembly research.
Rao received his Ph.D. in plant pathology from the University of Adelaide, South Australia, in 1982. The major focus of research in his laboratory is to understand how viruses package their infectious nucleic acid into virions. Most of his research uses molecular tools and plants to study virus assembly process.
The UC Riverside Department of Plant Pathology is committed to conducting research on the basic biology of plant pathogens; developing methods for the control of plant diseases; providing a quality education to its students; and providing expert advice on plant diseases to the citizens of California and the world. The department has maintained a strength in the study of diseases of citrus, field crops, vegetables, ornamental plants, turfgrass, and subtropical trees. Many faculty in the department have close interactions with growers and farm advisors throughout California and the world. Graduate students in the department have the opportunity to learn about a broad range of disciplines including molecular and classical genetics, biochemistry, botany, and disease diagnosis.
The University of California, Riverside (www.ucr.edu) is a doctoral research university, a living laboratory for groundbreaking exploration of issues critical to Inland Southern California, the state and communities around the world. Reflecting California's diverse culture, UCR's enrollment has exceeded 21,000 students. The campus opened a medical school in 2013 and has reached the heart of the Coachella Valley by way of the UCR Palm Desert Center. The campus has an annual statewide economic impact of more than $1 billion.
A broadcast studio with fiber cable to the AT&T Hollywood hub is available for live or taped interviews. UCR also has ISDN for radio interviews. To learn more, call (951) UCR-NEWS.