Rude Awakening In Store for Schwarzenegger
---
California Recall is Over
Professor of Political Science Shaun Bowler Says Now Reality Sets in for Arnold
(October 8, 2003)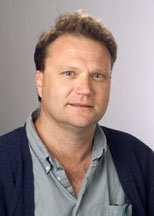 RIVERSIDE, Calif. (Oct. 8, 2003) -- Shaun Bowler, a professor of political science at the University of California, Riverside, says Arnold Schwarzenegger's plan for his first 100 days as California's Governor is more like a made-for-TV movie, rather than something that will solve the state's real life budget problems.
"If he believes his own plan he is in for a rude awakening," Bowler said. "Sacramento won't be like a movie set where he has a trailer and flunkies getting rid of the red M & M's. Sacramento doesn't have to jump when he says jump. So there'll be a learning period for him."
He can ask the Indian gaming community to contribute more to the state budget, but they can just say no. "Remember, Gray Davis tried this early in the budget crisis and it didn't work then. Unless something's changed, or Arnie is offering lots of parts in Terminator 4, there's no reason to expect he will get a different answer," Bowler said.
Governor-elect Schwarzenegger promises to cancel the car tax, but he never says how he will make up for that revenue shortfall. Even if he identifies ways to cut spending, it still means pinks slips for some and services cut for others. "For the folk affected by that, it'll be a splash of cold water. Right now that's being glossed over."
Having said that, Bowler contends that Schwarzenegger's symbolic leadership is still an important job qualification.
"One of the biggest knocks at Gray Davis was that he really doesn't inspire people very well," Bowler said. "Folk seem to look at Davis, listen to him and then come away thinking 'nice suit.' So Arnold's symbolic qualities should not be overlooked as qualifications for the job."
Also, California governors' rank a little below average when it comes to power, Bowler said. They are constrained by the state Constitution, the Legislature and also the voter-approved structure of the budget. "So making Arnold governor isn't like letting the kids loose in a candy store -- there are serious constraints that will compel him to do certain things. It limits both the good and bad he can do."
The co-author of Demanding Choices: Opinions and Voting in Direct Democracy, Bowler is British and has studied elections all over the world. He came to UC Riverside in 1989. He can be reached at his office (909) 787-5595; via email at shaun.bowler@ucr.edu
The University of California, Riverside (www.ucr.edu) is a doctoral research university, a living laboratory for groundbreaking exploration of issues critical to Inland Southern California, the state and communities around the world. Reflecting California's diverse culture, UCR's enrollment has exceeded 21,000 students. The campus opened a medical school in 2013 and has reached the heart of the Coachella Valley by way of the UCR Palm Desert Center. The campus has an annual statewide economic impact of more than $1 billion.
A broadcast studio with fiber cable to the AT&T Hollywood hub is available for live or taped interviews. UCR also has ISDN for radio interviews. To learn more, call (951) UCR-NEWS.