Workshop with Joyce Appleby
---
Series of Workshops Begins at UC Riverside, Funded by Andrew W. Mellon Foundation
Thomas Paine's "Common Sense," is First Discussion Subject
(October 7, 2003)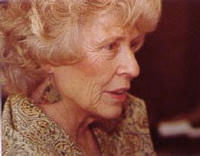 Joyce Appleby
RIVERSIDE, Calif. (www.ucr.edu) -- Joyce Appleby, a professor emerita from UCLA and a leading intellectual on the nation's revolutionary founders, will present a workshop at UC Riverside on Thomas Paine's "Common Sense" at 4 p.m. Thursday, Oct. 9, in room 1500 of the Humanities and Social Sciences building. This is the first of several workshops that will be organized with a three-year grant from the Andrew W. Mellon Foundation to the College of Humanities Arts and Social Sciences.
The event is sponsored by the UCR Mellon Committee on the Readings and Writings of the Founders, a group of faculty members who are cooperating to bring new intellectual opportunities to the campus. It is free and open to the public, although parking costs $4.
"The Mellon Workshop Program is designed to enrich the intellectual collaboration between faculty and graduate students," said Thomas Scanlon, chair of the Department of Comparative Literature. "We believe it will become a seed bed for new graduate and undergraduate programs, new research and new collaborations in teaching." This is the first of five workshop groups this year that include both graduate students and faculty members. Scanlon said other subjects coming up later in the year include "women, empire and violence" and "the arts and improvisation." Scanlon said that the program is still looking for workshop subjects for the 2004-05 academic year.
A former president of the American Historical Association, Professor Appleby is the author of numerous distinguished works on the intellectual, social, and economic origins of revolutionary America, including: Ideology and Economic Thought in Seventeenth-Century England (1978), Capitalism and a New Social Order (1984), and Liberalism and Republicanism in the Historical Imagination (1992). She earned her Ph.D. at Claremont Graduate University and taught at a variety of universities before landing as a history professor at UCLA for 20 years. She retired in 2001.
In 1990-91 she was Harmsworth Professor of American History at Oxford University and a fellow of Queen's College. In 1991, she served as President of the Organization of American Historians, and in 1997 as President of the American Historical Association.
Professor Appleby is also co-author of Telling the Truth about History (1992) and co-editor of Knowledge and Postmodernism in Historical Perspective (1996). Her most recent work centers in the study of early nineteenth-century America, including "Inheriting the Revolution: The First Generation of Americans" (2000) and "Thomas Jefferson" (2003). A transcript of an interview she did with Margaret Warner of the Newshour with Jim Lehrer is on the Web at
http://www.pbs.org/newshour/gergen/jan-june00/appleby_5-30.html
Thomas Paine's Common Sense is about fifty pages in length and is accessible electronically at: www.ushistory.org/paine/. Participants are strongly encouraged to read the entire text.
"My motive and object in all my political works, beginning
with Common Sense, the first work I ever published,
have been to rescue man from tyranny and false systems and
false principle of government, and enable him to be free.
Thomas Paine, 1806
THE ANDREW W. MELLON FOUNDATION makes grants in higher education, museums and art conservation, performing arts, population, conservation and the environment, and public affairs.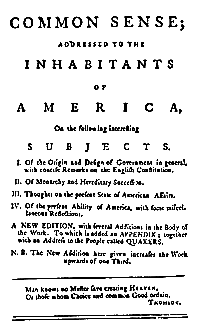 Cover of Common Sense
The University of California, Riverside (www.ucr.edu) is a doctoral research university, a living laboratory for groundbreaking exploration of issues critical to Inland Southern California, the state and communities around the world. Reflecting California's diverse culture, UCR's enrollment has exceeded 21,000 students. The campus opened a medical school in 2013 and has reached the heart of the Coachella Valley by way of the UCR Palm Desert Center. The campus has an annual statewide economic impact of more than $1 billion.
A broadcast studio with fiber cable to the AT&T Hollywood hub is available for live or taped interviews. UCR also has ISDN for radio interviews. To learn more, call (951) UCR-NEWS.