Conference on Genetically Modified Organisms, Oct. 14-17
---
UC Riverside's Biotechnology Impacts Center to Convene Conference on Genetically Modified Organisms, Oct. 14-17, 2003
Conferees will outline a broad-ranging, visionary approach to the practical applications of biotechnology
(October 10, 2003)
NEWS MEDIA CONTACT
Name:

Iqbal Pittalwala


Tel:

(951) 827-6050


E-mail:

iqbal@ucr.edu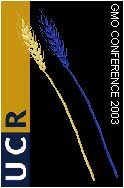 RIVERSIDE, Calif. -- (
www.ucr.edu
) -- While discoveries in biotechnology offer tremendous potential, uncertainty over the environmental, social, ethical, legal, economic, and cultural consequences of these new technologies persists. This and other related issues will be the focus of a conference convened by the
Biotechnology Impacts Center
of the University of California, Riverside from Oct. 14 through Oct. 17, 2003 at the Mission Inn, Riverside, Calif.
The conference -- "GMOs in 2030: Reaping the Promise While Leaping the Pitfalls?" -- is organized by
Norman C. Ellstrand
, Professor of Genetics and Director of the Biotechnology Impacts Center,
Richard Sutch
, Distinguished Professor of Economics, and
Christopher Chase-Dunn
, Distinguished Professor of Sociology. Some of the world's leading thinkers on the environmental, social, economic and cultural impacts of genetically modified organisms (GMOs) will attend the conference and take a broad-ranging, visionary approach to the practical applications of biotechnology.
A GMO is an organism, such as a plant, produced from genetic engineering techniques that allow the transfer of functional genes from one organism to another, including from one species to another. Bacteria, fungi, viruses, plants, insects, fish, and mammals are some examples of organisms the genetic material of which has been artificially modified in order to change some physical property or capability.
"The objective of the conference is to take a visionary and mindful approach to the use of GMOs for the benefit of humankind and the environment by identifying principles and protocols that will serve as a framework for a civilized, respectful and informed dialogue on the myriad issues facing society in the application of biotechnology," said
Ellstrand
, who, earlier this month, published a book entitled
"Dangerous Liaisons? When Cultivated Plants Mate With Their Wild Relatives"
(288 pages, Johns Hopkins University Press, October 2003).
The GMOs in 2030 conference sessions are: What is Our Place in the Biosphere; Leakage of Transgenes -- What Does it Really Mean; GMOs in the Global Economy; Golden Rice for the Developing World; Malaria Resistant Mosquitoes; and Plants as Factories for Industrial Compounds and Pharmaceuticals.
"The promise of GMOs is the promise to increase agricultural productivity, reduce environmental damage from agriculture, and to increase the nutrient value of staple crops, such as rice," said
Sutch
. "Large benefits imply large economic changes as society harnesses this new technology. Large changes are always risky. They are socially and environmentally disruptive and such disruption often has unexpected and unhappy consequences. Not just economists, but everyone, needs to pay attention."
Sutch noted that GMOs play a role in the global economy. "Much of the world's agricultural output crosses borders to reach the final consumer," he explained. "The countries that gain the advantage of increased productivity will fundamentally change the patterns of world trade. They will sell more abroad and out compete food producers who do not have access to this technology. There will be losers as well as winners in this global competition."
Chase-Dunn
pointed out that social scientists have always studied the causes and consequences of new technologies. "We want to understand the circumstances under which innovation occurs and the social, political and economic consequences of new technologies," he said. "We study both the positive and negative consequences of new technologies, and how people's perceptions of the risks involved may influence the development and implementation of new technologies.
"With regard to the role of GMOs in the global economy, GMOs may allow food to be grown much more inexpensively, and they may become economically important in the medical industry. Much depends, however, on how much resistance there is to GMO technology, and this mainly depends on avoiding large and visible negative unintended consequences. Thus the careful development of applied GMO may be one of the biggest determinants of how fast GMO-related industries expand."
Conference participants will examine such over-arching topics as the responsibility of humankind in stewardship of the biosphere vs. the ability to manipulate life at the gene level case studies such as vitamin A-enriched rice and the potential of genetically modifying mosquitoes to disrupt the transmission of malaria and other mosquito-transmitted diseases.
"The conference will be distinctive from others exploring issues associated with biotechnology in that it will integrate leading scholars from a variety of disciplinary perspectives, as opposed to most conferences on the topic, which typically involve life scientists exclusively with one or a few token humanists or social scientists — or vice versa," said Ellstrand.
Registration is $275 per person ($100 for graduate students). One-day registration is also available at the following fees: $100 for Wednesday, Oct. 15; $100 for Thursday, Oct. 16; and $50 for Friday, Oct. 17. Registration includes the continental breakfasts, refreshment breaks, lunches and dinners as scheduled on the particular days of attendance, as well as conference materials. To register or request more information, contact Carol Lerner by e-mail at carol.lerner@ucr.edu or by phone at (909) 787-5089.
To view the
conference program
, please visit: http://www.genomics.ucr.edu/centers/biotech/2003gmoconference.html
Media interested in covering the conference can call 909-787-2645.
RELATED LINKS
ADDITIONAL CONTACTS
The University of California, Riverside (www.ucr.edu) is a doctoral research university, a living laboratory for groundbreaking exploration of issues critical to Inland Southern California, the state and communities around the world. Reflecting California's diverse culture, UCR's enrollment has exceeded 21,000 students. The campus opened a medical school in 2013 and has reached the heart of the Coachella Valley by way of the UCR Palm Desert Center. The campus has an annual statewide economic impact of more than $1 billion.
A broadcast studio with fiber cable to the AT&T Hollywood hub is available for live or taped interviews. UCR also has ISDN for radio interviews. To learn more, call (951) UCR-NEWS.