Paper says Sagebrush Habitat Disappearing
---
Are Sagebrush Habitats and Their Birds Teetering on the Edge?
Paper Says Invasive Plants, Human Activity Destroying Sage Shrub Habitat, Endangering Birds
(November 7, 2003)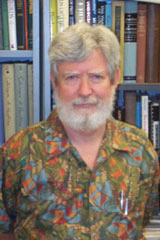 John Rotenberry
RIVERSIDE, Calif. —
www.ucr.edu
— John Rotenberry, a professor of biology and director of the
UC Natural Reserve system
at the University of California, Riverside, has co-authored a paper that says the quickly diminishing sagebrush landscapes in the western United States are leading to the rapid decline of bird species, such as the sage grouse and Brewer's sparrow.
The report, "Teetering on the edge or too late? Conservation and research issues for avifauna of sagebrush habitats," was published in the November issue of the international peer-reviewed science journal
The Condor
. It reviews the problems facing sagebrush habitats and the challenges facing native birds that depend on this habitat for survival.
Rotenberry's co-authors include experts from
the U.S. Geological Survey (USGS)
,
the High Desert Ecological Research Institute
and
the Washington Department of Fish and Wildlife
. The authors are members of
the Cooper Ornithological Society
Committee on Conservation of Sagebrush Ecosystems, which publishes
The Condor
.
Warnings began appearing over a quarter of a century ago about overuse and loss of native sagebrush habitats in the western United States and the consequences for birds that depend on it for all or part of their livelihood each year.
The causes underlying the changes and loss of sagebrush habitats are largely human-related, according to the article. Because less than 3 percent of the entire sagebrush habitat is protected in parks or reserves, the resources in almost all sagebrush ecosystems are heavily used. Some uses, such as mining, energy development, urbanization, or conversion of sagebrush habitats to agriculture cropland, vary regionally, but others, such as livestock grazing, are widespread across the entire range of sagebrush. These uses, without proper management, can significantly affect sagebrush birds by fragmenting or eliminating their habitats, the authors noted. They write that restoring these habitats will be difficult or, in some cases, impossible, either because the habitat has already been irrevocably changed or because many of the essential components birds need, such as cover to protect nests against predators, are no longer present.
The paper also points out that individual land uses often have compounding negative effects on habitats and birds. For example, land uses that promote the spread of fire-prone invasive plants, such as cheatgrass, can result in increasing the size and frequency of fires that ultimately convert even more sagebrush habitat to grasslands.
"Ecologically, the principal issue can be described as a large-scale alteration in the way the ecosystem operates due to alien, sometimes exotic, invaders, such as cheatgrass, a species of brome now widespread throughout the Great Basin," said Rotenberry. Add to that, human activities and, according to Rotenberry: "Shrubland-adapted birds are just out of luck."
The problem with invasive plants is that they speed up the fire cycle, which does not allow native shrubs to fully rebound.
"Interestingly, we see a very similar pattern here in Southern California," said Rotenberry of the altered fire cycle that degrades the health of shrublands. "But here, the exotics are promoted by enhanced nitrogen levels due to smog."
Steve Knick, USGS scientist and lead author on the article, noted that many of the troubles facing this ecosystem are not easily perceived. "The reality is," said Knick, "that almost all sagebrush habitats are suffering consequences of heavier use than they can take. At present, we don't have a handle on how to address the problems existing in this habitat because they are so diverse and widespread."
Another author of the paper, David Dobkin, Director of the High Desert Ecological Research Institute in Bend, Ore., noted that wildlife populations tend to change with their habitats. Today, he said, populations of many species of shrubland and grassland birds are declining, some severely. The Gunnison sage-grouse, for example, is a candidate for listing under the Endangered Species Act, and the Greater Sage-grouse is also being considered.
The authors recommend four primary areas in which future research should be focused to improve the chance of conserving birds living in sagebrush ecosystems.
"First and most critical, we need to know precisely how our use of sagebrush habitats affects the dynamics of these systems," said Knick. "All uses, whether livestock grazing, mining, energy development, or even treatments by land managers to improve habitats, influence the way the system functions. These uses are not necessarily negative, but conducted improperly can create habitats that are unsuitable for native birds and other native wildlife."
Three other recommended research approaches were to identify those habitat components most critical to birds, to design better survey methods and techniques to estimate bird population trends, and to determine the importance of wintering grounds and migration pathways for these birds.
"We hope that this broad but detailed analysis will be a crucial step toward raising awareness in the scientific community, among land managers, and ultimately of the American public, about the potentially overwhelming challenges to ecological integrity and function faced right now by these vast western landscapes," said Dobkin, the Editor-in-Chief of
The Condor
.
RELATED LINKS
ADDITIONAL CONTACTS
The University of California, Riverside (www.ucr.edu) is a doctoral research university, a living laboratory for groundbreaking exploration of issues critical to Inland Southern California, the state and communities around the world. Reflecting California's diverse culture, UCR's enrollment has exceeded 21,000 students. The campus opened a medical school in 2013 and has reached the heart of the Coachella Valley by way of the UCR Palm Desert Center. The campus has an annual statewide economic impact of more than $1 billion.
A broadcast studio with fiber cable to the AT&T Hollywood hub is available for live or taped interviews. UCR also has ISDN for radio interviews. To learn more, call (951) UCR-NEWS.