Health Sciences Initiative Launched
---
UC Riverside Launches Major Health Sciences Initiative: Announces Formation of Blue Ribbon Panel
Nobel Laureate, Noted Academics and Former UC Regent Chair Among Seven-Member Panel
(November 14, 2003)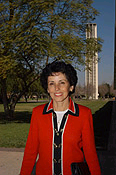 UC Riverside Chancellor France Cordova
RIVERSIDE, Calif. --
www.ucr.edu
-- University of California, Riverside Chancellor France A. Córdova today announced the formation of a seven-member Blue Ribbon Panel charged with assisting UC Riverside in enhancing medical education and research through a major Health Sciences Initiative (HSI).
Charles E. Young, president, University of Florida, and chancellor emeritus of UCLA, chairs the panel, which begins work in January. Young holds the distinction of being the longest serving Chancellor in the UC system. He was student body president of the first UC Riverside graduating class in 1955 and went on to earn master's and doctoral degrees in political science from UCLA.
Additional distinguished panel members include:


Nobel Laureate J. Michael Bishop, chancellor, University of California, San Francisco.


Thomas Cesario, dean, College of Medicine, University of California, Irvine.


Haile T. Debas, former interim chancellor University of California San Francisco and former dean, UCSF School of Medicine and current president, Society for Black Academic Surgeons.


S. Sue Johnson, former chair UC Board of Regents.


Gerald S. Levey, vice chancellor and dean, UCLA School of Medicine.


William Peck, former dean, Washington University School of Medicine and former executive vice chancellor for Medical Affairs, Washington University, recently named the first recipient of the Alan A. and Edith L. Wolf Distinguished Professor of Medicine at Washington University.


"We are honored to have such internationally recognized leaders in higher education serving on this panel," said Chancellor Córdova. "Their guidance in helping us to enhance our interdisciplinary research in the biomedical sciences, as well as explore options for meeting the increasing demand for health services in the Inland Southern California region, will be of tremendous value."
"I am honored to be part of the prestigious Blue Ribbon Panel Chancellor Córdova has established," said S. Sue Johnson. "I am particularly delighted that leaders of the stature of President Chuck Young, and Chancellor Mike Bishop are lending their expertise to this effort. Our Inland region will be dramatically strengthened by this initiative."
In addition, UC Riverside has established two other groups to assist the campus in developing its HSI process. One is the Chancellor's Community Forum on Health Care Initiatives, which consists of a broad base of the region's leading physicians, healthcare administrators, elected officials and community leaders. The group plans to meet in early December. The other group, a forum of more than 70 key senior UC Riverside faculty representing a cross section of disciplines from biomedical sciences and the social sciences to engineering and business management, met in October. This group strongly endorsed the HSI planning process that may lead to an enhanced biomedical education initiative combined with a medical research institute.
"These faculty members are showing their enthusiasm about building on UCR's well-known excellence in biological and biomedical research and education," said Richard Luben, UC Riverside's Interim Vice Chancellor for Research. "We've trained nearly 600 physicians at UCR in the last 30 years in the UCR/UCLA Thomas Haider Program in Biomedical Sciences, which has brought us talented students, distinguished research faculty members, and strong connections with the local medical community. We're ready to take the next step to become a major player in providing the whole range of teaching and disease-oriented research that the state needs, especially in the Inland area."
"The real beneficiaries of this vision will be the people of this Inland Southern California region, particularly the underserved young people," said Dr. Thomas Haider, founder of the Children's Spine foundation for whom the UCR/UCLA Bio-Medical Program is named. "This initiative will enhance the quality of life in the region by attracting medical professionals who positively impact the social, economic and educational health of our region."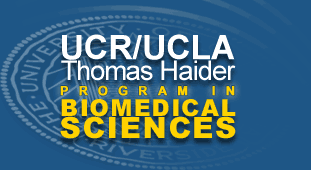 RELATED LINKS
The University of California, Riverside (www.ucr.edu) is a doctoral research university, a living laboratory for groundbreaking exploration of issues critical to Inland Southern California, the state and communities around the world. Reflecting California's diverse culture, UCR's enrollment has exceeded 21,000 students. The campus opened a medical school in 2013 and has reached the heart of the Coachella Valley by way of the UCR Palm Desert Center. The campus has an annual statewide economic impact of more than $1 billion.
A broadcast studio with fiber cable to the AT&T Hollywood hub is available for live or taped interviews. UCR also has ISDN for radio interviews. To learn more, call (951) UCR-NEWS.