Shrines Serve Purpose, Then Fade
---
UCR Professor Says National Shrines Serve Purpose, and Then Fade
Nov. 22, the 40th Anniversary of JFK Assassination, is a Day to Remember for Some, Just Another Day for Others

(November 20, 2003)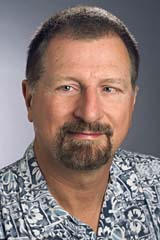 Ivan Strenski
RIVERSIDE, Calif. (www.ucr.edu) -- On the eve of the 40th anniversary of the assassination of President John F. Kennedy, UC Riverside Religious Studies Professor Ivan Strenski says that national tragedies spawn memorials and shrines that gradually lose their impact.
"What may be especially telling about the 40th anniversary of the assassination of President John Kennedy is the virtual absence of vivid, spontaneous displays of popular memorializing of the that day. All those gilt-edged JFK dinner plates and black velvet wall hangings, featuring the fine profile of the young president now compete for space on the sorry shelves of country thrift shops, right alongside sea foam Melmac dinnerware, lava lamps, depression glass and 8-track tapes."
Strenski, who has created a website at www.shrines.ucr.edu exploring the phenomenon of spontaneous shrines, said that there is a natural life to tragedy, and Nov. 22nd is fading in the American consciousness just as the shrines for the fallen soldiers of World War I faded before. Eventually, as hard as it might be to imagine, so will the memorials created in honor of the dead from the Sept. 11th terrorist attacks.
"Even when the day is so special that, proverbially, everyone then alive and
mature enough exactly where they were and what they were doing when they heard the news, time does its work," he said. "Yes, official commemorations will be held, and existing memorial sites will still receive a share of attention. But, history has muddied the vivid recollections of that traumatic day into shades of grey. Who now, except for dedicated veteran's associations, even memorializes the fallen from the First World War. Those losses, originally remembered on November's Armistice Day, are now tellingly generalized into the olive drab of our Veteran's Day. So too after 40 years is JFK."
Shrines and memorials spring up in a spontaneous, popular way, to help the grieving deal with the tragedy. And then people move on. What is sure, Strenski says, is that there will be no shortage of national tragedies to take their place.
Prof. Strenski arrived at UC Riverside in 1995. He is the Holstein Family and Community Professor of Religious Studies. Previously he taught at UC Santa Barbara and Connecticut College. In 1998, he won the Templeton Prize in Science and Religion.
The University of California, Riverside (www.ucr.edu) is a doctoral research university, a living laboratory for groundbreaking exploration of issues critical to Inland Southern California, the state and communities around the world. Reflecting California's diverse culture, UCR's enrollment has exceeded 21,000 students. The campus opened a medical school in 2013 and has reached the heart of the Coachella Valley by way of the UCR Palm Desert Center. The campus has an annual statewide economic impact of more than $1 billion.
A broadcast studio with fiber cable to the AT&T Hollywood hub is available for live or taped interviews. UCR also has ISDN for radio interviews. To learn more, call (951) UCR-NEWS.