Pilot Project To Reduce Drunk Driving
---
UC Riverside Among Three Colleges Selected to Pilot New Program to Fight Drunk Driving Among Young People

Golden ARCHES Program Also Recognized for Overall Excellence
(January 12, 2004)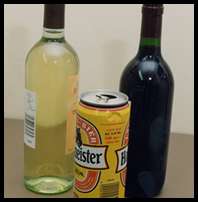 Note to Editors: Training is scheduled this week for the pilot program to combat college-age drinking and driving. A full schedule is located at the end of the release.
RIVERSIDE, Calif. (www.ucr.edu) -- UC Riverside is among three universities in the nation selected to pilot a new program with the National Highway and Traffic Safety Administration (NHTSA) to address the problem of drinking and driving among college students, ages 18 to 24. The other two demonstration schools are Texas A&M and the University of Tampa.
"We were awarded this grant due to our strong peer education program and our working relationship with our campus and local police," said Doug Everhart, coordinator of a program for UC Riverside students called Golden ARCHES (Advocating Responsible Choices through Health Education and Support).
The NHTSA will provide the equivalent of about $25,000 in training to student leaders, specialized campaign materials and educational resources. Each campus will find ways to increase enforcement and use peer educators to reduce alcohol-related fatalities and injuries among their campus populations. The results of each project will be published in a guidebook for other college and university communities in January 2005, following an evaluation of the demonstration sites.
According to NHSTA statistics, one quarter of all drunken drivers involved in fatal crashes are between 18 and 24 years old. California, Florida and Texas are among 13 priority states identified by the NHSTA.
The program is designed to provide training for student leaders, a campus assessment and an evaluation of policies and practices, educational resources, and campaign materials designed for individual campuses.
"This comprehensive approach will allow us to test what works in reducing drinking and driving specific to college communities," stated Drew Hunter, Executive Director of Bacchus & Gamma Peer Education Network, a national network of peer education programs on over 900 college campuses.
In addition, UCR's Golden ARCHES program earned a national award for excellence from Bacchus & Gamma, among nine given out in November at a Washington D.C. conference. Students who represented UC Riverside were Kelley Takeshita and LeQuyen Nguyen (Student Athlete Mentors), Jamie Steinman (Peer Health Educators) and Nicole Johnson (ANGLE — Advocates for National Greek Leadership and Education).
"UC Riverside has a great comprehensive peer education program that impacts many student in a positive way, said Margaret Tam, statewide coordinator for Bacchus and Gamma. "They have competed against many other colleges in our network for this prestigious award and have been deemed best in their campus category for many years. My hat is off to the fine work that is being done by Doug Everhart and his crew."
A training schedule is included below for the pilot project to combat college-age drinking and driving.
Introductory Project Training
Wednesday, January 14th
1:30 PM Project Introduction/Kickoff Meeting
University Conference Room (2nd Floor, University Village)
Purpose: To introduce and explain the project to campus and community members, and to generate support.
2:45 PM Law Enforcement Strategies
University Conference Room (2nd Floor, University Village)
Purpose: To identify and discuss the many aspects of building and/or expanding upon a collaborative effort between the various law enforcement agencies in our campus and local community.
Thursday, January 15th
10:00 AM Environmental Strategies:
Building a Campus/Community Coalition
University Conference Room (2nd Floor, University Village)
Purpose: To create a campus/community coalition to introduce Environmental Management as a strategy to prevent impaired driving. We will develop an action plan to examine the factors that impact impaired driving behaviors and initiate activities to mitigate the risk factors and increase protective factors on this issue.
6:00 PM Peer Education & Student Leader Strategies
Pentland Hills Foxhole (Room F111)
Purpose: To provide training on strategies, techniques, and skills to address impaired driving on a peer-to-peer level. To identify the high-risk times and factors that contribute to impaired driving, and to develop an action plan to address them.
RELATED LINKS
ADDITIONAL CONTACTS
The University of California, Riverside (www.ucr.edu) is a doctoral research university, a living laboratory for groundbreaking exploration of issues critical to Inland Southern California, the state and communities around the world. Reflecting California's diverse culture, UCR's enrollment has exceeded 21,000 students. The campus opened a medical school in 2013 and has reached the heart of the Coachella Valley by way of the UCR Palm Desert Center. The campus has an annual statewide economic impact of more than $1 billion.
A broadcast studio with fiber cable to the AT&T Hollywood hub is available for live or taped interviews. UCR also has ISDN for radio interviews. To learn more, call (951) UCR-NEWS.