Celebrating the Written Word
---
UC Riverside Hosts 27th Annual Writers Week Feb. 3 through 7
Pulitzer Prize finalist Ursula K. Le Guin Is Keynote Speaker
(January 28, 2004)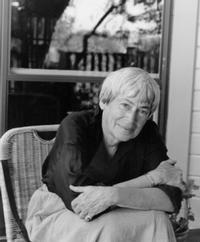 RIVERSIDE, Calif. (www.ucr.edu) -- Pulitzer Prize finalist Ursula K. Le Guin serves as keynote speaker for this year's Writers Week at the University of California, Riverside, which features more than a dozen fiction authors, non-fiction writers and poets who will give free talks and readings Tuesday, Feb. 3 through Saturday, Feb. 7.
Le Guin, who just this week won a lifetime achievement award from the American Library Association, is the author of realistic fiction, science fiction, fantasy and children's books. She has also won the National Book Award, the Pushcart Prize, and the PEN/Malamud, five Hugo and five Nebula awards. Her best known books include the Earthsea series about a wizard's journey, with millions of copies in print, as well as "The Lathe of Heaven," "The Left Hand of Darkness," "The Dispossessed," "Always Coming Home," "Changing Planes" and "Searoad," which in 1992 was shortlisted for the Pulitzer Prize. She speaks at 7 p.m. Friday, Feb. 6, in the 600-seat University Lecture Hall.
Writers Week, celebrating its 27th year, is the longest-running free literary event in California. This one happens to fall during UC Riverside's 50th anniversary year. The event includes one talk with three of the authors at 2 p.m. Saturday, Feb. 7 at the Riverside Public Library, 3581 Mission Inn Ave.
Writers Week kicks off Tuesday, Feb. 3 with a series of themed events. "Memoir: Life Stories," followed Wednesday, Feb. 4 by "Poetry: The Word As Art." The theme on Thursday, Feb. 5 is "Latino Writers: Lines of Reflection," and on Friday, Feb. 6, "Fiction: New Narrative Edges."
Writers Week concludes Feb. 7 with "Abraham Polonsky Film Night" at the University Lecture Hall, with panelists discussing the concept of transforming novels into films.
Writers and poets scheduled for this year's Writers Week are a diverse and critically acclaimed group. They include Sebastian Matthews, whose upcoming memoir is titled "In My Father's Footsteps," and poet and novelist Chris Abani, whose most recent poetry collection, "Daphne's Lot," will be followed this year by the collection "Dog Woman."
Argentinean novelist Alicia Kozameh wrote "The Seventh Dream" and "Steps Under Water," while UC Riverside alumni Mary Rakow, a recipient of the 2003 Lannan Foundation Literary Fellowship, is the author of the well-received "The Memory Room."
Other writers scheduled include Heather King, James Brown, Charles Bennett, Marsha De La O, Kim Addonizio, Michael Jaime-Becerra, John Espinoza, Mary Yukari Waters and Noel Alumit.
Organized by the UC Riverside Creative Writing Department, the event is directed by novelist and creative writing professor Susan Straight, with assistance this year from assistant professor Michael Jayme. Straight's recent novel, "Highwire Moon," earned the Gold Medal of Fiction last year from the Commonwealth Club. Straight says she is particularly excited about this year's poetry event.
"I look forward to the poetry readings because impassioned readings of poetry always inspire me in my own fiction writing - the lyrical language, the rhythms, the concise imagery," Straight said. "I love Chris Abani's work, set in his native Nigeria, and especially can't wait to hear John Espinoza, a native of Indio, who writes about that desert landscape and the people who work in it so well. He once wrote a line about a burrito being put by a gardener 'in the dashboard microwave,' which I've never forgotten.
Straight says she is a huge fan of Rakow's novel, "The Memory Room," a work she calls "a searing incantatory exercise in memory and loss," and James Brown's new memoir, "Los Angeles Diaries," with, Straight says, "his life laid out in addiction, apology, renewal and death."
The keynote event with Ursula Le Guin, whom Straight calls the premiere writer of science fiction and fantasy, "will thrill her audience," Straight said. "She is so prolific and she refuses to be limited to one particular kind of writing. We are very excited to have her come."
Since its inception 27 years ago, Writers Week has evolved, Straight said. "It has always featured the nation's premier writers, such as keynote speakers Joyce Carol Oates, Peter Matthiessen, Russell Banks, Robert Pinsky, and a wonderful cast of newer and emerging writers. But in the last three years, I have also tried to make theme days for audiences who might like to hear three or four writers who all complement each other."
Writers Week is funded by the Department of Creative Writing at UCR, the California Arts Council, Riverside Arts Foundation, Poets and Writers, Inc., the Dean of the College of Humanities, Arts, and Social Sciences at UCR as well as the departments of English, Ethnic Studies and the Center for Ideas and Society
Other past visitors include Allen Ginsberg, N. Scott Momaday, Frank Chin, Ken Kesey, Robert Coover, Robert Stone, Maxine Hong Kingston, Cornelius Eady, George Garrett and Carol Muske.
Maps and directions to Writers Week events on campus are available at UCR information kiosks, or on the campus web site www.ucr.edu
Campus parking costs $6 per day or $3 after 4 p.m.
A Writers Week schedule is below:
All events are at the Humanities and Social Sciences Building 1500, unless otherwise noted.
Tuesday Feb 3 - MEMOIR: LIFE STORIES
2 p.m. Heather King
3:30 p.m. Sebastian Matthews
7 p.m. James Brown
Wednesday Feb 4 - POETRY: THE WORD AS ART
2 p.m. Chris Abani
3:30 p.m. Charles Bennett
5 p.m. Marsha de la O
7 p.m. Kim Addonizio
Thursday Feb 5 - LATINO WRITERS: LINES OF REFLECTION
2 p.m. Michael Jaime-Becerra
3:30 p.m. John Olivares Espinoza
7 p.m. Alicia Kozameh
Friday, Feb 6 - FICTION: NEW NARRATIVE EDGES
2 p.m. Mary Yukari Waters
3 p.m. Noël Alumit
4 p.m. Mary Rakow
7 p.m. Ursula K. Le Guin (University Lecture Hall)
Saturday, Feb 7
Riverside Public Library: Main Branch, 3581 Mission Inn Ave.
2 p.m. Chris Abani , Noel Alumit , Dana Johnson
UCR Campus, University Lecture Hall - Abraham Polonsky Film Night
7 p.m. Panel on Novel to Film: Peter Gadol, Robin Russin, Andrew Winer
RELATED LINKS
ADDITIONAL CONTACTS
The University of California, Riverside (www.ucr.edu) is a doctoral research university, a living laboratory for groundbreaking exploration of issues critical to Inland Southern California, the state and communities around the world. Reflecting California's diverse culture, UCR's enrollment has exceeded 21,000 students. The campus opened a medical school in 2013 and has reached the heart of the Coachella Valley by way of the UCR Palm Desert Center. The campus has an annual statewide economic impact of more than $1 billion.
A broadcast studio with fiber cable to the AT&T Hollywood hub is available for live or taped interviews. UCR also has ISDN for radio interviews. To learn more, call (951) UCR-NEWS.