50th Anniversary Is Almost Here
---
UC Riverside Set to Mark 50th Anniversary
Tours, Concerts, Reunions and a Bonfire in Store for UC Riverside Family
(January 15, 2004)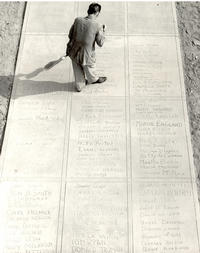 Enlarge
Some of UC Riveside's first students signed their names in the cement
RIVERSIDE, Calif. (www.ucr.edu) — In February, 1954, the first undergraduates at UC Riverside walked across citrus crates to stay out of the mud on the newly constructed campus. Fifty years later, the campus will celebrate the golden anniversary of that event with a series of homecoming events next week.
The Homecoming theme is, "Lights! Camera! Homecoming! Fifty Years in the Making." Searchlights will light the sky over a huge bonfire and fireworks show from 7 to 9 p.m. Friday, Jan. 23, in parking lot 30, visible from Martin Luther King, Jr. Blvd and from Highway 60. The event will include free food and activities.
At noon on Saturday, Jan. 24, the same people who remember walking across the citrus crates will gather in the commons dining room for a pioneer class reunion. At 2 p.m. Saturday, in the large University Lecture Hall, they will watch a multimedia presentation blending archival photos, video and live narration from pioneer class members and faculty.
While the reunion itself costs $35, this portion of the reunion is open free to the public.
Members of the public are welcome to join in other events as well, including tours of the campus, the UC Riverside Botanic Gardens and a carillon concert set for 11 a.m. Saturday, Jan. 24.
A full schedule of reunion events is on the web at http://www.alumni.ucr.edu/about/homecoming.html
The Associated Students Program Board has organized student entertainment, with tailgate parties before basketball games, film nights, comedy performances and other events. The ASPB calendar is also on the Web:
http://www.aspb.ucr.edu/
UC Riverside is celebrating 50 years as an undergraduate campus, and nearly 100 years as a center of agricultural research. The roots of the campus are the UC Citrus Experiment Station, which opened in 1907 in Riverside.
Over the years, UC Riverside has pursued research, educated future leaders and provided an economic engine to the Inland region. Without sacrificing excellence in the historical strengths of agricultural sciences, the campus has developed into a full research university with schools and programs in engineering, business, the arts and humanities, the social sciences, biomedical sciences, the natural sciences and graduate education programs for producing school teachers and administrators.
Here is a list of just a few of the programs that make UC Riverside distinct:
• ALPHA Center, UC Riverside's hub of outreach to K-12 schools, seeks to increase college attendance rates of qualified inland Southern California high-school graduates and to ensure their success once enrolled by assisting students who need help getting into or excelling in college, by training teachers to better master their subjects, and by researching how students learn and which teaching methods are most effective. The Center's 15 programs have reached about 84,000 students, 6,700 teachers and 400 administrators at more than 150 school sites in Riverside, San Bernardino and eastern Los Angeles counties.
http://www.alphacenter.ucr.edu/
• A National Collegiate Athletics Association Division I campus, UC Riverside is a member of the Big West Conference featuring 17 intercollegiate sports. In only its second year in Division I, the UC Riverside men's Baseball Team made it to post-season play and also received a high jump championship in the NCAA Western Region.
http://www.athletics.ucr.edu/
The UCR Institute for Integrative Genome Biology is one of the world's leading institutes of genomics research, bringing together campus faculty from many academic units to participate in genomics-based discovery. The IIGB provides researchers and students complete access to state-of-the-art tools for advanced studies in genomics, gene expression, proteomics, microscopy and bioinformatics.
http://www.genomics.ucr.edu/
• The 28,000-square-foot Insectary and Quarantine facility includes California's only research area allowed to house transgenic pollens, plants and insects. The University is at the cutting edge of entomological research in advancing study of exotic pests, evaluating potential natural enemies, and in developing genetically-engineered plants and insects.
http://www.entomology.ucr.edu/
• The UCR/UCLA Thomas Haider Program in Biomedical Sciences, Riverside County's only medical program, provides UCR students (including transfer students) exclusive access to 24 medical school seats each year. Students accepted into the UCR/UCLA program complete their first two years of medical school on the UCR campus in an intimate learning community before moving on to UCLA for the final two years and graduation.
http://www.biomed.ucr.edu/
• Cutting-edge research in the Bourns College of Engineering includes using spider silk to make hollow silica tubes 25,000 times thinner than a human hair, which can boost the resolution of optical microscopes. Researchers have isolated single neuron cells on an electrode, known as "brain on a chip," which may help conquer Alzheimer's disease. The College excels in the development of alternative-fueled engines and vehicles, the conversion of biomass into vehicle fuel, and the study of air pollution.
http://www.engr.ucr.edu/
• The University has created a joint laboratory in collaboration with France's Centre National de la Recherche Scientifique (CNRS) that allows chemists from CNRS to make UC Riverside their permanent home while maintaining their CNRS affiliation. The UCR-CNRS is the first permanent French Science laboratory in the United States.
http://www.cnas.ucr.edu/cnas/kudosDec2001/cnrs.html/
• UCR Libraries collections include 2,081,146 volumes, 12,444 serial subscriptions and 1,672,042 microforms, and more than 1,265,335 government information resources, housed in four facilities: The Tomás Rivera Library, including Special Collections home to the famed Eaton Collection, the world's largest cataloged collection of science fiction and fantasy magazines; the Science Library; the Music Library; and the Media Library. With access to more than 178 electronic databases, 11,000 electronic journals, 158 public computers, 2,316 seating spaces, and 73 study rooms, the Libraries serve as a portal to the world's store of scholarly information.
http://www.libraries.ucr.edu/
• UC Riverside's doctoral program in dance history and theory was the first of its kind in the nation. It attracts dancers from all over the world who document and perpetuate the art form.
http://www.dance.ucr.edu/programs/graduate.html/
• The UCR/California Museum of Photography houses the largest and most complete collection of stereographic images in the world, an echo of the days when binocular-like viewers were part of the family parlor. Now these images are a vital resource for modern three-dimensional technologies, like IMAX films.
http://www.cmp.ucr.edu/
• Citrus is synonymous with the Golden State. UC Riverside's Citrus Experiment Station has bred more than 40 new citrus varieties and helped growers fight pests and diseases for the $850 million per year industry. Because of state and federal programs that quarantine imported citrus plants before they go to growers and nurseries, nearly every orange, lemon, tangerine and grapefruit found in supermarkets can be genetically traced to UCR.
http://www.citrusvariety.ucr.edu/
The University of California, Riverside (www.ucr.edu) is a doctoral research university, a living laboratory for groundbreaking exploration of issues critical to Inland Southern California, the state and communities around the world. Reflecting California's diverse culture, UCR's enrollment has exceeded 21,000 students. The campus opened a medical school in 2013 and has reached the heart of the Coachella Valley by way of the UCR Palm Desert Center. The campus has an annual statewide economic impact of more than $1 billion.
A broadcast studio with fiber cable to the AT&T Hollywood hub is available for live or taped interviews. UCR also has ISDN for radio interviews. To learn more, call (951) UCR-NEWS.