UCR Palm Desert Construction Begins
---
Event Marks Start of UCR Palm Desert Campus Construction
Completion of two-building complex scheduled for Spring 2005
(January 28, 2004)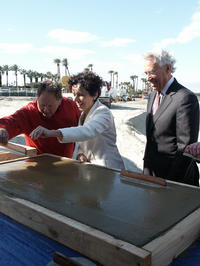 From right: Richard J. Heckmann and UC Riverside Chancellor France A. Córdova stamp their signatures on a slab of wet concrete that will become part of the UCR Palm Desert Campus.
RIVERSIDE, Calif. —
www.ucr.edu
— Construction is now underway to erect the first two-buildings of the University of California, Riverside-Palm Desert Campus. The new campus is designed to provide the Coachella Valley with a home for academic programs in entrepreneurship, joint degrees that connect the core strengths of UCR with management education, and to serve as a focal point for UC Riverside research in the region. Construction is expected to be complete by Spring 2005.
Objectives for the Palm Desert Campus include establishing the Richard J. Heckmann International Center for Entrepreneurial Management, offering several advanced degree programs such as environmental management, arts management, health care management, management of innovative organizations, global business enterprises, and international financial management. The campus will also develop a Technology Transfer Center to stimulate new technology based business start-ups in the Coachella Valley.
"We at the A. Gary Anderson Graduate School of Management plan to spearhead the development of the highest quality graduate programs and seminars offered at the Palm Desert Campus to educate entrepreneurial leaders who will, in turn, impact this vital and growing region," said
Rajiv Banker
Dean of the graduate school of management at UC Riverside. "We plan to play a key role in the economic future of the Coachella Valley"
UC Riverside Chancellor
France A. Córdova
added, "We are trying a new approach to graduate education at UCR Palm Desert. We will be offering joint degree programs that integrate the core strengths of the Riverside campus, such as environmental science and engineering, with a management degree. This is an innovative alternative to the present graduate curriculum of most institutions. We hope to produce graduates with a sound knowledge of a discipline who are positioned to lead companies and institutions in key sectors, like the environment, hospitals, the arts or nonprofits."
UC Riverside has been instrumental in the development of the region's agricultural base and in the development and management of its resources, which have spurred the growth of the Coachella Valley's tourism industry.
A LONG HISTORY IN THE VALLEY
The University of California, today considered the finest research university system in the world, began as an effort to strengthen and improve California's fledgling agricultural economy. Its mission was, and is, to provide education and training through quality teaching, the highest level of research and a commitment to public service.
The core mission of research brought the UC to the Coachella Valley in the early 1900s, when university scientists worked alongside the valley's pioneer farmers to establish and develop the region's agricultural economy, a mainstay of the region's economic base.
Agriculture
In the past century, UC faculty have been responsible for agricultural research that led to improved crop production, increased crop varieties, efficient water use, strategies for farming in saline soils, and the safe use of chemicals to control plant disease and exotic pests.
UC faculty helped eradicate the eye gnat problem in the Coachella Valley that seriously threatened the quality of life and the fledgling tourism economy. The eye gnat emerged as a serious problem in the region during the 1920s and was responsible for epidemics of bacterial conjunctivitis (pinkeye) in the Coachella Valley through the 1950s.
The problem became so pervasive that it brought down real estate values, shortened the tourist season, reduced labor efficiency and infected 227 of 228 children in Coachella schools in 1927.
Professor Herms of UC Berkeley was the first scientist to study the eye gnat in the Coachella Valley and through his leadership and the support of local citizens, the Coachella Valley Mosquito Abatement District was formed in 1928.
Other UC scientists from the-then Riverside Citrus Experiment Station took up the research and developed "gnat traps" identified effective soil insecticides and determined principal breeding sites.
Professor of
Entomology
Mir Mulla has spent 40 years at UC Riverside researching the problem and has introduced biological control strategies and new chemical insecticides to replace DDT. The problems is now largely under control.
Salton Sea Restoration
UC Riverside's research mission has broadened to include such areas as the restoration of the Salton Sea. Scientists from UC campuses have been involved in research on the Salton Sea since 1953 when UCLA faculty, with U.S. Fish and Game, developed a sports fishery in the sea.
Various UC and UC Riverside faculty are still at work analyzing the nutrients in agricultural runoff that flows into the sea. UC Riverside was instrumental in the formation of the Salton Sea Research Management committee, established in 1997, and faculty continue to serve on the science subcommittee.
In 1998,
The A. Gary Anderson Graduate School of Management
at UC Riverside, in partnership with U.S. Filter, conducted a cost-benefit analysis of a restored sea. This study led to increased funding for the analysis of solutions to the problems of the sea. UC Riverside faculty will be an important part of developing the science required for solving the problems of the Salton Sea and for monitoring any approaches adopted.
Deep Canyon Reserve
UC Riverside's 16,000-acre
Deep Canyon Reserve
in Palm Desert has long been a premiere destination for faculty from around the world to study desert ecology, geology, anthropology, archeology, botany and biology. A gift from former Palm Springs Mayor and UC Regent, Philip Boyd in 1959, the Deep Canyon Reserve hosts faculty and graduate students each year who come to study desert flora and fauna. Research conducted at the reserve informs such policy decisions as the Multi-Species Habitat Plan.
Geothermal Research
UC Riverside faculty in the earth sciences studied the first deep core drilling research in the 1960s that led to the creation of the geothermal production plants near the Salton Sea. UC Riverside faculty are currently involved in research on ways of removing zinc, manganese and other minerals from the brine waste generated during the geothermal process. This research has led to the creation of other business opportunities related to the geothermal production of energy.
Water Reclamation
UC Riverside faculty have conducted extensive research on the use of reclaimed water on golf course greens and fairways. Faculty from the
College of Engineering
, in partnership with U.S. Filter, have also conducted analyses of technologies to filter and reuse agricultural runoff.
Turf Grass
More than $275 million annually is spent in the Coachella Valley caring for turf and for more than 20 years,
UC Riverside
faculty have researched the development of new warm and cool season varieties suitable for the harsh desert climate. Working with golf club superintendents, University researchers have developed strategies for efficient turf maintenance, water use, minimizing the effects of overseeding, and the use of chemicals.
Using genetic engineering and with adequate funding, faculty researchers are able to develop a year-round drought-tolerant turf variety that would stay green throughout the year and eliminate the need for overseeding, resulting in an 18 to 20 percent reduction in annual golf course water use.
Advanced Transportation Systems
University faculty from the
Center for Environmental Research and Technology
, have undertaken a number of research initiatives in the Coachella Valley to study topics such as an intelligent vehicle transportation system, heavy-duty diesel and hydrogen fuel cell vehicles, and a means to convert biomass to clean fuel. As a world leader in research on advanced transportation systems, UC Riverside looks forward to continue working in the Coachella Valley to develop these capabilities.
Conservation Biology
The UC Riverside
Center for Conservation Biology
is cooperating with the Coachella Valley Association of Governments for the study of such endangered species as the Jerusalem cricket, the fringe-toed Lizard, riparian birds' habitat use, and the distribution of the Crissal thrasher. Such research and collaboration helps create a baseline for monitoring data and refining models to ensure that the Coachella Valley Multi-Species Habitat Conservation Plan continues to meet high scientific standards.
Native American Language Preservation
In collaboration with tribes, UC Riverside faculty and students are conducting research for new tribal museums, conducting oral histories with elders to preserve tribal histories, designing a certified site monitor program to protect tribal artifacts, contributing to the
Takic Language Revitalization Program
, and embarking on studies of environmental, educational and energy issues on reservations.
Leaders of the Pechanga Band of Luiseño Mission Indians and UC Riverside scholars recently celebrated the completion of a successful year in an effort to teach tribal members their ancestral language.
Facts About the UC Riverside Palm Desert Campus
The University of California, Riverside Palm Desert Campus will sit on 20 acres on the northeast corner of Cook Street and Frank Sinatra Drive. The two-building campus is being built by Douglas E. Barnhart, Inc. of San Diego in cooperation with UC Riverside, the City of Palm Desert, which donated the land, and the California State University, San Bernardino, which holds title to 55 acres next to the campus. Construction is expected to be complete by Spring 2005.
The 21,209-square-foot Richard J. Heckmann Center for Entrepreneurial Management will be constructed on about seven acres of the parcel on Frank Sinatra Drive and Cook Street. This building will include teaching and meeting rooms, teleconferencing and distance learning spaces, computer labs, faculty and administrative offices, and center support rooms. Construction began in December 2003. Funding for this facility was provided through a $6 million donation from Richard J. Heckmann.
UC Riverside has received $10 million in state funds to design and build a 23,600-square-foot, $6.5 million educational facility, and for infrastructure improvements to the center as a whole. The facility plans call for a 350-seat conference assembly space, teleconferencing and distance learning area, class and meeting rooms, computer labs, faculty and administrative offices, and support areas. The funding will provide for on- and off-site improvements such as roadway widening, curbs and gutters, traffic signals, utilities such as water and sewer mains, storm drains, and fire hydrants. These improvements are expected to be developed in conjunction with CSUSB to ensure coordinated development of the site.

Milestones:


March 23, 2001 —Richard J. Heckmann contributed $6 million to the construction effort. The State of California contributed another $10 million for an educational facility. The City of Palm Desert contributed 20 acres from a 200-acre parcel at the northeast corner of Cook Street and Frank Sinatra Drive that had been set aside for a CSUSB campus. CSUSB concurred with the decision.


April 2001-June 2003 — Design and engineering, state, local approvals.

August 2003 — Bids were opened but came in over budget. UC Riverside officials reopened the bid process.

September 2003 — Second round of bids opened for construction of the site.

December 2003 — Grading on site begins by Douglas E. Barnart, Inc. of San Diego. Construction is expected to be complete by March 2005.


The University of California, Riverside (www.ucr.edu) is a doctoral research university, a living laboratory for groundbreaking exploration of issues critical to Inland Southern California, the state and communities around the world. Reflecting California's diverse culture, UCR's enrollment has exceeded 21,000 students. The campus opened a medical school in 2013 and has reached the heart of the Coachella Valley by way of the UCR Palm Desert Center. The campus has an annual statewide economic impact of more than $1 billion.
A broadcast studio with fiber cable to the AT&T Hollywood hub is available for live or taped interviews. UCR also has ISDN for radio interviews. To learn more, call (951) UCR-NEWS.