Workshops Studied Smallest Particles
---
UC Riverside Workshops Studied the Smallest of the Small
Neutrinos and Muons Are the Big Focus of Discussions in Downtown Riverside by Physicists from Around the Nation


(February 4, 2004)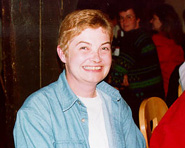 Gail G. Hanson
RIVERSIDE, Calif. (www.ucr.edu) -- A total of fifty accelerator physicists from around the world gathered at the Mission Inn for two workshops last month sponsored by the UC Riverside Department of Physics.
They gave research talks related to muons, fundamental particles that are similar to electrons but 200 times heavier. Muons occur naturally in cosmic rays.
Physicists work to find how to manipulate these tiny particles, how to capture energy created by collisions between the particles, and how to force them to travel at close to the speed of light in devices called "muon colliders."
"Since muons are like electrons, we can collide positively charged muons with negatively charged muons, in the same way we collide positively charged electrons with negatively charged electrons, for example, at the Stanford Linear Accelerator Center, near San Francisco," said Gail G. Hanson, a distinguished professor of physics at UC Riverside and the principal organizer of the meetings.
"Since muons are much heavier than electrons, they radiate far less energy and can be stored in much smaller rings of magnets which require much less electric power than for electrons at the same energy." So muon colliders could be built more inexpensively.
She said the applications of this research down the line could be relevant to creating clean sources of fuel, new manufacturing processes, wireless communication, new methods for diagnosing and treating medical problems, and advances that are as yet unforeseen.
"History has shown that advances in fundamental physics, as well as in other sciences, can result in practical products and technologies that benefit people in many ways," Hanson said "There are many examples of these: transistors, magnetic memories, magnetic resonance imaging (MRI), and the Internet."
The 20 physicists who attended the January 21-26 Workshop on Ring Coolers and Emittance Exchange are studying how to make narrow well-defined muon beams. They were joined by thirty other physicists for the overall Neutrino Factory/Muon Collider Collaboration meeting January 27-31.
The UC Riverside Department of Physics will also be hosting the American Physical Society's Division of Particles and Fields Meeting at UC Riverside August 26-31, 2004 for approximately 600 physicists from around the world.
Events are scheduled at the Mission Inn, Riverside Municipal Auditorium and the Riverside Convention Center, as well as on the UC Riverside campus.
Hanson came to UC Riverside in January, 2002 from Indiana University, where she was a distinguished professor. She earned her Ph.D. in 1973 from the Massachusetts Institute of Technology.
The University of California, Riverside (www.ucr.edu) is a doctoral research university, a living laboratory for groundbreaking exploration of issues critical to Inland Southern California, the state and communities around the world. Reflecting California's diverse culture, UCR's enrollment has exceeded 21,000 students. The campus opened a medical school in 2013 and has reached the heart of the Coachella Valley by way of the UCR Palm Desert Center. The campus has an annual statewide economic impact of more than $1 billion.
A broadcast studio with fiber cable to the AT&T Hollywood hub is available for live or taped interviews. UCR also has ISDN for radio interviews. To learn more, call (951) UCR-NEWS.