UCR Grad Student On Dino Trip
---
UC Riverside Graduate Student Along on Antarctica Trip That Resulted in New Dinosaur Find

Robert Meredith, who is earning his Ph.D. at UCR, said no one was actually looking for dinosaurs

(February 26, 2004)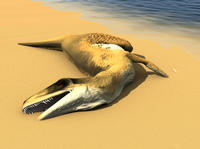 Enlarge
An artist's rendering of the new carnivore discovered in Antarctica
Riverside, Calif. (www.ucr.edu) --- A UC Riverside graduate student, Robert Meredith, was along on a scientific trip in Antarctica that resulted in the discovery of a new type of dinosaur, a meat-eater about the size of the Velociraptors featured in the film, Jurassic Park.
The National Science Foundation released full details at a press event at the National Press Club at 1 p.m. EST Thursday, Feb. 26. A media advisory, a news release and an archived version of the Webcast, is available here:
http://www.nsf.gov/od/lpa/news/04/ma0407.htm
"It turns out that we got lucky," Meredith said. "None of us study dinosaurs. We were looking for mammals. Dinosaurs are very interesting, but they aren't what we were looking for. This was a happy coincidence."
Judd Case, a senior scientist on the trip, earned his Ph.D. in Biology at UC Riverside. He is now a Dean of Science and Professor of Biology at St. Mary's College of California. Meredith said he came to UC Riverside because of Judd Case's recommendation that he should work with Mark Springer, a professor of biology at UC Riverside.
James Martin, the curator of vertebrate paleontology at the South Dakota School of Mines & Technology, was the team's other co-leader. The field party also included representatives of Argentina's Museo de La Plata, Minot State University, the University of Oklahoma, the South Dakota Geological Survey and graduate students from University of California, Riverside and the South Dakota School of Mines & Technology.
Meredith is in his second year of his Ph.D. work at UC Riverside in biology. He lives in Riverside. "Basically I'm interested in how different organisms ended up and why they are there," he said.
Contact for Robert Meredith:
home:(909) 778-0225
office: (909) 827-7020
email: robert.meredith@email.ucr.edu
Images/B-Roll are available online, or from media contacts: An artists rendering of a carnivorous dinosaur is available at print resolution; please contact Peter West, pwest@nsf.gov. (703) 292-7761. For Betacam SP B-roll from Antarctica, including an animation of one of the dinosaurs' final moments, please contact Dena Headlee, dheadlee@nsf.gov, (703) 292-7739
The University of California, Riverside (www.ucr.edu) is a doctoral research university, a living laboratory for groundbreaking exploration of issues critical to Inland Southern California, the state and communities around the world. Reflecting California's diverse culture, UCR's enrollment has exceeded 21,000 students. The campus opened a medical school in 2013 and has reached the heart of the Coachella Valley by way of the UCR Palm Desert Center. The campus has an annual statewide economic impact of more than $1 billion.
A broadcast studio with fiber cable to the AT&T Hollywood hub is available for live or taped interviews. UCR also has ISDN for radio interviews. To learn more, call (951) UCR-NEWS.