Research on Nanotubes and Computer Chips
---
Will Silicon Valley Make Way for Nanotube Valley?
UC Riverside Team Earns $1.5 Million Grant to Pursue Research on the Next Generation Computer Chip
(March 17, 2004)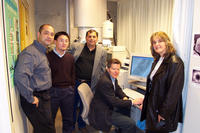 Enlarge
Alex Balandin, Jianlin Liu, Cengiz Ozkan, Roger Lake, Mihri Ozkan
RIVERSIDE, Calif. (www.ucr.edu) -- A team of University of California, Riverside researchers received $1.5 million from the Microelectronics Advanced Research Corporation (MARCO), a not-for-profit research management organization, to create a new generation of nanoscale materials and devices to make computers and other semiconductor-based devices faster, cheaper and more efficient.
The UCR team is working with UCLA's Focus Center on Functional Engineered Nano Architectonics (FENA). UCR electrical engineering professor Roger Lake, who is leading the UCR team, says that sometime during the next decade silicon will reach the end of its ability to become smaller and faster, and there is now a huge effort underway to devise new materials.
"Silicon has been driving the semiconductor industry for 40 years, and for 40 years it has become exponentially smaller and faster," Lake said. "Now people are looking real hard for add-ons to silicon."
Something close, Lake says, are carbon nanotubes. "IBM has done a lot of work in that area," Lake said. "They have built them individually and tested them, and they make pretty good transistors, but no one has a good idea of how to put a billion of them on a chip and have them all working together. The problem is one of integration." He said if this problem is solved, it will set the direction of scientific research and commercial development for the next 50 years.
Recent studies using carbon nanotubes prove they can hold significantly more data than silicon chips. Products that could be improved using these materials include bomb and chemical detection devices and super high-speed computers. The work the researchers are doing could also lead to eventual production and packing improvements for relevant devices, possibly resulting in lower consumer costs. The UCR team is pursuing an approach of chemical and biological self-synthesis for molecular electronic integration using technology from biosensing and NEMS (nano electrical mechanical systems).
If the team can surmount current obstacles, Lake says, a new integration process will be born.
UCR team members joining Lake are engineering professors Alex Balandin, Mihri Ozkan and Cengiz Ozkan. Engineering professor Jianlin Liu is an independent member of the center, researching nano-structured materials for single-electron memory. The team of researchers from UCR is the largest outside group working with FENA.
According to the corporation's Web site, MARCO funds and operates university-based research centers in microelectronics technology. Its charter initiative, the Focus Center Research Program, is designed to expand cooperative, long-range microelectronics research at U.S. universities. For more information, go to http://fcrp.src.org
RELATED LINKS
ADDITIONAL CONTACTS
The University of California, Riverside (www.ucr.edu) is a doctoral research university, a living laboratory for groundbreaking exploration of issues critical to Inland Southern California, the state and communities around the world. Reflecting California's diverse culture, UCR's enrollment has exceeded 21,000 students. The campus opened a medical school in 2013 and has reached the heart of the Coachella Valley by way of the UCR Palm Desert Center. The campus has an annual statewide economic impact of more than $1 billion.
A broadcast studio with fiber cable to the AT&T Hollywood hub is available for live or taped interviews. UCR also has ISDN for radio interviews. To learn more, call (951) UCR-NEWS.