Softball Field Dedicated to Harrison
---
UC Riverside to Dedicate Amy S. Harrison Field During Double Header
Softball Field Received $300,000 Upgrade Thanks to Harrison's Donation
(March 18, 2004)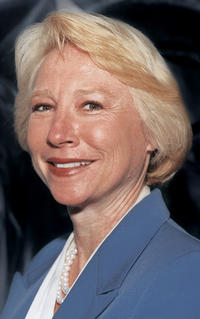 Amy Harrison
RIVERSIDE, Calif. (
www.ucr.edu
)On Wednesday March 24, the University of California, Riverside will dedicate its revitalized softball field, naming it after campus women's sports legend Amy S. Harrison. The dedication ceremony, scheduled between games of a double header against Dartmouth that starts at Noon, is open to the public. The second game is scheduled to start at 2:30 p.m.
A three-time outstanding female athlete of the year from 1968 to 1972, Harrison lettered in women's basketball, volleyball, tennis, track and field, and softball. She was inducted into the UCR Hall of Fame in 1986.
Harrison, who batted clean up (fourth) and played third base while a student at UC Riverside, has since contributed to the team by way of a $300,000 gift to the Athletics Department that helped refurbish the softball field, to be dedicated the Amy S. Harrison Field.
Now helping to spearhead UCR's 50th Anniversary Campaign in her role as Chair of the UCR Foundation Board of Trustees, Harrison characterized her gift as a way of giving back to a program that had given her so much.
"This was important to me," Harrison said. "My financial success, and who I am as a person, was shaped in large part by my athletic experience at UCR."
And her gesture has already had an impact, according to Connie Miner, UC Riverside's women's softball coach.
"The complex has already made an impact in our recruiting," Miner said. "We signed one player early and have two more commitments for the April signing.
The recruits and their parents were very impressed with the stadium."
Harrison's ongoing dedication to UC Riverside reflects the championship quality and discipline she showed as an outstanding athlete, said Athletic Director Stan Morrison.
"Amy now climbs to a new rung of championship status with the dedication of Amy S. Harrison Field, located on the exact same location where she turned the double play, stole second base and hit the ball out of the park," he said. "Stepping up is an overused term in sports these days. No one demonstrates [stepping up]more than UCR Hall-of-Famer Amy Harrison on this very special day and in this extraordinary way."
Her rise to prominence in business, after receiving a bachelor's degree in psychology, came through designing and operating numerous educational and treatment programs for at-risk children. Harrison reached the top ranks of three firms in the field.
She is currently the chief administrative officer of Childhelp USA, a nationwide nonprofit organization that focuses on the treatment and prevention of child abuse. She is also the CEO of Altus, a consulting and management company that works with seriously emotionally disturbed children and adolescents and their families.
Prior to Harrison's position at Childhelp USA, she was the president and chief operating officer, and vice chair of the board for Children's Comprehensive Services, a $160 million publicly traded company operating treatment programs in 16 states in 2002, when a group of investors bought out Harrison and fellow shareholders. Harrison started the company in 1977, which went public in 1988.
Harrison's links to UC Riverside remain strong. She currently holds the chair of the Foundation Board, presiding over the UC Riverside Foundation (UCRF), the non-profit corporation that raises and manages donations from individuals, corporations, organizations and foundations for the benefit of the UC Riverside campus.
Her support for UC Riverside reflects a growing trend placing women in an increasingly important position in philanthropy. According to the Women's Philanthropy Institute at Indiana University, women make up 1.3 million of the top wealth holders in the United States, with a combined net worth of almost $1.8 trillion. Women also generated $2.1 trillion in earnings in 1999. And because they live longer than men, women will end up in charge of much of the $41 trillion expected to pass from generation to generation over the next 50 years.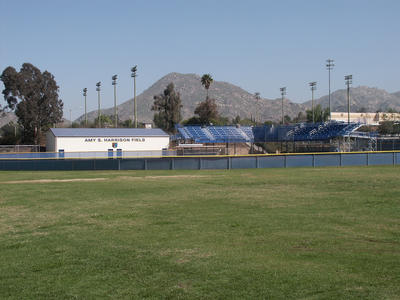 UCR's Amy S. Harrison Field
RELATED LINKS
The University of California, Riverside (www.ucr.edu) is a doctoral research university, a living laboratory for groundbreaking exploration of issues critical to Inland Southern California, the state and communities around the world. Reflecting California's diverse culture, UCR's enrollment has exceeded 21,000 students. The campus opened a medical school in 2013 and has reached the heart of the Coachella Valley by way of the UCR Palm Desert Center. The campus has an annual statewide economic impact of more than $1 billion.
A broadcast studio with fiber cable to the AT&T Hollywood hub is available for live or taped interviews. UCR also has ISDN for radio interviews. To learn more, call (951) UCR-NEWS.