Into the Woods Starts May 7
---
Sondheim Musical "Into the Woods" Set for May 7th Opening
Last Show of the Academic Year to Run for Five Nights
(April 26, 2004)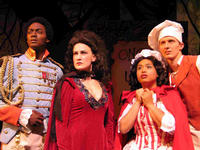 Enlarge
Left to right: Darius Waldrup, Molly Alvarez, Olivia Braza, Jason Hoover
Photo credit: Alan A. Call


RIVERSIDE, Calif. (www.ucr.edu) -- The Department of Theatre at the University of California, Riverside, is pleased to present the fifth production of the 2003-2004 Theatre Season, the musical INTO THE WOODS with music by Stephen Sondheim and book and lyrics by James Lapine. Shows begin May 7 and continue through May 15.
An ambivalent Cinderella? A blood-thirsty Little Red Ridinghood? A Prince Charming with a roving eye? A Witch...who raps? They're all among the cockeyed characters in James Lapine and Stephen Sondheim's fractured fairy tale. When a Baker and his Wife learn they've been cursed with childlessness by the Witch next door, they embark upon a quest for a special object required to break the spell, swindling, lying to and stealing from Cinderella, Little Red, Rapunzel and Jack (the one who climbed the beanstalk). Everyone's wish is granted at the end of Act One, but the consequences of their actions return to haunt them later, with disastrous results. What begins a lively irreverent fantasy in the style of The Princess Bride becomes a moving lesson about community responsibility and the stories we tell our children.
One of the most frequent images in folk literature is that of a character traveling through a dark forest. Noted child psychologist Bruno Bettelheim explains the symbolism of the woods in these fairy tales as "the place in which inner darkness is confronted and ... where uncertainty is resolved about who one is ... or who one wants to be." In INTO THE WOODS, Stephen Sondheim and James Lapine lead a conglomeration of new and old storybook characters on just such a journey of growth and self-discovery. The initial concept for the show was for Lapine to devise an entirely original story, but as he worked on it, he decided that there were already so many existing fairy tales that his seemed arbitrary. Instead, he hit upon the notion of uniting numerous characters from familiar literature.
Various moments in the show seem straight from some Disney movie, but unlike those cartoons which invariably sanitized many of the violent and brutal aspects of the classic fairy tales, Lapine and Sondheim reacquaint us with some of the crueler elements of these stories. The more gruesome moments in the show — like the blinding of Rapunzel's prince and Cinderella's stepsisters — are taken straight from the source material.
The UCR production of INTO THE WOODS will feature a talented all-UCR student cast of 20. The production, which will be performed in the 500-seat UCR University Theatre, will have the scale of a Broadway show with intricate original scenery and costumes designed by the UCR Department of Theatre design faculty, and constructed in the department's shops.
Jim Alexander (Director/Choreographer) began his theatrical career as an actor/singer/dancer and has appeared on Broadway in national and international tours, regional, stock, dinner theatre, cabaret and concerts all over the world. His diverse background includes serving as Resident Director for Florida Studio Theatre, Instructor of Theatre Arts at Riverside Community College, Stage Manager for national tour and regional productions, Production Manager, Producer and film and video director. His film and video directing projects include 16 mm sync-sound indies, commercials, educational television and a series of children's programs titled The Playhouse.
Jim is the former Producing Artistic Director of Lyric Theatre of Oklahoma and since returning to Los Angeles has performed as Fingersmith in Beggar's Holiday with Carl Anderson and as Uncle Willie in High Button Shoes at The Rubicon Theatre; choreographed Tintypes at The Rubicon, Carousel and The Sound of Music at the Curtain Call, directed Fiddler On The Roof and A Christmas Carol at Santa Barbara Civic Light Opera, the world premiere of Visions at the John Raitt Theatre, the U.S. premiere of Job and The Snake at The Grove and Fiddler On The Roof and My Fair Lady at Elizabeth Howard's.
Mr. Alexander has received numerous awards and critical acclaim for his productions of West Side Story, Song and Dance, The Pirates of Penzance, A Chorus Line, Evita, Godspell, The World Goes 'Round, Man of La Mancha, An Inspector Calls, Always...Patsy Cline, Peter Pan, A Midsummer Night's Dream, Die Fledermaus, Guys and Dolls, Fiddler on The Roof and Jesus Christ Superstar ...just to name a few.
Patrick Doran-Sheeran (Musical Director) has served as musical director for numerous productions including The Good Person of Setzuan, The Grapes of Wrath, Hair and The Rocky Horror Show at UCR and for Pump Boys and Dinettes in the Off Broadway Series at Riverside City College. He holds an MA in Music Composition from UCR and composes in a wide variety of styles for choreographers, rock bands and chamber ensembles. He is currently an instructor in the Interdisciplinary Arts Department at the prestigious Idyllwild Arts Academy.
Haibo Yu (Scenic Designer) UCR Assistant Professor in Theatre, has a BFA from the Central Academy of Drama, in China, an MA from the University of Leeds, in England, and an MFA equivalent from Central St. Martins College of Art and Design, London. He is a scenic and lighting designer who has worked in theatre, film, and television in Europe, China, Hong Kong, and the USA. His designs have been included in exhibitions, and he was a co-author of "Devised and Collaborative Theatre."
Patricia Paine (Co-Costume Designer) is Costume Shop Manager of the Department of Theatre. She received her BFA from West Virginia University, and her MFA from Southern Methodist University. Her costume design credits include Off-Broadway and regional professional theatres, and many productions at UCR and other local theatres. Ms. Paine has managed the Costume Shop at UCR for 21 years.
Marc Longlois (Co-Costume Designer) is Production Manager of the Department of Theatre, Head of Stage Management, Staff Scenic and Costume Designer, and Lecturer in Design, History, and Technical Theatre. He received his MFA from Southern Methodist University and has worked for professional regional theatres, opera companies, and in television and industrial production. He is a member of United Scenic Artists, Local 829, and has designed costumes and/or scenery for over 65 productions at UCR.
Kevin Morrissey (Lighting Designer) received a BFA from DePaul University and an MFA from New York University. Kevin has worked extensively as a designer for theatre, film, television and industrial production. His most recent credits include Set Designer for Flight of the Phoenix starring Dennis Quaid, Assistant Scenic Designer for the Emmy Award-winning production of Peter Pan, Set Designer for Fraiser, Becker, The Old Settler, Resurrection Blvd., Babylon 5, Crusade, Ed and His Dead Mother, and Assistant to the Production Designer on Light Sleeper. He is a member of both IATSE Local 847 and Local 829.
INTO THE WOODS
Music and Lyrics by Stephen Sondheim, Book by James Lapine
Directed and choreographed by Jim Alexander
May 7, Friday, 8:00 P.M.
May 8, Saturday, 8:00 P.M.
May 14, Friday, 8:00 P.M.
May 15, Saturday, 2:30 P.M. Matinee
May 15, Saturday, 8:00 P.M.
University Theatre
Tickets: $18.00 General
$12.00 Students, seniors and children
Fine Arts Ticket Office (909)787-4331
TICKET AVAILABILITY:
Fine Arts Ticket Office: (909) 787-4331
located on campus at the University Theatre adjacent to Lot 6
Hours: Monday through Friday, 10:00 A.M.- 4:00 P.M.
and one hour before performances.
Parking: $4.00 in Lot 6 (No fee with UC permit)
RELATED LINKS
ADDITIONAL CONTACTS
The University of California, Riverside (www.ucr.edu) is a doctoral research university, a living laboratory for groundbreaking exploration of issues critical to Inland Southern California, the state and communities around the world. Reflecting California's diverse culture, UCR's enrollment has exceeded 21,000 students. The campus opened a medical school in 2013 and has reached the heart of the Coachella Valley by way of the UCR Palm Desert Center. The campus has an annual statewide economic impact of more than $1 billion.
A broadcast studio with fiber cable to the AT&T Hollywood hub is available for live or taped interviews. UCR also has ISDN for radio interviews. To learn more, call (951) UCR-NEWS.