Education Researcher Receives National Award
---
UC Riverside Professor Honored for Work on Memory and Learning Disabilities
H. Lee Swanson Receives Researcher of Year Award From National Educational Research Group
(April 21, 2004)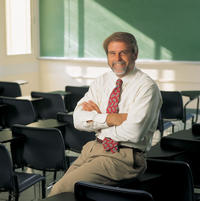 H. Lee Swanson
RIVERSIDE, Calif. —
www.ucr.edu
— H. Lee Swanson, a distinguished professor of education at the University of California, Riverside, received the Special Education Distinguished Researcher for 2004 award, recognizing his 20-years of research on memory and learning disabilities. The award was presented April 14 at the annual meeting of the
American Educational Research Association
in San Diego.
The American Educational Research Association is a 20,000-member international professional organization that focuses primarily on advancing educational research through practical application. It includes disciplines such as education, psychology, statistics, sociology and economics.
The AERA Special Education Research, Special Interest Group has presented the award for more than 15 years to researchers who have made a significant contribution to the field of special education, according to Genevieve Williamson, associate professor of special education and president of the AERA Special Education Research group.
"They reviewed my work and highlighted how it made an impact on the field," said Swanson, whose research looks at the root causes of such learning disabilities as dyslexia and attention deficit/hyperactivity disorder and the role of memory in learning and learning disorders.
He has done extensive research on working memory, or the ability to activate new information while retaining old information. Working memory is also known as short-term memory. He has found that memory is at its peak in young adulthood and drops off after about age 45 as the brain apparently runs out of storage for new information.
In January 2003, Swanson received a $700,000 Federal Department of Education grant to probe the processes that the brain uses in solving mathematical word problems. The three-year grant is expected to help educators and policymakers to enhance current teaching and intervention methods to assist children at risk of developing learning disabilities and falling behind in mathematics.
Other current research projects include a study of bilingual cognition, where researchers are looking at children at risk of learning disabilities who are learning English as a second language. Swanson is conducting that project in cooperation with the Santa Paula schools.
He is also working with a private school in Pasadena that focuses on dyslexic children to study the learning processes and difficulties such children have.
Much of Swanson's research over the past 20 years has laid the groundwork for the development of better testing methods to identify children with learning disabilities and the formulation of new and better teaching strategies to reach them. This area is becoming more important, according to Swanson, as schools struggle to provide adequate and appropriate services for the rapidly growing population of learning disabled children.
"I think most of my impact is in the theoretical advancements toward the locus of where some of these problems come from, advancements that eventually lead to practical applications," he said.
In 1991, Swanson became the first scholar at UC Riverside to hold the Peloy Chair in Learning Disabilities of Children, a position he continues to hold.
Swanson has written or co-written over 250 published works and has served as editor of the Learning Disability Quarterly from 1988 to 1998. He also sits on the review boards of 15 journals.
Swanson has co-edited a recent textbook,
The Handbook of Learning Disabilities
(2003 Guilford Press) with Karen Harris and Steve Graham; and coauthored a second,
A Comprehensive Analysis of Interventions For Students With Learning Disabilities: A Meta-Analysis of the Literature
(1999 Guilford Press), with Maureen Hoskyn and Carole Lee.
He received his Ph.D. from UCLA in 1980 before joining the Faculty at UC Riverside in 1991. Swanson has served as a school psychologist in the states of Colorado and California and was a special education teacher in Los Angeles County.
The Graduate School of Education at UC Riverside offers distinguished master's and doctoral programs in curriculum and instruction, educational psychology, institutional leadership and policy studies, school psychology and special education. Its teacher preparation program, one of the UC system's largest, is recognized for its quality and innovation.
U. S. News & World Report
recently rated the faculty fifth in the nation in research productivity based on publication records. The School has attracted nearly $11 million in research and grant funds in the past three years. Faculty members are active in various field-based programs, including the California Educational Research Cooperative and the School-University Partnership.
The University of California, Riverside (www.ucr.edu) is a doctoral research university, a living laboratory for groundbreaking exploration of issues critical to Inland Southern California, the state and communities around the world. Reflecting California's diverse culture, UCR's enrollment has exceeded 21,000 students. The campus opened a medical school in 2013 and has reached the heart of the Coachella Valley by way of the UCR Palm Desert Center. The campus has an annual statewide economic impact of more than $1 billion.
A broadcast studio with fiber cable to the AT&T Hollywood hub is available for live or taped interviews. UCR also has ISDN for radio interviews. To learn more, call (951) UCR-NEWS.