President Honors ALPHA Center Program
---
President Bush Recognizes UC Riverside's CONNECT Mentoring Program
ALPHA Center Program, Honored for Science, Mathematics and Engineering Mentoring
(May 6, 2004)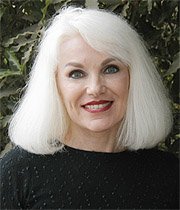 Dr. Pamela Clute
RIVERSIDE, Calif. —
www.ucr.edu
— Dr. Pamela S. Clute, the executive director of the
ALPHA Center
at the University of California, Riverside, today accepted the
National Science Foundation
Presidential Award for Excellence in Science, Mathematics and Engineering Mentoring for UC Riverside's CONNECT program. President George W. Bush presented the award during a White House ceremony.
The ALPHA Center is a UC Riverside-based clearinghouse that puts educational research into practice in the K-12 schools throughout inland Southern California. ALPHA stands for Academy of Learning through Partnerships for Higher Achievement.
The White House Office of Science and Technology Policy, in 1994, established the Presidential Award for Excellence in Science, Mathematics and Engineering Mentoring to recognize the critical importance visible role models play, and the power mentors have, in the development of talent among groups traditionally underrepresented in science, mathematics and engineering. The White House and National Science Foundation (NSF) jointly present the award.
UC Riverside Chancellor France A. Córdova, who nominated Clute and the CONNECT program for the award, said "This is tremendous recognition for Pam and for the innovative and visionary approach to math education employed by the ALPHA Center. It is a prime example of the excellence UCR achieves in its mission of research, teaching and public service."
According to the NSF, there are up to 20 award recipients each year — 10 individuals and 10 institutions. This year, Clute's CONNECT program will be one of eight institutional awards presented. the Institutional award is given to organizations that, through institutional programming, have enabled a substantial number of students from groups underrepresented in science, mathematics and engineering to successfully pursue and complete the relevant degree programs.
Both the institutional and individual awards include a $10,000 grant to go with the Presidential commemorative certificate. The money is to be directed back into the recognized mentoring activity.
CONNECT is a mentoring network that provides academic, financial and mentoring support in mathematics education to underrepresented groups, particularly women, who are preparing to become teachers, professional development for teachers in the classroom, and subject mastery for middle and high school students. CONNECT annually affects 45 teaching credential candidates, 80 to 90 credentialed teachers, 10 college faculty members and 2,700 students in grades 6 through 12 by way of classroom work and after-school programs. Clute is the driving force behind the development of the CONNECT program, according to campus leaders.
"We are thrilled that Pam and this program are being recognized for what is ultimately the goal of all that Pam does in the Graduate School of Education — to develop highly qualified students and teachers in mathematics," said Sharon Duffy, interim dean of the Graduate School of Education at UC Riverside, where Clute has taught mathematics education for more than two decades.
CONNECT is the outgrowth of the Clute's work in the 1998 establishment of the ALPHA Center and in the development of many of its programs since. The staff of the ALPHA Center seeks to increase the historically low rate of college-qualified high school graduates from inland Southern California, and to ensure their success once enrolled. ALPHA Center staff have developed programs, which prepare students to enter or excel in college. They also have developed programs, which enhance the capabilities of teachers and future teachers. One such program is the NSF-funded Mathematical ACTS, where research is focused on enhancing professional development for teachers, which is linked to improved student achievement in mathematics and science.
The ALPHA Center also runs a Mathematics Academy for Teaching Excellence (MATE), which establishes collaborations between mathematics teachers with university professors, undergraduate university students interested in teaching and graduate university students interested in research.
Girls Excelling in Mathematics for Success (GEMS), are ALPHA Center summer programs for girls entering middle school, and in grades 7 and 8. The focus is on mathematics as it relates to college and to business. The purpose of the program is to empower girls with knowledge about mathematics, knowledge about community service, knowledge about mentoring and supporting one another.
Healthy Body-Healthy Mind is a weeklong summer program for boys and girls entering grades 7 and 8, focusing on developing a well-rounded individual by balancing the role of health education, fitness, nutrition and a positive mental attitude. Students receive instruction in mathematics as it relates to health, physical education as it relates to a healthy lifestyle, self-motivation and character development. The goal is to stimulate an awareness and exploration of themselves through motivational activities, which inform and challenge their bodies and minds.
Student and teacher-based ALPHA programs have reached more than 119,400 students, 9,900 teachers and 845 administrators. Research has helped ALPHA staff develop programs that have reached nearly 190 schools in Riverside, San Bernardino, Imperial and eastern Los Angeles counties.
The National Science Foundation (NSF) is an independent federal agency that supports fundamental research and education across all fields of science and engineering, with an annual budget of nearly $5.58 billion. NSF funds reach all 50 states through grants to nearly 2,000 universities and institutions.
The University of California, Riverside (www.ucr.edu) is a doctoral research university, a living laboratory for groundbreaking exploration of issues critical to Inland Southern California, the state and communities around the world. Reflecting California's diverse culture, UCR's enrollment has exceeded 21,000 students. The campus opened a medical school in 2013 and has reached the heart of the Coachella Valley by way of the UCR Palm Desert Center. The campus has an annual statewide economic impact of more than $1 billion.
A broadcast studio with fiber cable to the AT&T Hollywood hub is available for live or taped interviews. UCR also has ISDN for radio interviews. To learn more, call (951) UCR-NEWS.