Weeklong Cinco de Mayo Events
---
UC Riverside Offers Cinco de Mayo Events
Semana de La Raza Features a Week's Worth of Events
(April 30, 2004)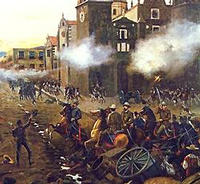 The Battle of Puebla, 1862
RIVERSIDE, Calif. —
www.ucr.edu
— The University of California, Riverside and its Chicano Student Programs offer a weeklong scheduled of events from Sunday, May 2 to Saturday, May 8 known as Semana de La Raza (week of the people), which celebrates Cinco de Mayo and freedom and justice for Latinos. All events will take place on the UC Riverside campus, 900 University Ave., or at the UC Riverside Extension Center, 1200 University Ave., Riverside. For details, call Chicano Student Programs at (909) 787-3821.
Cinco de Mayo is a regional holiday in Mexico, celebrated most vigorously in the state of Puebla. It commemorates the victory at the
battle of Puebla
of an outnumbered Mexican militia over French forces on May 5, 1862, as France was trying to install a European monarch in Mexico. The date of that victory now serves as a symbolic reminder of Mexico's unity and resolve. As a result, UC Riverside devotes a week to its remembrance through Semana de La Raza. Chicano Student Programs co-sponsors Semana de La Raza, with the Chicano Educational and Cultural Fund, Inc., and the Associated Students Program Board of UC Riverside. The week's events are as follows:


Sunday, May 2 — Meso-American Network, a campus group, will present a series of workshops on a variety of topics dealing with the Maya culture including, Ulama, Fame, Some Gender Issues, and New Thoughts on Quirigua Settlement. The workshops are scheduled from 1 p.m. to 5 p.m. at Humanities 1500.



Monday, May 3 — Revisiting Aztlán, the Mexican American heritage, will include a panel discussion titled Quest for Aztlán, scheduled to begin at noon in Terrace Room C. The discussion will take as much time as permitted.



Tuesday, May 4 — Carlos Morton, Director of Center for Chicano Studies at UC Santa Barbara will present Chicano Theatre: A Playwright's Journey through Aztlán, scheduled for 4 p.m. in Humanities 1500. A poetry reading titled Poesía Peligrosa: Readings from a Cultural Side is scheduled from 7 p.m. to 9 p.m. in Watkins 1000.



Wednesday, May 5 — Includes a variety of events. The Mariachi Trompetas de Mexico will perform at the Nooner, a weekly noontime event held on Wednesdays at the University Commons in the Fall and Spring quarters. UC Riverside's Department of Dance will present a lecture by Anita Gonzalez titled Reading the Stones and Centering the World: Contexts for Maya Ritual Performance, scheduled for 2:30 p.m. in the Performance Lab, room 166 of the Arts Building. The day will end with a 7 p.m. showing of Living on the Dime: The View of the World from Along 1-10, in Humanities 1500, a special preview of the film by Roberto Gonzales, Director of Inland Mexican Heritage.



Thursday, May 6 —Thomas Saenz, Attorney for the Mexican-American Legal Defense and Education Fund (MALDEF), presents Latinos in California: Their Role in the History and Legacy of Brown v. Board of Education, scheduled from 6 p.m. to 8 p.m. at the UC Riverside Extension Center, 1200 University Ave.



Friday, May 7 — A marathon showing of Chicano/Latino videos, known as Cine en el Centro is scheduled from 10 a.m. to 5 p.m. at 229 Costo Hall.



Saturday, May 8 — The 15th Annual Chicano/Latino Youth Conference, titled Mexica Tiahui: Adelante con Tradiciones y Educación, will include keynote speaker Luis J. Rodriguez, author of Always Running. Rodriguez will speak at the University Theatre at 9 a.m. The conference, scheduled from 8 a.m. to 3 p.m., will also include different workshops as well as college information. Registration will take place at the Belltower.


RELATED LINKS
ADDITIONAL CONTACTS
The University of California, Riverside (www.ucr.edu) is a doctoral research university, a living laboratory for groundbreaking exploration of issues critical to Inland Southern California, the state and communities around the world. Reflecting California's diverse culture, UCR's enrollment has exceeded 21,000 students. The campus opened a medical school in 2013 and has reached the heart of the Coachella Valley by way of the UCR Palm Desert Center. The campus has an annual statewide economic impact of more than $1 billion.
A broadcast studio with fiber cable to the AT&T Hollywood hub is available for live or taped interviews. UCR also has ISDN for radio interviews. To learn more, call (951) UCR-NEWS.