Children Get Arts Lessons at UCR
---
Local Elementary Students Practice Their Arts Skills at UC Riverside's Gluck Day of the Arts, May 19

Music, dance and theatre activities inside and outside the Arts building on campus
(May 17, 2004)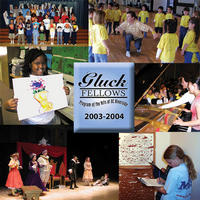 Gluck Fellows in Action.
RIVERSIDE, Calif. (www.ucr.edu) -- Students from three local elementary schools will have the opportunity to interact with UCR Performing Arts faculty and students in a variety of arts-related workshops, including Modern Dance, Commedia dell'Arte, and Musical Free Improvisation, from 9 a.m. to 1:30 p.m. Wednesday, May 19.
This first annual Gluck Day of the Arts at UC Riverside will take place in the Arts building on campus. Participating schools are Longfellow Elementary School in Riverside, and Moreno Valley's Sugar Hill and Edgemont Elementary.
Established in 1996, the Gluck Fellows Program of the Arts is the premier arts outreach program at UC Riverside. Each year, the Gluck Program provides fellowships to exceptional UCR graduate and undergraduate students and faculty to conduct arts-related presentations, performances, and workshops in Art, Art History, Creative Writing, Dance, Music, and Theatre in Riverside County schools, nursing homes and community centers.
The first-annual Gluck Day of the Arts at UC Riverside is sponsored by the Gluck Fellows Program of the Arts at UC Riverside. The Gluck Program is made possible through the generosity of the Maxwell H. Gluck Foundation.
SCHEDULE OF EVENTS
9:00 - 9:15 a.m. STUDENTS ARRIVE
9:15 - 9:30 a.m. WELCOME
9:30 - 10:15 a.m. WORKSHOP 1
10:15 - 10:30 a.m. BREAK
10:30 - 11:15 a.m. WORKSHOP 2
11:15 - 12:00 p.m. LUNCH
12:00 - 12:45 p.m. WORKSHOP 3
12:45 - 1:00 p.m. BREAK
1:00 - 1:15 p.m. WRAP UP
1:15 - 1:30 p.m. STUDENTS DEPART
WORKSHOPS DESCRIPTIONS
Musical Free Improvisation Workshop
Improvisation, literally making music up on the spot, is an important part of many kinds of music: from Indian ragas to jazz to classical music. In this interactive workshop, the Gluck Free Improvisation Ensemble, which includes four musicians and a visual artist, will introduce students to the art of musical improvisation and demonstrate the ways that music can be made outside of the traditional canons. Students will be invited to participate play along and create their own musical improvisations.
Workshop Leaders
Members of the Gluck Free Improvisation Ensemble
Location
ARTS Out Door Stage
Dance Performance & Workshop
The Gluck Modern Dance Ensemble will introduce students to modern dance and inspire them to get up and get dancing in this interactive performance/workshop.
The Ensemble's choreography demonstrates the different skills, personalities, and backgrounds of the performers. While much of the dancing is set, some sections are improvised. Movement choices include action from everyday life, contemporary dance vocabulary, and athletic partnering. Music accompanies many, but not all sections of the dance suggesting the independence of the two forms.
Workshop Leaders
Members of the Gluck Modern Dance Ensemble
Location
Performance Lab, ARTS 166
Theatre Workshop
In this lively theatre workshop, students will be introduced to Commedia dell'Arte, the popular style of physical comedy that formed the foundation for Western comedy as we know it today. Originally from Italy, Commedia dell'Arte used masks, improvisation, acrobatics, music, mime and funny language to tell its stories of love triumphing over all obstacles.
Workshop Leaders
Gluck Undergraduate Theatre Fellows Katie Harroff and Jason Hoover
Location
Studio Theatre, ARTS 113
CONTACT
Sarah Fritsche
Arts Outreach Coordinator
Gluck Fellows Program of the Arts
119 Arts Building
(909) 787-3518
sarah.fritsche@ucr.edu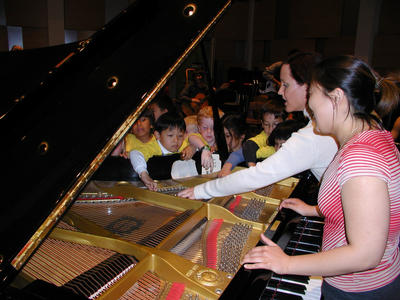 Gluck Fellows allow children to peer into the piano. At the piano are Gluck Undergraduate Music Fellow Joon Young Kim and Gluck Department Coordinator for Music Renee Coulombe
RELATED LINKS
ADDITIONAL CONTACTS
The University of California, Riverside (www.ucr.edu) is a doctoral research university, a living laboratory for groundbreaking exploration of issues critical to Inland Southern California, the state and communities around the world. Reflecting California's diverse culture, UCR's enrollment has exceeded 21,000 students. The campus opened a medical school in 2013 and has reached the heart of the Coachella Valley by way of the UCR Palm Desert Center. The campus has an annual statewide economic impact of more than $1 billion.
A broadcast studio with fiber cable to the AT&T Hollywood hub is available for live or taped interviews. UCR also has ISDN for radio interviews. To learn more, call (951) UCR-NEWS.