Creationism vs. Evolution on Tap for Monday
---
UC Riverside Lecture Series Focuses on Debate Between Evolution and Creationism
The John A. and Betty C. Moore Science as A Way of Knowing" Lecture Set for 5 p.m. Monday, May 24

(May 21, 2004)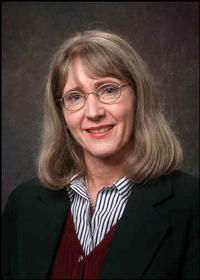 Enlarge
Eugenie Scott
RIVERSIDE, Calif. (www.ucr.edu) -- Evolution and creationism will be the topic when Eugenie Scott, the Executive Director of the National Center for Science Education, speaks at UC Riverside at 5 p.m. Monday, May 24.
Frequently called upon by the media as a spokesperson for "the scientific view" when conflicts arise between scientific and pseudoscientific explanations, Scott has been invited as the speaker in the fifth annual "John A. and Betty C. Moore Science as A Way of Knowing" public lecture. The talk will be in Life Sciences 1500. Her talk, "Intelligent Design: Good Science, Bad Science, or No Science at All," is free and open to the public.
The National Center for Science Education, Inc. is a science education organization with members in every state. Scott holds a Ph.D. in biological anthropology from the University of Missouri. She has taught at the University of Kentucky and at the University of Colorado. A human biologist, her research has been in medical anthropology and skeletal biology. She is the author of Creationism vs. Evolution: An Introduction.
She has received numerous awards including the Isaac Asimov Science Award from the American Humanist Association, the Defense of Science Award from the Center for Inquiry, the Skeptics Society James Randi Award, the Hugh H. Hefner First Amendment Award, the American Society of Cell Biology's Bruce Alberts Award, the Geological Society of America's Public Service Award, the American Institute of Biological Sciences Outstanding Service Award, the National Science Board's Public Service Award, and the California Science Teacher Association Distinguished Service Award.
The John A. and Betty C. Moore Science as a Way of Knowing seminar series was established in 1997 to bring outstanding scientists to campus who are especially recognized for their contributions to society and especially to science education. John Moore was a professor in the biology department from 1969 until his death in 2002.
John and his wife, Betty, were both graduate students in Zoology at Columbia University working under Lester Barth. John had been an undergraduate at Columbia while Betty was an undergraduate at Radcliffe where she worked with George Wald on vision. John and Betty enjoyed a lifelong collaboration and coauthored several papers together on a wide range of subjects from herpetology to cell biology. John was chair of the department of Zoology at Columbia University and also at Barnard College. He was a member of the American Academy of Arts and Sciences (1960) and the National Academy of Sciences (1963).
Professor Moore was also widely recognized for his contribution to the teaching of science. He authored the seven volume series entitled "Science as a Way of Knowing," that is still used by scientists around the world for teaching from the high school to the graduate school level. Moore's last book was "From Genesis to Genetics: The Case of Evolution and Creationism" (University of California Press, 2002).
This seminar is sponsored by the Department of Biology, the GAANN Training Grant in Life Sciences and the Riverside Chapter of Sigma Xi. Past lecturers for this seminar series include: Bruce Alberts, President, National Academy of Sciences; Lynn Margulis, Member, National Academy of Sciences; J. Michael Bishop, Nobel Laureate in Physiology or Medicine; Leroy Hood, Member, National Academy of Sciences; Sara Blaffer-Hrdy, Member, National Academy of Sciences; Eric J. Chiasson, Director, Wright Center for Innovative Science Education.
Parking Permits are available at the Kiosk and cost $6 per day, $5 daily after 4 p.m. Also, hourly permits are available from the dispenser in visitor lot 2.
The University of California, Riverside (www.ucr.edu) is a doctoral research university, a living laboratory for groundbreaking exploration of issues critical to Inland Southern California, the state and communities around the world. Reflecting California's diverse culture, UCR's enrollment has exceeded 21,000 students. The campus opened a medical school in 2013 and has reached the heart of the Coachella Valley by way of the UCR Palm Desert Center. The campus has an annual statewide economic impact of more than $1 billion.
A broadcast studio with fiber cable to the AT&T Hollywood hub is available for live or taped interviews. UCR also has ISDN for radio interviews. To learn more, call (951) UCR-NEWS.