Health Care Treatment Differs by Race
---
Doctors Prescribe Painkillers Less Often to African-Americans, Latinos, UC Riverside Study Indicates

Journal "Race & Society" publishes sociology professor's research into racial differences in treatment of back pain

(May 24, 2004)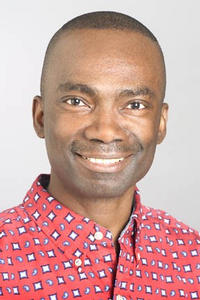 Enlarge
Augustine Kposowa
RIVERSIDE, Calif. (www.ucr.edu) -- A UC Riverside study found that African-Americans and Latinos seeking treatment for back pain were prescribed pain relievers less often than were white patients.
The research, by Augustine J. Kposowa, a sociology professor, is in the latest edition of "Race & Society," the journal of the Association of Black Sociologists, published by Elsevior.
In "Searching for Relief: Racial Differences in Treatment of Patients with Back Pain," Kposowa and co-author Glenn T. Tsunokai of Western Washington University in Bellingham broke down data from the U.S. National Hospital Ambulatory Medical Care Survey, 1995 through 1998. They found African-American and Hispanic outpatients complaining of back pain were "considerably less likely" than whites to receive painkillers at hospitals and in emergency rooms throughout the United States.
The study contends that prejudice and racial stereotyping among physicians is the most plausible explanation for racial differences in pain treatment. It notes that there was no significant difference among the races in the numbers of referrals for X-rays, MRI tests and CT scans.
Early studies have explained the variations in pain treatment across racial and ethnic lines as a function of differing levels of medical coverage, the authors say in the introduction to the 30-page paper. Later studies, including this one, have taken that and other financial factors into account and still find deep differences.
The study focused on three variables: whether patients were advised to take any pain-relief medication; whether prescription drugs were ordered; and how many medications were prescribed. Results were given for Hispanics, African-Americans, whites and Asians across several age groups.
African-American men were least likely to get prescriptions, the study indicates, followed by Hispanic men. African-American men also were least likely to be advised to take over-the-counter pain relievers.
When African-American and Hispanic patients were written prescriptions for pain medications, the study said, they were given fewer drugs, on average, than white patients.
The study offers a glimpse into the problem of racism in this country's health care system, Kposowa said from his office at UC Riverside. "If it is clear from something as simple as this, what is the larger picture?" he asked.
The study blames differences in treatment on stereotypes embedded in the culture of the United States and reflected, consciously or not, in the attitudes of health care providers. Two such stereotypes, it says, are beliefs that members of minority groups, "particularly African-American men," are responsible for most drug offenses, and that they more at risk than whites for substance-abuse problems. Health care providers who accept those stereotypes, the study contends, would be less likely to prescribe painkillers to African-Americans and Hispanics. The study argues that the health care system, in effect, is using racial profiling on its patients.
Kposowa speculated that another stereotype -- that Asian women are submissive and will obey doctors' orders -- is responsible for the study's finding that Asian women were more likely than white women to be prescribed pain medication.
Kposowa and Tsunokai chose back-pain treatment for their study because "virtually everyone" suffers from back pain at some point, and it is an ailment for which medications are routinely prescribed. And since pain, unlike actual damage to the body, can't be measured by diagnostic tools such as X-rays, MRI tests and CT scans, doctors must decide what -- and whether -- to prescribe by listening to their patients.
If their evaluations are being affected by racial stereotypes, Kposowa said, "a lot of people go about their daily lives in (unnecessary) pain."
Kposowa, an immigrant from Sierra Leone, said he was surprised by the differences among the races in back-pain treatment in the United States. "You think of medical care as something where everyone is treated equally."
RELATED LINKS
ADDITIONAL CONTACTS
The University of California, Riverside (www.ucr.edu) is a doctoral research university, a living laboratory for groundbreaking exploration of issues critical to Inland Southern California, the state and communities around the world. Reflecting California's diverse culture, UCR's enrollment has exceeded 21,000 students. The campus opened a medical school in 2013 and has reached the heart of the Coachella Valley by way of the UCR Palm Desert Center. The campus has an annual statewide economic impact of more than $1 billion.
A broadcast studio with fiber cable to the AT&T Hollywood hub is available for live or taped interviews. UCR also has ISDN for radio interviews. To learn more, call (951) UCR-NEWS.