Graduate Student Research Honored
---
Graduate Research Awards Recipients Named
Student Recipients Cover the Disciplinary Spectrum at UCR
(May 24, 2004)
RIVERSIDE, Calif. (
www.ucr.edu
)Five University of California, Riverside graduate students were honored at the second annual Graduate Research Awards and Colloquium. The 3 p.m. ceremony on Monday, May 24, was held in the Terrace Rooms A and B with about 50 people in attendance. Recipients came from the departments of History, Electrical Engineering, Biochemistry, Chemical and Environmental Engineering, and Economics.
The Graduate Research Awards Committee, which oversees the awards, consists of senior faculty members from all of the five disciplinary areas of research at UC Riverside. The committee selected the award recipients from a pool of about 30 candidates. The Office of Research Affairs, the Office of Alumni and Constituent Relations, and the Graduate Student Association at UC Riverside support the Graduate Research Awards Program.
The awards program recognizes excellence in graduate student research at UC Riverside and exhibits the excellent quality of research carried out by graduate students. The program provides an atmosphere of incentive for all graduate students to excel in their field and in their professional development.
"This program is, I believe, unique in the UC system and is an excellent opportunity to highlight the link between basic research and the education of our students," said UC Riverside Chancellor France Córdova, adding that great graduate students attract great faculty and vice versa.
"You take the UCR name with you as you move on in your careers and, I hope, you'll direct and inspire future UCR students," she added.
Each award recipient received a certificate of recognition for their work, a cash award of $1,000.00 and gave a 10-minute introduction to his or her research.

The recipients are:

Department of History:
Christian Trajano was selected for special honor as the recipient of this year's Alumni award. His advisor is Clifford Trafzer. Cultivating and Archiving 100 Years of Filipinos in Riverside was designed to shed historical light on a long overshadowed part of the Riverside community and culminated in the creation of a Filipino archive at the Riverside Municipal Museum and the creation of a museum-quality exhibit celebrating "A Century of Filipinos in Riverside." Trajano is poised to publish his first book, which is an outgrowth of his research, Trafzer said.

Department of Electrical Engineering: Shalini Prasad received recognition for her project Towards Biomedical Micro-Total Analysis Systems -- A New Paradigm in the Applications of Micro Technology. Her advisor is, Mihri Ozkan. The project focuses on the concept of integrating micro-fabrication techniques with a fundamental bio-electrical tool such as dielectrophoresis to yield diagnostic/sensing micro-devices. These devices can potentially have an application in diagnosing and treating neurological disorders, such as Alzheimer's disease.


Department of Chemical and Environmental Engineering: Yu Lei received an award for his project, Biosensor and Bioremediation for Organophosphorous Nerve Agents. His advisor is Ashok Mulchandani. The research reports on the construction of biosensors for direct, highly selective, sensitive, rapid and cost-effective determination of organophosphorous nerve agents. Also, based on this genetically engineered bacterium, pseudomonas putida, rapid detoxification of organophosphorous nerve agents was achieved. The research may apply to the detection and detoxification of foods containing organophosphorous agents, which are commonly used in pesticides. A World Health Organization study in 2001 estimated that 1.1 million U.S. children eat food with unsafe levels of organophosphates.


Department of Economics: Yong Bao was recognized for his Finite Sample Moments of Econometric Estimator with Non-IID Observations. His advisor is Aman Ullah. The work develops the analytical results on the first two approximate moments of consistent econometric estimators in models. The research provides a way to evaluate the statistical accuracy of economic models, which are used for policy purposes and forecasting.


Department of Biochemistry: Gang (Andrew) Li was recognized for his research project titled Regulation of p53 Protein Stability and Activity by Nullification-Dependent and -Independent Mechanisms. His advisor is Xuan Liu. The p53 tumor suppressor gene is mutated or deleted in more than 50 percent of all human cancers. Li's research focuses on understanding the molecular mechanisms by which cells regulate p53 activity. The research is applicable as a way to help the human body effectively deal with the abnormal cells that become cancerous.


Two projects received honorable mentions this year. Frans Ntloedibe, from the Department of History worked with advisor Sterling Stuckey on a project titled,
The Tide of Africa: A Study of the Role of African Influences in Slave Christian Conversion, 1865-1890
. Jianjun Tian, in the Department of Mathematics worked with advisor Xiao-Song Lin. His work was a combination of 9 research papers collectively titled,
Evolution Algebra and Others
. Each honorable mention got a certificate and received $100.
All currently enrolled graduate students engaged in research or creative activities at any level of their program are eligible for this awards program. Graduate students may apply directly to the Graduate Research Awards Program or be nominated for consideration by a faculty member. College deans and department chairs may also solicit nominations as a means of demonstrating their unit's excellence in graduate education.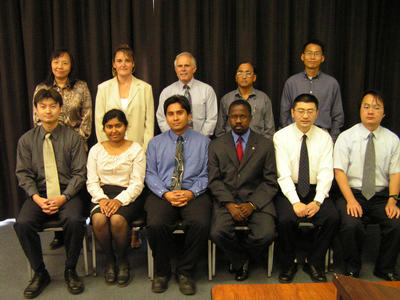 Front Row, recipients: Gang (Andrew) Li, Shalini Prasad, Christian Trajano, Frans Ntloedibe (honorable mention), Yu Lei, Yong Bao. Second Row, faculty advisors: Xuan Liu, Mihri Ozkan, Clifford Trafzer, Aman Ulla, Wilfred Chen.
ADDITIONAL CONTACTS
The University of California, Riverside (www.ucr.edu) is a doctoral research university, a living laboratory for groundbreaking exploration of issues critical to Inland Southern California, the state and communities around the world. Reflecting California's diverse culture, UCR's enrollment has exceeded 21,000 students. The campus opened a medical school in 2013 and has reached the heart of the Coachella Valley by way of the UCR Palm Desert Center. The campus has an annual statewide economic impact of more than $1 billion.
A broadcast studio with fiber cable to the AT&T Hollywood hub is available for live or taped interviews. UCR also has ISDN for radio interviews. To learn more, call (951) UCR-NEWS.