Undergraduate Researchers go to Sacramento
---
UC Day in Sacramento Celebrates UC Riverside Undergraduates' Research
Biochemistry and Psychology Projects Featured
(May 27, 2004)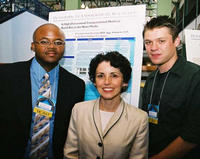 From left: Christopher Crew, Chancellor France Cordova, Alex Hatzopoulos
RIVERSIDE, Calif. (
www.ucr.edu
) Finding ways to stop mosquitoes from spreading deadly diseases and objectively measuring racial bias in the media were two University of California, Riverside undergraduate research projects presented Wednesday, May 26, during UC Day activities in Sacramento.
UC Day
in Sacramento is an annual event featuring all nine UC alumni associations, their alumni, donors and friends. Activities include meeting with elected representatives to discuss issues of concern to the University and coming together to celebrate UC's academic excellence and its contribution to the state.
UC Riverside was represented by biochemistry junior Diana Allen, whose project is titled,
Toward an Efficient Mosquito Genetic Drive System: Germ Line Transposase Localization and Herves, and Anopheles Gambiae hAT Element
, and by Christopher Crew and Alex Hatzopoulos, seniors in psychology, whose project is titled
A High-Dimensional Computational Model of Racial Bias in the News Media
.
For the past four years, the
UC Office of Research
has held an undergraduate research contest, in which faculty deans from UC campuses select their top undergraduate researchers from across a diverse range of disciplines including the arts, the humanities and the sciences. Selected students are honored alongside their faculty advisors at UC Day in Sacramento, and their research posters are displayed outside the Governor's Office in the Capitol.
Mosquito Research
Allen's research uses transposable snipets of DNA to genetically program mosquitoes to stop serving as vectors for such human diseases as malaria, dengue, or yellow fevers.
"Mosquitoes are the deadliest animals known to man," Allen said, adding that millions of people die from mosquito borne diseases annually. "A genetic approach to mosquito-borne disease control, one that aims to eliminate the vector-capacity of mosquitoes, may prove to be useful."
Allen holds great promise as a researcher, according to her faculty advisor,
Entemology Professor Peter Atkinson
, who is also associate director of the
Institute for Integrative Genome Biology
at UC Riverside.
"Diana is an excellent student who is highly motivated, very intelligent and driven to obtain more knowledge about genetic systems," he said. "As an undergraduate, she already has many of the attributes of a successful researcher."
Media Bias
Using a computerized language analysis model called Hyperspace Analogue to Language (HAL), Crew and Hatzopoulos developed a way to test the hypothesis that racism has not decreased but is socially taboo and surfaces in subtle, less overt and socially acceptable ways. They examined news accounts from Cable News Network, Fox News and Reuters News to examine if there is racial bias against African-Americans in news reports. HAL is a computational model that reads millions of words of language and then learns what words mean based on the context in which they are placed relative to other, less subjective words.
The results showed that the networks did not differ in the unpleasant contexts in which African-Americans were presented, however, CNN and Reuters present African-Americans in a more positive light than does Fox. Nontheless, there was a subtle, complex bias against African-Americans, according to Crew.
"I think this research, using HAL, a computer model of memory cognition, will greatly help us look at complex social and psychological issues," Crew and Hatzopoulos's faculty advisor,
Professor of Psychology Curt Burgess
said. "In previous methods, it was too easy to inject bias into the research. This is a computational analysis, which minimizes bias."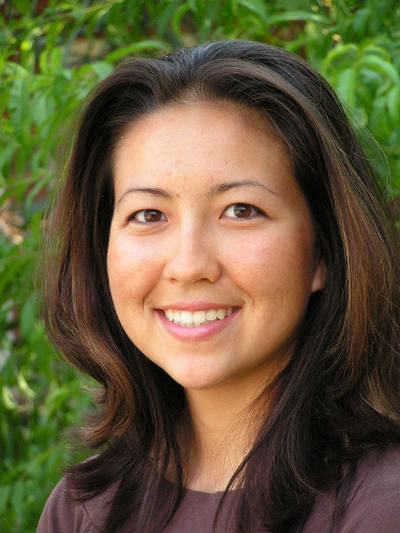 Diana Allen
The University of California, Riverside (www.ucr.edu) is a doctoral research university, a living laboratory for groundbreaking exploration of issues critical to Inland Southern California, the state and communities around the world. Reflecting California's diverse culture, UCR's enrollment has exceeded 21,000 students. The campus opened a medical school in 2013 and has reached the heart of the Coachella Valley by way of the UCR Palm Desert Center. The campus has an annual statewide economic impact of more than $1 billion.
A broadcast studio with fiber cable to the AT&T Hollywood hub is available for live or taped interviews. UCR also has ISDN for radio interviews. To learn more, call (951) UCR-NEWS.