Professor is a Jefferson Fellow
---
UC Riverside Professor to Spend Year with U.S. State Department

Toxicologist Among Five Jefferson Science Fellows Preparing to Offer Expertise in Technology, Science and Engineering to Help Shape Foreign Policy

(May 27, 2004)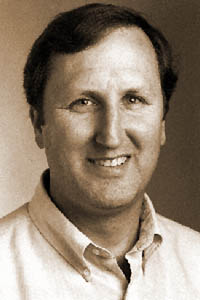 David Eastmond
RIVERSIDE, Calif. (www.ucr.edu) -- Dr. David A. Eastmond, a toxicologist and professor of cell biology at UC Riverside, was among five academics announced Wednesday, May 26, by Secretary of State Colin L. Powell as Jefferson Science Fellows at the U.S. Department of State.
Powell heralded the creation of the JSF program, named for the third president of the United States, Thomas Jefferson, who was both ambassador and scientist. The program will gather U.S. scientists, diplomats and policymakers to work on issues of international importance. The selected fellows are tenured scientists and engineers from U.S. colleges and universities. They are slated to report to the Office of the Science and Technology Adviser to the Secretary of State in mid-August.
Chairman of the university's Environmental Toxicology Graduate Program, Eastmond is one of five U.S. academics who make up the first class of fellows. The others are Dr. Julian Adams, University of Michigan, Dr. Bruce Averill, University of Toledo, Dr. Melba Crawford, University of Texas, Austin, and Dr. Kilidas Shetty, University of Massachusetts, Amherst.
Secretary of State Powell welcomed the inaugural class of fellows.
"Over the coming year, these five individuals will be our scientific advisors and educators," Powell said in published remarks. "They'll bring fresh ideas and new perspectives to America's foreign policy. But these scientists will also get, I believe, a good deal in return. They will observe and participate in the day-to-day working of American foreign policy. They'll see how science and statecraft work together to improve the lives of people around the world. They'll gain an appreciation for the daily challenges confronting the men and women of the State Department. And, most importantly, our Jefferson Science Fellows will take their experiences with them back into our nation's classrooms and laboratories."
Eastmond said that he appreciates the opportunity to use his experience in environmental toxicology to help U.S. foreign policy.
"Personally, I believe that I will gain important insights into how our government and other governments operate," Eastmond said. "In addition, I hope that my participation in this program will make valuable contributions to improving the environment and improving the health and quality of life for many throughout the world."
The State Department will ask the fellows to discuss science and technology with policymakers who are not scientists; keep up with scientific advancements outside their own disciplines; and become familiar with public policy issues and the protocol under which the department operates. They also have been investigated for assignment of security clearances.
They will spend one year serving at the Department of State in Washington, D.C., traveling abroad to U.S. embassies as necessary. After their service, the fellows have agreed to return to their academic careers and to remain available as consultants to the Department of State for five more years.
Eastmond's research focuses on environmental and agricultural chemicals that cause genetic damage, cancer and other ailments in people exposed to them, and ways to detect and treat such damage.
During his one-year assignment, UC Riverside will continue to pay Eastmond's salary and benefits, and he will receive a $50,000 stipend for temporary living expenses in the Washington, D.C., area.
The three-year pilot program is administered by the National Academies and supported by a partnership between the MacArthur Foundation and the Carnegie Corporation, the United States' science, technology and engineering academic community and professional scientific societies.
RELATED LINKS
ADDITIONAL CONTACTS
The University of California, Riverside (www.ucr.edu) is a doctoral research university, a living laboratory for groundbreaking exploration of issues critical to Inland Southern California, the state and communities around the world. Reflecting California's diverse culture, UCR's enrollment has exceeded 21,000 students. The campus opened a medical school in 2013 and has reached the heart of the Coachella Valley by way of the UCR Palm Desert Center. The campus has an annual statewide economic impact of more than $1 billion.
A broadcast studio with fiber cable to the AT&T Hollywood hub is available for live or taped interviews. UCR also has ISDN for radio interviews. To learn more, call (951) UCR-NEWS.