Parents of the Year Chosen
---
Coachella Valley Educators Named UCR Parents Association Parents of the Year

Matt and Joy Bugg's Support of Students Cited as Role Models
(June 1, 2004)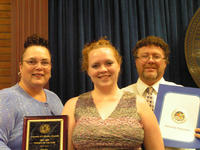 From Left: Joy Bugg, Darcie Bugg, Matt Bugg
RIVERSIDE, Calif. (
www.ucr.edu
)Matt and Joy Bugg of La Quinta were selected as the University of California, Riverside Parents Association Parents of the Year at the Thursday, May 27, Annual Meeting of the UCR Alumni Association, before 125 at the University Commons.
Matt is the Principal of La Quinta High School and Joy is a site coordinator at Amelia Earhart Elementary School in Indio. They were selected from among 15 Parent-of-The-Year finalists by a panel of judges. The couple worked for 18 years in the Coachella schools.
In her nomination essay, Darcie Bugg, a senior creative writing major, wrote: "They worked for most of their careers in very poverty-stricken schools where most of the children come from migrant farm workers and immigrants who can't provide many of the things kids need." She wrote of her parents' willingness to take promising children under their wing, and their roof, to give them a chance at attaining higher education.
"Several of these kids came to live with us, and my parents treated them just as they did my sister and I, including buying my 'brother' Jesse his first car at age 16, even though the financial strain was difficult at times, and taking my 'sister' Rogelia on family vacations to (among other places) San Francisco and New Orleans," Darcie wrote.
"Jesse went on to graduate from UCR, the first person in his entire family to graduate from college, and he became a teacher, because he says my parents changed his life, and he wants to do the same for kids who are in his former situation," she wrote. "He's now an assistant principal at Coachella Valley High School, and he credits my parents for his being where he is today. I too believe had it not been for my parents, Jesse would be in a very different place."
Darcie went on to write that her mother, although recuperating from serious surgery, attended Rogelia's high school graduation in 2000, despite the health consequences it entailed.
"That's what my parents have always done — put kids first," Darcie wrote. "Together, my parents made a tremendous difference in students' lives. Being such prominent role-models and selfless people to so many kids has taught me the kind of person I want to be."
Matt and Joy Bugg received a commemorative plaque, a two-nights stay at the Marriott hotel in Riverside, and Darcie received a $2,000 cash award.
Teaching runs deep in the Bugg family. Darcie's older sister, Tara, is in her first year of teaching fourth grade at Valley View School in Coachella. Darcie too wants to become a teacher.
Parent of the Year finalists include:


Sonia Ahmed


Joel and Carmencita Carino


Yu-Ning and Ching-Ching Chang


Patti Davis


Gerry and Jerry Garner


Hyeran Hong


Eduardo and Elvia Lascano


Christine Longyear


William and Ruth Newton


John and Jeanette Nill


Ronald and Jackie Powell


John and Maria Sozinho


Sherri Williams


Chong Su Yi and Ok Ja Yi


Since 1988, the UCR Parents Association and its activities have provided important ways for parents to stay informed about their students' undergraduate experiences. There is no membership fee to join and parents determine the amount of time they wish to volunteer.
The University of California, Riverside (www.ucr.edu) is a doctoral research university, a living laboratory for groundbreaking exploration of issues critical to Inland Southern California, the state and communities around the world. Reflecting California's diverse culture, UCR's enrollment has exceeded 21,000 students. The campus opened a medical school in 2013 and has reached the heart of the Coachella Valley by way of the UCR Palm Desert Center. The campus has an annual statewide economic impact of more than $1 billion.
A broadcast studio with fiber cable to the AT&T Hollywood hub is available for live or taped interviews. UCR also has ISDN for radio interviews. To learn more, call (951) UCR-NEWS.