Fostering Undergraduate Research Recognized
---
UC Riverside Chemistry Professor Receives Chancellor's Award
Michael Marsella Recognized as Faculty Mentor Fostering Excellence in Undergraduate Research
(June 24, 2004)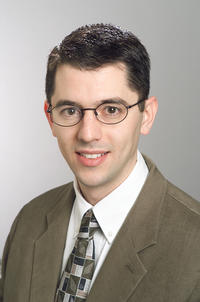 Michael J. Marsella
RIVERSIDE, Calif. (
www.ucr.edu
) Associate Professor of Chemistry
Michael J. Marsella
has been chosen the 2003-2004 recipient of the Chancellor's Award to the Faculty Mentor for Excellence in Fostering Undergraduate Research.
The Award was established in 1994 to recognized faculty members who have distinguished themselves through their excellence at fostering undergraduate research or creative activity. Students nominate the faculty mentors considered for the award.
"Involving undergraduate students in research is one of our priorities at UCR," says
Chancellor France Córdova
. "Mike represents the best in our faculty: he is a top researcher himself and he includes undergraduates in furthering new discoveries, thereby enriching their academic experience in a significant way."
More than a dozen students, some now pursuing graduate degrees at UC Berkeley and Stanford University, and at UCLA through UC Riverside's biomedical program, signed the letter nominating Marsella for the Award.
"Dr. Marsella has made it his goal to alleviate hurdles in a student's pathways to success by means of helpful teaching, undergraduate research opportunities and most importantly, (being) a source of motivation for students searching for academic guidance," wrote Sheraz Butt, a fifth-year chemistry major and the author of the nomination letter.
Marsella, whose specialty is organic, polymer and materials chemistry, is deeply involved in research to develop soft, molecule-sized muscles — a tiny version of the piston-like hard muscles found in robots — that could expand the capabilities of miniature robotics. His research involves materials that can conduct electricity, such as the soft carbon-based polymer, plythiophene, with electrically activated hinges made of cyclooctatraene, a ring of eight carbon atoms. Such devices are designed to change shape when injected with electrons.
If the design proves workable, the lightweight, low power mini-muscles would be ideal for robotics in the biomedical field and for diminutive insect-like flying robots.
"Mike is very deserving of this award," said Chris Switzer, chair of the Department of Chemistry. "He has done a stupendous job of directing undergraduates in research. His research group occupies a position on the leading edge of materials chemistry, and the truly exciting thing is that undergraduates help make this the case."
According to Marsella's students, interest is the main requirement to open the door for undergraduates in research projects.
"Dr. Marsella was happy to include me in his group solely based on my interest in research, even though I had no prior experience in organic chemistry," wrote Butt about his inclusion in a research group following a class on introductory research in chemistry.
As a result of his work in the research group on the synthesis of helical sexithiophenes, Butt wrote that he became a "co-author in the article describing our findings, published in the
Journal of the American Chemical Society
, in 2003." He also presented his research and received the Nathanial T. Coleman Research Award, a $1,200 scholarship presented by the
College Natural and Agricultural Sciences
at UCR.
Marsella participates in several undergraduate research programs. His undergraduate students are involved in the
UC Leadership Excellence through Advanced Degrees
(UC LEADS) program; the
Summer Undergraduate Research Fellowships
(SURF), supported by the Department of Chemistry; and the
Pfizer Undergraduate Fellowship
program. Apart from the programs, according to Marsella's student supporters, he actively recruits undergraduates as a matter of course.
Marsella received his Bachelor's of Science degree from the University of Rhode Island in 1990 and his Ph.D. from the University of Pennsylvania in 1995. He served a two-year postdoctoral fellowship at the California Institute of Technology, ending in 1997. That same year, he joined UC Riverside as an assistant professor of chemistry.
At 35, Marsella is in the early stages of his academic career, but has already received a number of awards and grants including the DuPont Young Professor Award in 2000, and the Research Innovation Award in 1998 from Research Corporation, a private foundation. His research has received numerous grants from the National Science Foundation; the U.S. Department of Education; the National Institutes of Health; and the Petroleum Research Fund, a trust from the oil industry that is administered by the American Chemical Society.
The University of California, Riverside (www.ucr.edu) is a doctoral research university, a living laboratory for groundbreaking exploration of issues critical to Inland Southern California, the state and communities around the world. Reflecting California's diverse culture, UCR's enrollment has exceeded 21,000 students. The campus opened a medical school in 2013 and has reached the heart of the Coachella Valley by way of the UCR Palm Desert Center. The campus has an annual statewide economic impact of more than $1 billion.
A broadcast studio with fiber cable to the AT&T Hollywood hub is available for live or taped interviews. UCR also has ISDN for radio interviews. To learn more, call (951) UCR-NEWS.